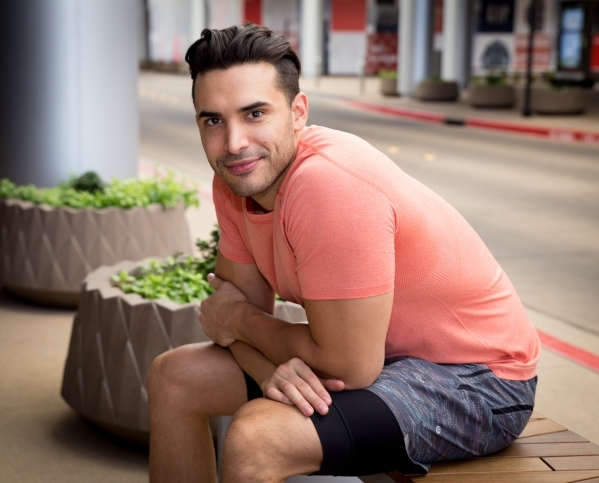 Camera flashes often slice through the near darkness of the Artisan Hotel lounge. Any part of any wall makes a good backdrop, or you can pose behind an empty picture frame hanging from the ceiling at a tilt.
"Look around. We're pretty cool," hotel owner Doug Da Silva says, if he does say so himself. "There is nothing like this hotel in the U.S., period."
It's at least safe to say candle jars don't flicker on bookcases anywhere else in this grungy neighborhood of barbwired industrial garages, almost underneath an Interstate 15 ramp at Sahara Avenue.
Manager Andrew Wheatley says it's a slow night. The lounge often hosts show people from "Le Reve" or "Peepshow." But tonight? Maybe it's the economy, or confusion about a new "after-hours" DJ going on at 2 a.m.
Not long after midnight, the blonde who accounts for much of the room's energy asks a guy, "Are you Filipino?"
"No, why?"
"I love Filipinos."
"Awww …" he answers. But soon she is gone, taking her energy with her. Those left behind, more couples than singles on the prowl, don't seem to mind. They chat, indifferent to DJ McKenzie's house mix of "Wanna Be Starting Something" or a campy 1930s flick, "Road to Ruin," playing silently on TV.
The volume drowns out bar chat and throws the tasteful atmosphere to the wakeful side of that thin line between mellow and sleepy. The latter has an ally in vinyl-covered conversation-pit chairs where you sink so deep it's hard to stand back up.
"Las Vegas has a lot of culture just hidden," says Erica Vanlee, a Tori Amos-styled singer who is talking to bartender Lenny. "Locals look for it, but it's hidden."
With only 64 rooms, Da Silva knew he needed a boutique approach. Inspired by both the kitschy Madonna Inn in San Luis Obispo, Calif., and Hollywood's Chateau Marmont, Da Silva started covering the place with 900 pieces of art.
When his wife had the idea to paint the "ugly ceiling" black and mount paintings there, too, Da Silva declared, "Baby, that's a home run!"
Andrea Carey has been "on hiatus" from the Artisan but now is introducing it to her boyfriend, Will Cooley. "If you're in the know it's a secretive kind of place," she says. "Trendy enough, but not too trendy."
A well-traveled Canadian named Penny, who has lived in Hong Kong, says a friend told her to take an Artisan plug off her Facebook page: "I don't want tourists to know about this." She refused, saying "You want to promote it and keep it running."
Manager Wheatley hears that a lot: "Everybody says, 'This is our little spot. We don't want the secret to get out. We want you to be busy but we don't.' "
The enclaved valet parking surrenders to Highland Drive, where a crowd clusters under the awning of the Spearmint Rhino topless club; Vegas as we know it. The Artisan's secret is safe tonight.
Contact reporter Mike Weatherford at mweatherford@reviewjournal.com or 702-383-0288.
ON THE WEB: MORE STORIES FROM THE BEWITCHING HOUR
Slideshow