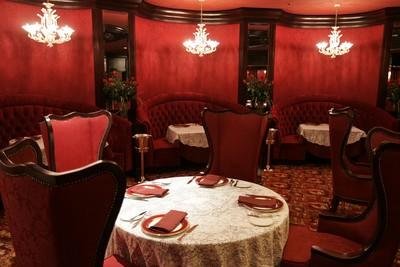 Michael's, a popular old Vegas-style spot formerly at the Barbary Coast (now called Bill's Gamblin' Hall & Saloon), has moved farther out on the Strip to South Point, 9777 Las Vegas Blvd. South.
But fans of the old Michael's may find that little else has changed.
"It's almost an identical copy of the old Michael's, except there's more space," says maitre'd Jose Martel. "The decor is the same."
There's the same stained-glass door and marble floor at the entry, the stained-glass dome from the original restaurant and the same menu, even the pastry cart is the same.
New features include a new wine rack and a coat room, plus diners now don't have to go out into the casino to find a restroom — they're inside the restaurant.
The bar also is larger than the previous version and there are 600 wines on the list, compared to 100 at the Barbary Coast location.
All of that wouldn't count for much if the kitchen staff had changed. But Michael's larger kitchen still is headed by chef Fred Bielak, and the kitchen staff is the same, too.
"We tried to keep everything exact as far as the room and food," Bielak says, adding that the menu can't be changed too much because longtime regulars will want the items they remember. "To be consistent with the dishes is number one for a great restaurant," he says.
Bielak prepares specials on Saturdays to show off his creativity. "We do a lot with our veal, it's the best and it's something to work with. Our guests love it," the chef says.
The most popular dish on the menu remains the Dover sole, which Bielak says is "hand selected from our provider in New York City. We choose only the female (fish), if they are available. The males sometimes are a little tough, but we don't serve them."
Michael's still has the two separate menus, one each for host and guests. The only difference is the host's menu has the prices.
Seating 60, plus 10 in a private dining room, Michael's is open daily with four seatings at 6 and 6:30 p.m., and 9 and 9:30 p.m. Reservations are recommended by calling 796-7111, but walk-ins are taken if there is seating available.
Starters: Cold appetizers include smoked Scottish salmon, Maryland lump crab cocktail, Australian lobster cocktail and shrimp cocktail ($25 each).
Hot appetizers include sauteed mushrooms a la creme, coquille St. Jacques, baked escargot Michael and scampi fra diavolo ($25 each).
Soups and salads: French onion soup gratinee and cream of tomatoes soup ($18 each); tossed green salad ($12); hearts of palm vinaigrette ($20); beefsteak tomatoes, anchovies and pimientos ($20); William J's salad with avocado, peeled tomatoes and hearts of palm ($20); Caesar salad ($22); and spinach salad with hot vinegar dressing ($22).
Entrees: Charcoal-broiled meat dishes include filet mignon with mushrooms ($74); double rib spring lamb chops and mint jelly ($74); prime sirloin steak ($78); and chateaubriand bouquetierre, for two ($148).
Among the seafood dishes are sea bass saute with buttered leeks and dill ($54); fillet of wild salmon saute doria ($58); imported Dover sole meuniere ($78); and broiled Maine lobster with drawn butter ($98).
House specialties include boneless breast of chicken Sicilian ($48); veal saltimbocca sauteed in butter and topped with prosciutto ($68); veal piccata sauteed in butter and lemon ($68); veal Francaise, sauteed in egg batter and wine ($68); and tournedos of beef, saute Marengo ($68).
Extras: Vegetable dishes include broccoli with drawn butter or hollandaise ($12); imported French beans almondine ($12); baked potato or shoestring potatoes ($15); chopped creamed spinach ($12); and Michael's creamed corn ($12).
Desserts: Michael's pastry cart fantasies ($16); cherries jubilee for two ($22 per person); bananas Foster for two ($22 per person); and Michael's fresh assorted berries, au Chambord ($25).
Appetizers is a weekly informational column about new developments on the Las Vegas dining scene. Items should not be considered reviews or recommendations and none is a paid advertisement. Contact Ken White at 383-0256 or e-mail him at kwhite@ reviewjournal.com.
KEN WHITEMORE COLUMNS