February 1, 2009 - 10:00 pm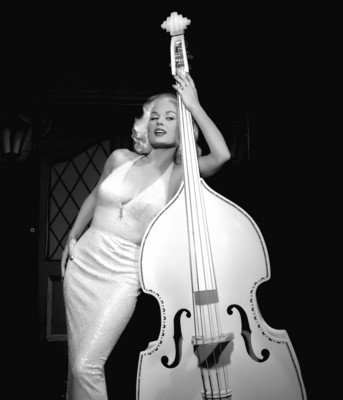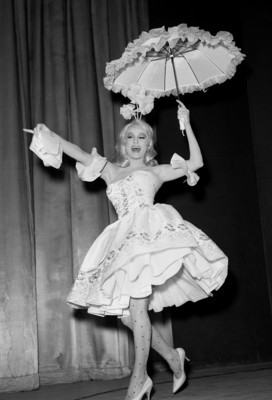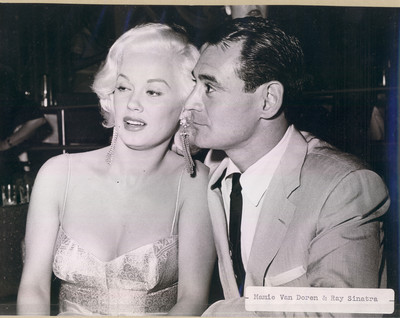 EDITOR'S NOTE: This marks the return of an occasional series of stories highlighting performers who played an interesting role in the history of entertainment in Las Vegas.
In the movies, Mamie Van Doren often played the vixen, exuding confidence and working her wiles. But when singing and dancing in front of a live audience in Las Vegas, the platinum blonde had no character to hide behind to mask her nerves.
Opening night was a terror for her in "Lou Walters' Latin Quarter Revue" at the Riviera in the fall of 1957.
"The first time I appeared on the stage, I was so frightened," she told me. "Luckily, I was married to Ray Anthony, he was a bandleader. He got me through the orchestra rehearsal. And I was really thankful for that. I had Johnny Mandel who did my arrangements, and he was a kick-ass musical genius."
"A lot of stars would come out and see me," she continued. "And I was surprised I had so many stars in the audience. And I told (everyone backstage), 'Please do not let me know who is out in the audience because I get scared.'
"You know, when the curtain opens out there, and it's so black, I'd get dizzy. … And I'd have to find the exit lights so I could concentrate on standing. … My knees would even shake and I would try and sing, and your knees would shake, and you walk and the spotlight would follow you, and it's black all around. I had never had that experience before!"
Her nerves were not apparent, however, and the show was a success. It was reviewed in The Fabulous Las Vegas magazine on Oct. 12, 1957:
"Sammy Lewis presents Lou Walters' exhilarating 'Latin Quarter Revue' starring the stunning Mamie Van Doren along with comedy star Morey Amsterdam. Mamie's singing style adds SEX in capital letters to the already stimulating Latin Quarter show."
Van Doren was further tested when Elvis Presley came to the show during her first four-week engagement.
"He took the whole front table. And I knew he was out there because the girls were screaming backstage. They said, 'Elvis is in front!' and I go, 'Oh, God! How am I going to do this? Why did you tell me?' you know. And he was just a few feet from me. I could see him staring at me. I nearly lost my concentration!"
But she made it through the show, and was surprised when Elvis came backstage for an autograph.
"I autographed — oh, I don't know what it was, he had something. He had just seen a movie I had done called "Untamed Youth" with Tony Curtis. I guess Tony Curtis was his favorite male actor. … And so he (Elvis) was so taken with me, he asked me if I wanted to go to the Sahara to see Sammy (Davis Jr.), Jerry (Lewis) and Louis Prima. So we went over there and we watched the show."
With a sly, quiet giggle, she added: "Of course, I was married then. It was kind of — inconvenient."
Often called "The Atomic Blonde" and "The Girl Who Invented Rock 'n' Roll," Van Doren surprises with her compassionate, sensitive, bright and clever nature. And she remains remarkably sexy and attractive. As recently as 2006 she was photographed alongside Pamela Anderson for the Hollywood issue of Vanity Fair magazine.
Named after film actress Joan Crawford, Van Doren was born Joan Lucille Olander on Feb. 6, 1931, in Rowena, S.D. When she was 11 years old, the family moved to Los Angeles where the precocious and attractive girl soon began modeling.
Las Vegas was familiar territory for Van Doren, even at an early age. "My dad was a craps shooter," she told me. "And I learned to shoot craps from him. He loved to shoot craps. I mean, we'd go to Vegas when there wasn't anybody who'd go there. I mean, they still had horses hitched to railings. Those were really good memories."
At 15, she auditioned for the Florentine Gardens in Los Angeles and was hired as a showgirl even though she was underage.
Van Doren came to Las Vegas in 1948 to work with Ted Fiorita and His Orchestra at the El Rancho. But at 17, she was still underage and the rules apparently were not as lax as in Los Angeles, so the El Rancho took unusual steps. "I thought I was going to be decked out," she recalled, chuckling. "And all of a sudden, I'm standing behind the curtains singing 'Silver Bells,' you know, Christmas carols."
In 1949, Van Doren won the beauty queen titles "Miss Eight Ball" in Los Angeles and "Miss Palm Springs." She posed for noted pinup artist Alberto Vargas, and her portrait as a "Vargas Girl" appeared on the July 1951 issue of Esquire magazine.
She also caught the eye of billionaire film producer/aviator Howard Hughes, who gave her several bit parts in his RKO motion pictures.
"Howard Hughes discovered me in Las Vegas," Van Doren told me. "I stayed at the Last Frontier Hotel with him when he did 'Jet Pilot.' "
When her film career sputtered, along with her affair with the eccentric Hughes, Van Doren journeyed to New York in 1951 to perform as a showgirl in Monte Proser's nightclub musical "Billion Dollar Baby" (billed as "Zaba Olander").
Upon returning to California that same year, she got a new agent, worked on the stage in a production of "Come Back Little Sheba" and by January 1953, signed a contract with Universal-International studios.
She also adopted a new name, inspired by the country's first lady, Mamie Eisenhower.
Married briefly in 1950 to sportswear manufacturer Jack Newman, she was divorced the same year. In 1955, she married bandleader Anthony. The following year, she gave birth to her only child, a son named Perry, on March 18, 1956. She and Anthony divorced in 1961. (There would follow two other unsuccessful marriages — and a tempestuous and long affair with baseball player Bo Belinsky — before Van Doren married Thomas Dixon in 1979.)
Van Doren starred in several low-budget "B" movies for both Universal-International and Warner Bros. "I did 'Untamed Youth' (condemned by the League of Decency) in 1956 after I had the baby," she recalled. "Then I did 'Born Reckless' right after that for Warner Bros. Then I did about six months for MGM."
In movies with such lurid titles as "High School Confidential" (1959), "Guns, Girls and Gangsters" (1959) and "The Beat Generation" (1959), Van Doren represented 1950s uncontrolled youth. Rock 'n' roll music was a staple in her films. Her amazing figure prominently displayed in skin-tight skirts and sweaters, under which was worn the notorious steel reinforced bullet bra, Van Doren strutted her stuff in drive-in fare with humor and abandonment. Rarely was she given a chance to display any other talents (one was a role in the "A" movie, "Teacher's Pet," with Clark Gable and Doris Day in 1959). She often was grouped with Marilyn Monroe and Jayne Mansfield as the sexy dim blondes of their day.
Las Vegas continued to play a prominent part in her life in the '60s and early '70s. She appeared with singer Dennis Day at the Riviera in 1962; in "Ziegfeld Follies," with the Nicholas Brothers and others, at the Thunderbird in 1966 (and in "Bottoms Up" in the lounge with singer Billy Ekstine, also at the Thunderbird); with Paul Anka at the Bonanza Hotel in 1967; and with Sammy Davis Jr. at the Sands in 1973.
While at the Sands, Van Doren sang "Mame" from the hit Broadway play, including one night with special lyrics to Lucille Ball, who starred in the movie version.
"When I was working with Sammy, they had just released the POWs during the Vietnam War in 1973," she noted. "The first place they came to was Las Vegas, and I was very flattered they were sitting in the front seats. I don't know whether they came to see Sammy or me, but I kinda think it was me because I spent a lot of time over there entertaining."
Van Doren did two tours in Vietnam with the USO, in 1968 and 1970. She also visited hospitals there.
I asked her if it was an emotional moment when she saw the POWs in the audience. "These (boys) were POWs who had been in solitary confinement for many years!" she said. "So, I don't even know if they knew what a miniskirt was. I got them onstage and I danced with them, and kissed them and everything. And it was very emotional."
So what is it about this woman that makes her an enduring sex symbol, an icon of a golden era, so loved by millions of fans?
In his 1995 book, "VaVa Voom! Bombshells, Pin-ups, Sexpots and Glamour Girls," Steve Sullivan said of Van Doren: "Far from being just another of the Hollywood blondes, Mamie was unique in ways that remain important from today's perspective. Where Marilyn (Monroe) was deeply ambivalent about her bombshell image and Jayne (Mansfield) frequently tried to renounce it even while carrying the image even further, Mamie reveled in her sex-symbol persona with no regrets or excuses."
Today, at home in California with her husband, Van Doren lives her life with a joy de'vivre. She bares all in her chatty and newsy Web site. "I designed my Web site," she said. "I wanted to share my life."
Probably the best summary of Van Doren's life is a quote from her that appears in Sullivan's book: "I'm experiencing something none of the other blondes experienced. And that's getting old."