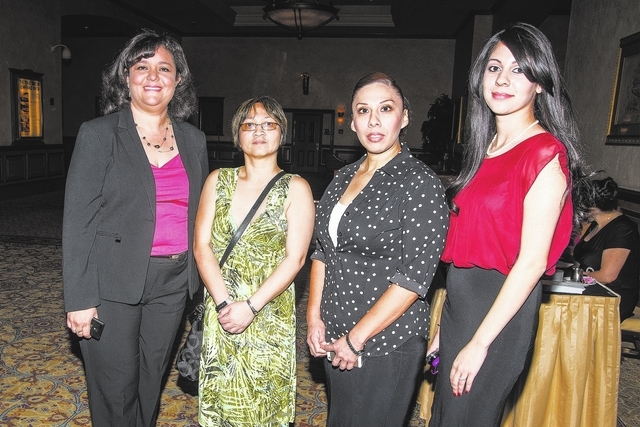 It was a celebration when hundreds of attendees gathered to honor Nevada Attorney General Catherine Cortez Masto, who received the Community Builders Award from the Community Services of Nevada on June 20 at Texas Station.
"The growth of Community Services of Nevada can be attributed to the attorney general's settlement, which allowed for creation of the Home Again program," Executive Director Margarita Rebollal said.
It resulted in local HUD approved counseling agencies formalizing a partnership by which a greater number of homeowners and homebuyers receive free housing services in the area of foreclosure prevention and prepurchase education and counseling.
Thanks to the Home Again program Marcella Ollvares, single mother of six children, is a homeowner. Her counselor, April Rodriguez at CSNV, went through the same program to become a homeowner.
CSNV served 819 clients last year thanks to additional staffing provided by increased funding. Through the WISH program, 10 families became homeowners after receiving up to $15,000 each from the Down Payment Assistance program. Through the Mortgage Assistance program, struggling qualified homeowners can receive up to $1,000 in mortgage payments for up to nine months.
KLAS-TV, Channel 8 news anchor Sharie Johnson was mistress of ceremonies. The mother-to-be's husband, Thomas Johnson, a saxophonist, was one of the entertainers. Other entertainment was provided by Juan Serrano, Demon and Lion, and 12-year-old Nixon Garcia Lopez. The surprise of the evening was Alex Christopher. The attorney general had no idea her intern was also a very popular singer on the event circuit. She praised his talent.
In attendance were Ken Evans, president of Urban Chamber; Judge Christine Guerce-Nyhusm; Henderson Councilwoman Gerry Schroder; District Judge Adriana Escobar; Judge Carolyn Ellsworth; Judge Bob Teuton; Luz Marina Mosquera, executive director at Hermandad Mexicana Transitional; North Las Vegas Councilman Isaac Barron; and Wendy Divecchio, director of operations for the Greater Las Vegas Association of Realtors.
While being honored, Cortez Masto told the audience "it's not me, it's the work of my staff. They worked every holiday to make things happen." She said more than 13,000 people have made contact with the program as of January last year.
The attorney general says there are still scammers out there, but the $2 billion earmarked to help homeowners has made a difference. "We have to hold those scamming homeowners accountable," she told the crowd.
Former Gov. Bob Miller introduced Cortez Masto. He has known her father, a former commissioner, and her family for four decades. "Nobody is ever more deserving," he said of Cortez Masto, who was born and raised in Las Vegas and worked as his district attorney.
Sponsors were Nevada Office of Minority Health, Consumer Health Assistance, Nevada Hardest Hit Fund, Wells Fargo, Greater Las Vegas Association of Realtors.