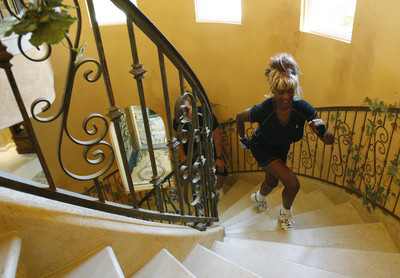 The last thing Jo Ann Abajian wants to do when it's 110 degrees outside is get in her car and drive to the gym. So she stays home. But Abajian, 53, doesn't allow the Las Vegas summers to impact her physical fitness. Instead, she works out at home.
"It was just such a hassle to get to the gym, it just took forever," says Abajian, who hired a personal trainer to oversee her in-home workouts. "Working out at home shortens my exercise time considerably. There's no getting ready for the gym, no traveling there, no driving back."
While Abajian has a couple of pieces of workout equipment and a personal trainer, it is possible to get a good workout using nothing more than your body weight and your house, exercise experts say.
"There are a ton of things you can do without purchasing equipment," says David Vaughan, Abajian's personal trainer. He runs Vaughan Fitness with his wife, Amanda, visiting clients in their homes and helping them style their workouts.
The home can be a good place to make a lifestyle change, he says.
People tend to come up with excuses for not going to the gym, and Vegas summers can present dangerous conditions for physical activity, he notes.
"A lot of training these days is about core and interval training," Vaughan says. "It used to be focused on machines; now a lot of exercises use body weight."
Make sure you wear appropriate workout clothes and shoes. If you're out of shape or not used to physical exercise, be sure to get a doctor's evaluation before you start a workout routine, Vaughan says.
If you have a two-story home, try running the stairs, he recommends. Start off easy with five-minute intervals where you either briskly walk or run the stairs. Then mix in another exercise, such as jumping jacks.
Abajian's workout takes 90 minutes. Her aerobic exercise includes either running her stairs or using her treadmill. She mixes that with strength-training exercises. When she first started her routine a couple of years ago, she worked out five days a week but now exercises four days a week with the help of her trainer.
Squats, push-ups, lunges and crunches don't require equipment, notes Bret FitzGerald, vice president of corporate communications for Las Vegas Athletic Clubs, and are good at-home exercises.
FitzGerald has his 73-year-old mother do squats at home. She holds onto the edge of the kitchen sink and performs 10 repetitions and does at least three sets, he says.
Older people who have balance problems can do exercises such as sitting in a comfortable chair and bending to touch their toes, FitzGerald says.
"Little things like that are great for functional training, as are all the typical stretching exercises," FitzGerald says.
It can be hard to stay motivated if you work out at home, FitzGerald says. Because of that, he prefers a dedicated environment that is specific for exercise. If you can't or don't want to go to the gym, he recommends using community exercise rooms offered by condominiums, housing subdivisions or apartments if available.
Such areas help keep your mind on your goal, he says, but if you need a boost, try working out with a friend.
If you want to invest in a few pieces of equipment to keep around the house or do a more advanced workout, begin with a balance ball, says personal trainer Amanda Vaughan. Those start as low as $10 and are easily found at Target, Wal-Mart or any sporting goods store. And they're an important part of any good workout, she adds.
You can do push-ups while balancing your feet on the ball, sit-ups and other abdominal exercises, Amanda Vaughan says.
Get a couple of dumbbells and some resistance tubes and you have the key elements for an in-home gym, Amanda Vaughan says. If you don't have stairs in your home, try jumping rope for cardiovascular exercise. When you do cardio exercises, it's important to increase your heart rate and maintain a steady state.
Balance balls and resistance bands are inexpensive tools for in-home use, but options don't end there, especially if you're willing to pay. A personal trainer can help you get started with a few sessions; the Vaughans offer 30- and 60-minute sessions that range from $65 to $150 an hour depending on time of day and a client's location. Some gyms, such as Las Vegas Athletic Clubs, offer free training sessions to members.
Contact reporter Sonya Padgett at spadgett@reviewjournal.com or 702-380-4564.
IF YOU MUST BURN CALORIES OUTDOORS
Some people insist on exercising outside, even in the middle of the hottest Las Vegas summer.
If you're one of those people, be sure you're exercising safely, say local fitness experts.
"I don't think people realize how easy it is to get into the heat stroke area," says personal trainer David Vaughan. He has a bachelor's degree in exercise science and is certified by the National Strength and Condition Association. "If you're in the blazing sun, with your shirt off, riding bikes, it can happen very fast."
The biggest problem is dehydration. Signs are thirst, loss of appetite, dry mouth, fatigue or weakness.
Once the temperature passes 95 degrees, the body can't cool itself as effectively, Vaughan says. Asphalt holds in heat, which can increase the actual temperature if you're running on the sidewalk or biking in the street, he adds.
If you exercise outside during the summer, be sure to take in the right amount of fluids, Vaughan says. For a 150 pound person, that's about 8 ounces every 15 minutes, he adds.
It's important to stay out of the direct sunlight, so early morning and after sunset are the best times to be outdoors.
— By SONYA PADGETT