Baby boomers come face to face with America's faltering economy
September 21, 2008 - 9:00 pm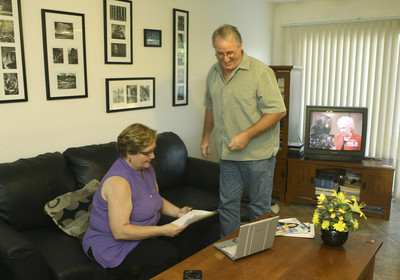 Like most first- and middle-wave baby boomers, Natalie and Doug Ahlstrom can feel their retirement getting closer and closer all the time.
Natalie, a self-employed bookkeeper, and Doug, an architect designer, are both 51. And, even as they continue to sock money away in their retirement accounts, a less-than-vibrant economy is making them re-think their golden years.
The basic problem: a stock market that "keeps going down and not up," Natalie says.
For retirement-minded boomers, the current economic slowdown — not to mention last week's dizzying stock market — couldn't have come at a worse time. And, for boomers who haven't saved as much as they should have or would have liked to, it's serving as one very stark wake-up call.
Tom Salway, a registered investment adviser with ING Financial Partners who also teaches retirement planning at the University of Nevada, Las Vegas, senses boomers' apprehension about retirement often, even among boomers who've planned well.
"When they come in here to make a decision to retire, it's probably the most fearful, scary time of their lives," Salway says. "They're just looking at me, pleading with me: 'Are you sure we're OK? Are you sure we can do this?' "
In April, AARP commissioned a survey of people age 45 and over to see how middle-age and older Americans are responding to the current economic slowdown.
According to the survey, 63 percent of respondents say they own stocks individually or through mutual funds, IRAs or 401(k) retirement plans. Of those, 72 percent say they've lost money on those accounts over the past 12 months. (Of course, the survey was taken before Monday's precipitous stock market decline.)
The survey also said 23 percent of boomers who have lost money in stocks say those losses have prompted them to postpone plans for retirement. And, for those between 55 and 64 years old, 32 percent say their losses have done so.
Current economic conditions aside, many boomers simply aren't putting enough money aside for retirement. Salway estimates that, based on class members' responses, "maybe 5 percent are truly in a financial position (for) what we'd call a, quote, 'comfortable' retirement."
Why aren't more boomers saving as well as they should? First, Salway says, is the fact that "very few of the people coming through the door have a pension anymore."
Boomers' parents probably enjoyed the benefit of a pension, in which they would receive a set amount monthly after working for their company for a specified number of years. Today, such plans aren't as common, and boomers themselves bear the burden of putting money aside in IRAs or other self-funded retirement plans.
"So all they're counting on is 401(k) plans," Salway says. "And, many of them, raising children and families, didn't really contribute as much as they should have, and wish they would have, over the years."
Procrastination also is a factor, and for a generation that always has defined itself first and foremost by its youth, a simple denial of aging surely hasn't helped.
"Most people don't even really get serious about saving for retirement until age 40," Salway says. "Then, all of a sudden, you really are in midlife: I was 45, then all of a sudden I was 50. Where did those years go?
"The good news is, realistically, most people's highest income-earning years are in their 40s and 50s," Salway adds. "And, at that time and place, they usually do get serious and do start putting money into (retirement) plans.
"But, if you're 55 or 57 and haven't started a retirement plan, you'd better plan on working until at least 75. You've waited too long, and it's not gonna happen in five years."
As a generation, boomers also might have held a different attitude than their parents about saving and spending money. To put it bluntly: Moms and dads placed a premium on saving and thrift, and boomers haven't.
"One of the things I find interesting is what our parents thought of as necessities versus what our generation thinks of as necessities," says Steve Budin, a certified financial planner with The Budin Group. "Is high-speed Internet access in the house a necessity? Is a cell phone a necessity? Is cable (TV) a necessity?"
"I think they had a different philosophy," boomer Natalie Ahlstrom agrees. "They were frugal. They didn't spend on a lot of the material things I think our generation was more able to do and probably does to too much of an extreme."
Natalie Ahlstrom also recalls that her parents paid cash for everything. "They never had credit. The only thing they had credit on was their house, and they paid that off prior to my even being born. So they were focused on not owing anybody anything."
At 65, Judy Anderson is, technically speaking, just outside the boomer demographic. But hers is the face of what many boomers' retirements might look like.
Anderson, a former customer service manager for an Oregon manufacturing firm, retired at 55, mostly, she says, "because I planned well."
"I came out here thinking I would retire," she continues. "But I got bored so, of course, I took a job, but I didn't really like that. So, I'm a career volunteer."
Anderson regularly volunteers for AARP Nevada and as a trauma intervention volunteer. While she continues working because she wants to, not everybody she knows is as fortunate.
"Some of my friends who have already retired and started to enjoy retirement are now thinking, 'I need to get back to work' " Anderson says, primarily because rising prices for just about everything have made them fear they're going to outlast their retirement savings.
And, on the other side of the gold watch divide, Anderson knows of older workers who have postponed retirement completely. "You may have thought five years ago what your retirement date was going to be," she says. "But it's changed. It's totally changed."
That's not necessarily bad. The idea of "retirement" is "a lot different now than it was when our parents retired," Budin says.
"The reality is retirement was never intended to be what we think it is. Back in the old days, people retired because they were a year away from death. People are living longer and now have the ability to travel and do things they may not have been able to do while they were working."
Retirement today is "not sitting on the porch reading the paper all day," Budin says. "It's reading the paper in the morning and going to play golf in the afternoon, or going to do volunteer work, or going to work part time at a profession."
Salway sees many retirees who "do not go back full time, but they are getting jobs just because they want to have a little extra cash. They make enough money from their retirement plans to cover their nut, but they enjoy that dinner out once in a while."
However it all shakes out, contemplating an ever-approaching retirement is enough to make a boomer finally begin to take seriously mom and dad's frugal ways.
"For sure," Natalie Ahlstrom says. "It's a matter of, 'OK, I need to rethink where I'm putting my money or what I'm spending my money on, because I do only have 10 or 15 years.' "
It's probably no different, she suspects, than "when a financial planner is trying to tell a 20- or 30-year-old, 'You should put this aside every week, blah, blah, blah,' and hopes they'll listen.
"When we get here at 40 or 50," Natalie Ahlstrom says, "we're saying, 'Oh, we didn't listen, either.' "
Contact reporter John Przybys at jprzybys@reviewjournal.com or 702-383-0280.