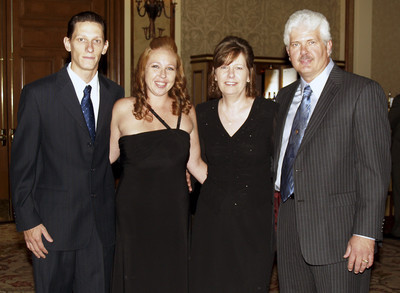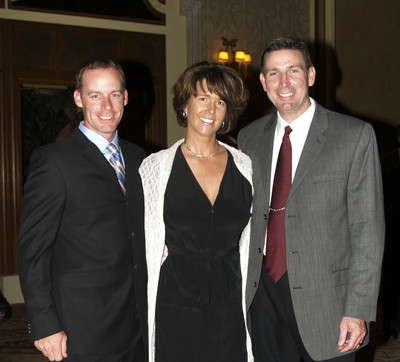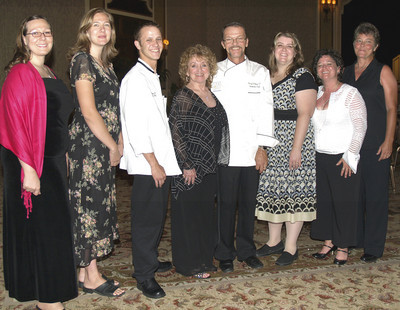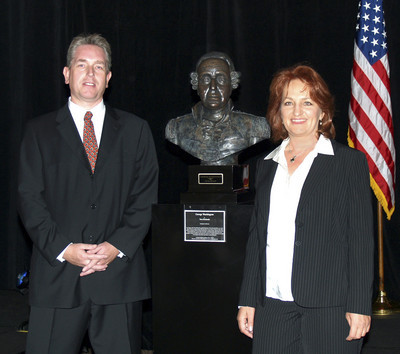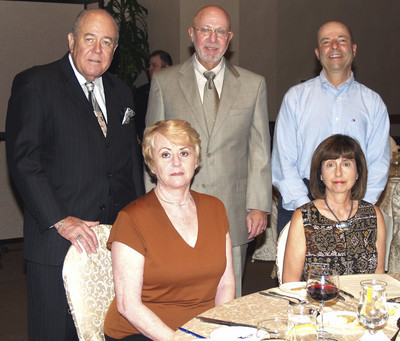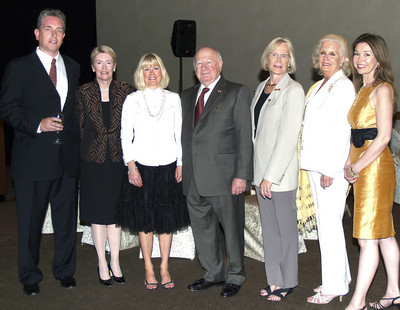 Richard "Rick" Baumes of the Riviera was named chef of the year at the annual Chef of the Year Dinner June 29 at the Green Valley Ranch Grand Ballroom.
Participating professional organizations are the American Culinary Federation Chefs Las Vegas, Associate Advisory Board, American Culinary Federation and the American Academy of Chefs.
The evening began with a reception that offered buffets of imported cheeses, sushi, grilled vegetables and hot and cold hors d'oeuvres amid carved ice displays.
Nominated for the 2008 Chef of the Year were Baumes and Terry Long Sr. of Food Sales West. Long spent 14 years at Caesars Palace and became the chef at Bacchanal. He also spent seven years at the Riviera. In 1998, he became executive chef at Arizona Charlie's, then corporate chef at MarketSmart Brokerage, before joining Food Sales West.
Baumes, originally of Whitesboro, N.Y., moved to Las Vegas in 1983 and began working at the Riviera, where he met and married his wife, Diana. For the past 25 years, he has worked at all of the Riviera's nine restaurant kitchens and is now assistant executive chef.
The Riviera has allowed Baumes to give back to the community, as he is the Chefs for Kids breakfast chairman and vice president. With Riviera management, he also hosts the Mother's Day prime rib dinner and the Christmas Eve breakfast at the Shade Tree Shelter.
President of the American Culinary Federation Chefs Las Vegas and the 2007 Chef of the Year Kitti Sanderson served as the event's mistress of ceremonies. Chef Tom Rosenberger delivered the dinner's invocation for the 500 guests.
Before dinner was served, Sanderson presented awards to the 2008 Associate of the Year, Greg Schnekel of Meadow Gold Dairy. The Student Culinarian of the Year Award went to Rachelle Catmull of Le Cordon Bleu College of Culinary Arts. The President's Award was given to University of Nevada, Las Vegas' Jean Hertzman for her support and dedication to the American Culinary Federation Chefs Las Vegas Chapter.
Among the guests seated for the dinner prepared by Green Valley Ranch executive chef David Root and his staff were Harry Rockwell, western regional president of the ACF; Billy McGreevy, Ming See Woo, Buzz Thurber, Lorri Davidson, Lance Cranford, Jacki and Kevin Dunsheath, LouAnn Sodano and Heidi Praml.
Special recognition was given to the attending past chefs of the year: Frank Insera — Bingo Palace, 1982; Larry Chumley — Harrah's, 1984; Michael Ty — Caesars Palace, 1986; Christopher Johns — Sands, 1987; Van Atkins — Caesars Palace, 1990; Brenda Hitchins — Rio, 1993; Tom Rosenberger — College of Southern Nevada, 1997; Jean Hertzman — UNLV, 1998; Bob O'Brien — Circus Circus, 1999; Terry Henderson — Barbary Coast, 2000; Richard Cino — Sam's Town, 2001; Eric Rutsky — Circus Circus, 2003; Heinz Lauer — Le Cordon Bleu, 2004; Dennis Lambertz — Nevada Food Brokerage, 2005; and Kitti Sanderson — U.S. Foodservice, 2007.
TRIBUTE TO A LEADER: A tribute to George Washington was the first event of the annual Nevada Presidential Series honoring America's past presidents. It was presented by Andreas Adrian, the honorary consul of the Federal Republic of Germany to Nevada.
The tribute dinner took place the evening of July 1 at the Westin Casuarina Ballroom. The event doubled as a benefit for the Sigrid Sommer Scholarship Fund at UNLV, which was founded in 2006 when Sommer, who served more than 29 years as honorary consul of Germany, retired.
The Nellis Air Force Honor Guard presented the U.S. flag, Nevada flag, the German flag and the 1776 Betsy Ross flag. Daniel Villanueva, UNLV German professor, served as master of ceremonies.
Introduced was Vera Richarda and her bronze bust of George Washington. The sculpture is for sale and a portion of its proceeds will support an international studies program at UNLV and a portion will be donated to the Sigrid Sommer Scholarship Fund.
Nevada's Chief of Protocol Gayle Anderson introduced attending consul dignitaries: Lena Walther, honorary consul, Consulate of Sweden; Paulina Biggs-Sparkuhl, honorary consul, Consulate of Chile; Geoffrey VanderPal, honorary consul, Consulate of the Slovak Republic; Ed Prud'homme, honorary consul, Consulate of Austria; and Sigrid Sommer, honorary consul emeritus of the Federal Republic of Germany.
Speakers were Adrian, Sommer, University Regent Brett Whipple (a former exchange student to Germany), UNLV's College of Liberal Arts Dean Christopher Hudgins and Professor Ralph Buechler, UNLV chairman of the Department of Foreign Languages.
The featured guest speaker relating the life and times of Washington was Judge Lloyd D. George; also, UNLV associate professor of political science David Fott spoke. UNLV Sommer Scholarship student Jesse Dabney spoke about his year abroad studying in Luneburg, Germany.
Among those attending were Lola K. Parocua of the Department of Homeland Security; David Tully, Australian district director; Mark Olson, Las Vegas Convention and Visitors Authority; Patrick Clary, Nevada Committee on Foreign Relations; and Christoph Hoeflich, Westin Hotel chief operating officer.
Guests included George Sommer, Ramiro Parocua, Hank Marcuse, Rosa Mendoza, Elliot Anderson, Diane Clary and Penne Prud'homme. Susan Moore represented Lt. Gov. Brian Krolicki. Chris Reis represented U.S. Rep. Jon Porter, R-Las Vegas, and Christina Martinez represented Sen. Harry Reid, D-Nevada. The Bella Rosa Trio provided musical interludes.