Beach Club offers variety of grub to share while partying poolside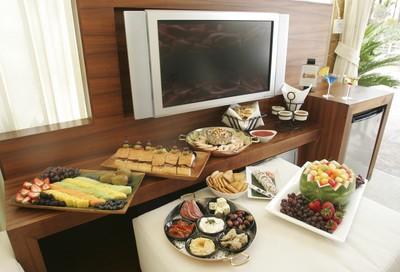 At the Hard Rock Hotel's poolside Beach Club, diners can sit around "watchin' the sun bake all those tourists covered with oil," as the Jimmy Buffett song goes.
And they can nibble on more than spongecake, too, from the comfort of a cabana or around the resort's two pools. On weekdays, men need a wristband (cost: $20) at the Beach Club entrance (women are admitted free) to enter. On weekends, the pool is reserved for hotel guests only.
The 4.7-acre pool area at 4455 Paradise Road features 40 Tahitian-style cabanas, seating four to six people, complete with plasma TV, telephone, refrigerator, fruit, bottled water, a safe for valuables and cooling misters. They are rented for a fee, which varies depending on hotel events. Or diners can sit at a table near the pools.
Hard Rock executive chef Mark W. Sherline says the menu's big sellers are the California rolls, Southwestern spring rolls and the seafood ceviche.
"They're easily shared and that's what people do here," he says of the menu items. "Once the party starts, people order everything and share."
The pool area opens at 9 a.m. daily and a breakfast menu, offering breakfast burritos, traditional American breakfast, smoothies and other items, is served until 11 a.m. Closing times vary.
For cabana reservations, call 693-5000.
Starters: Chicken quesadilla with chipotle-marinated grilled chicken breast, pico de gallo and Monterey Jack and cheddar cheese ($9.95); Tupelo chicken, crispy chicken fingers with buttermilk ranch dip and fries ($9.50); California roll with snow crab, avocado and sushi rice rolled in toasted seaweed, served with wasabi and sweet pickled ginger ($8.50); Southwestern spring rolls containing grilled chicken, roasted corn and black beans, served with cilantro pineapple salsa ($9.50); and seafood ceviche, featuring chopped shrimp, scallops and whitefish marinated with a sweet and spicy blend of lime, serrano peppers and cilantro, served with avocado salsa, sour cream and crisp tortilla chips ($11.95).
Salads: Chopped Cobb salad with avocado, tomato, bacon, roasted chicken breast, Roquefort cheese and egg, served with vinaigrette or blue cheese dressing ($12.25); Beach Club salad featuring lettuce, tomato, cucumber, cheese and bacon with chunks of fried chicken, served with buttermilk ranch or honey mustard dressing ($12.50); Chinese chicken salad with mixed field greens, grilled chicken breast, cilantro, scallions, fried rice noodles, pickled ginger bean sprouts and topped with crispy won ton strips, served with spicy sesame dressing ($12.50); and Baja steak salad with grilled chipotle-marinated steak, hearts of romaine lettuce, cilantro, tomatoes, red onion, avocado, roasted corn, black beans and ancho chili ranch dressing ($14.95).
Entrees: Blackened ahi tuna sandwich with lettuce, tomato, avocado and chipotle mayonnaise, served on a sesame seed bun ($13.50); veggie wrap with hummus, roasted vegetables and radish sprouts wrapped in spinach flatbread ($10.50); sirloin burger with lettuce, tomato and choice of cheese ($11.95); Beach Club wrap with grilled chicken breast, tomato, lettuce, cheese and bacon tossed in an avocado ranch dressing and rolled in a sundried tomato tortilla wrap ($11.95); and the club sandwich with roasted turkey and smoked bacon with lettuce and tomato on a choice of bread ($10.95).
Appetizers is a weekly informational column about new developments on the Las Vegas dining scene. Items should not be considered reviews or recommendations and none is a paid advertisement. Contact Ken White at 383-0256 or e-mail him at kwhite@ reviewjournal.com.
KEN WHITEMORE COLUMNS