Beach party raises millions for Cancer Institute
September 21, 2008 - 9:00 pm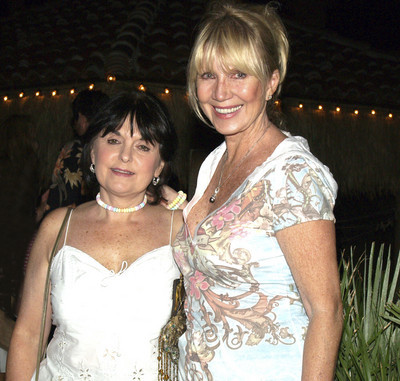 The fifth annual Summer's End Beach Party to benefit the Nevada Cancer Institute took place Sept. 13 at the Red Rock Country Club home of Joan and Jim Hammer. This year's event was a take-off on the television series "Gilligan's Island."
Guests Louise and Felix Rappaport, Fafie and Jeff Moore, Maria and Ted Quirk, Vicki and Frank Fertitta, Lynn Wisner, Lynne and Rob Hunter, Charlene Carter, Terry Wright, and Denise and George Mehocic donned their beachcombing duds, grabbed mai tais and climbed aboard grass-skirted golf carts in the club's parking area to be transported to the Hammers' home.
At the home's entrance was the beached S.S. Hammer, where Kerri Yates, Ron Comings, Ed Console, Jenny DesVaux Oakes, Karen Johnston, Michael Severino, Aneyta and PJ Becker, Angie and Todd Gragson, Candy and Ed Wilson, and Mari and Thom Landers posed for photos before climbing aboard the wooden deck.
Thatched huts offered seating for relaxing as Scott Baranoff, Sue Sullivan, Michael Thomas, Judy and Scott Machabee, Frank Schreck, Karen and Morgan Cashman, Tracy Camarano, Milo Kostelecky, Patricia and Richard Wright, Rick McGough, and Joyce and Steve Schneider sampled the libations and exotic canapes.
The Bellagio catered the dinner fare and five bars served drinks amid tiki torches, tropical flowers and giant coconuts.
The evening's master of ceremonies was Jack Sheehan. Musical entertainment was provided by Tommy Rocker and the Beatles tribute band Rain. Featured was entertainer Michael Cavanaugh, who starred in the Broadway musical "Movin' Out." Sheehan introduced speakers Paris Hilton, the Hammers and Nevada Cancer Institute founders Heather and Jim Murren.
The beach party has raised more than $40 million for cancer research and treatment. The Engelstad Foundation gave a gift of $15 million two yeas ago and Kris Engelstad McGarry returned this year to donate $20 million for the Ralph and Betty Engelstad Research facility. Korte Construction added $250,000. The evening's ticket sales added another $1.5 million.
Winning the 2009 Mercedes Benz was Curtis Theu.
More marooned islanders were Stan Hunterton, Ray and Todd Korte, Nicholas Vogelzang, Bill Young, Jan and Owen Nitz, Franko Harris, Debbie and Jim Trevino, U.S. Rep. Jon Porter, R-Nevada, Las Vegas City Councilman Larry Brown, Katie and Craig McCall and the Barry Becker family.