Being Santa opens the door to a whole new world of joy and memories
December 25, 2016 - 10:01 am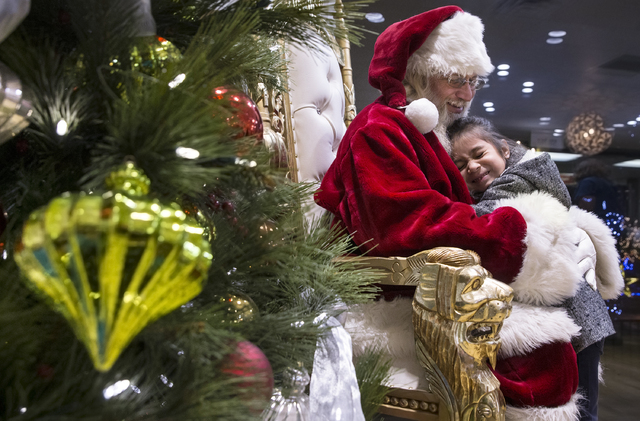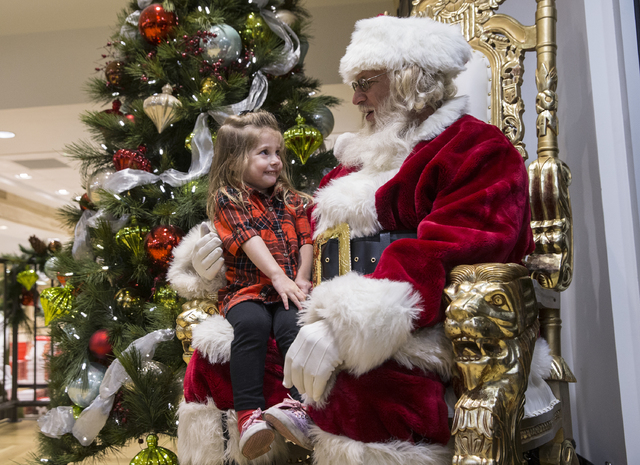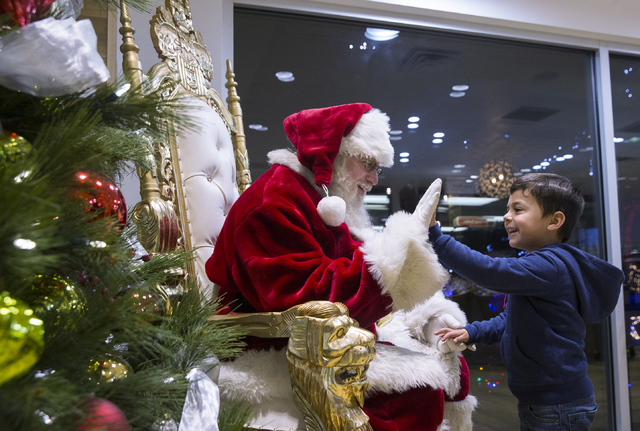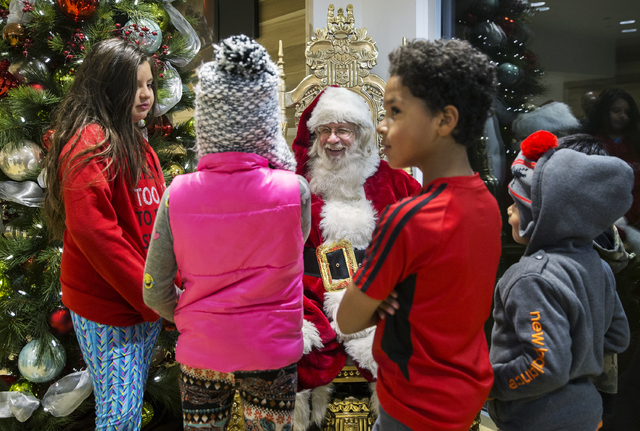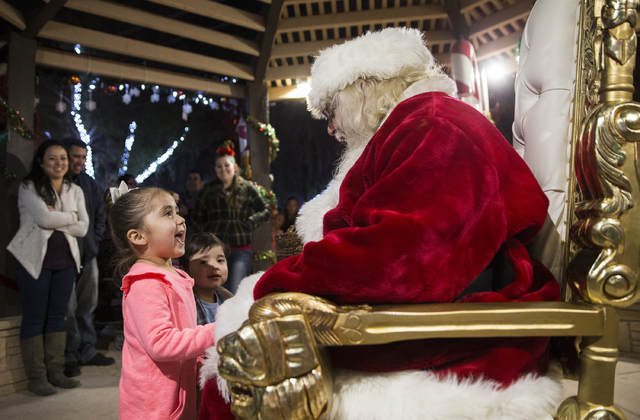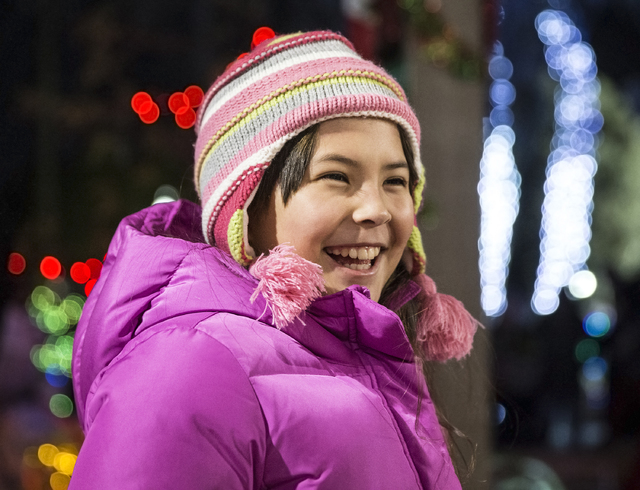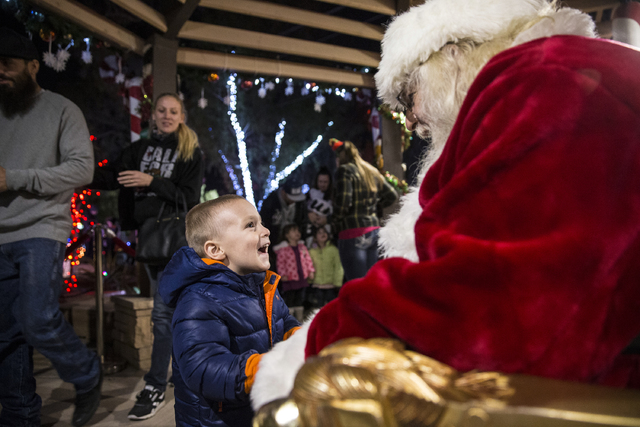 Spoiler alert: This story reveals secrets about that red-suited guy who can be seen just about everywhere this time of year. So, it may not be suitable for those younger than, let's say 8.
When Barry Solomon first pulled on the red suit, the black boots and belt and the furry hat, it was just to fill in for a Santa Claus-portraying co-worker at Ethel M Chocolates who had been transferred out of town.
But, in the 15 years since then, Solomon has discovered that the red suit is more than a costume. It's a way to enter children's — and adults' — hearts and spread the spirit of Christmas.
Solomon is retired from Ethel M but still serves as Santa Claus at the Ethel M Holiday Cactus Garden. Across the valley at Opportunity Village's Magical Forest, second-generation Santa Don Schaefer is working his 17th year at the nonprofit, most recently as Santa for Cheyenne's Magical School Bus Tour.
The Santas-in-arms hold a job nobody imagines getting but wouldn't dream of giving up once they do. They would argue it isn't so much a "job" as a calling.
Schaefer even takes it one step further: It's not about "playing" Santa, he says, but, rather, "being Santa."
Merely play the part and "kids see right through you," he explains. "You have to believe yourself that Santa Claus exists in your heart."
Being Santa is a gig that comes with no script, although it doesn't hurt to study up on a few Yuletide basics. Solomon spent his first year on Santa duty watching children's TV shows and reading Toys R Us fliers to learn about gifts kids might ask for, after being stumped by a girl who asked for "heelys."
"I didn't know what they were at the time," he says of the shoes that roll. "I started faking it: 'Oh, heelys are fun.' "
And Santas do have secrets. For example, Solomon makes a point of listening to families talk while they're standing in line.
"I listen to the kids' names, and when they come up I'll call them by name," he says. "They say, 'How do you know my name?' I say, 'Well, Santa keeps a list of naughty and nice kids and I remember that your're nice.' "
Finally, with enough preparation and the proper perspective, being Santa means becoming part of a child's — and even an adult's — memory and leaving with a few memories of your own.
Solomon remembers the family of four — mom, dad, daughter and son — who visited him every year for six years in a row. The daughter was "incredibly smart," he says, and brought her straight-A report cards to him every year from eighth-grade through her freshman year of college.
Or there's the couple who stopped by about three years ago. "The wife plunked herself down in my lap and threw her arm around me," Solomon says. "She said, 'Santa, do you know what we want for Christmas?'
"She said, 'We've been trying to have a baby, but haven't had much luck.' I put my finger to the side of my nose and said, 'Know what? I think this is the year.'
"The following year, they came back with a baby daughter, and she handed me a thank-you card," Solomon says.
Harder still is helping children deal with a parent's death. Schaefer once saw a young girl who said "'I want my Dad to come home.' I looked at the mother, and she started crying. She leaned over and whispered in my ear that her father had been killed in Afghanistan.
"Now both of us started to cry, and I was hugging this little girl for all I'm worth, and I said, 'Your dad's watching over you. He really cares about you.' "
Even grieving adults can find comfort in Santa. A few years ago, Solomon noticed an elderly man standing off to the side, watching him. Solomon called him over to talk.
"He said, 'Well, you know, my wife passed away this past year. I wish you could bring her back.' My eyes welled up with tears. So I stood up, gave him a hug and told him, 'I know how hard it is to lose somebody, but she'll always be there in your heart.' "
But lighter memories are made, too. Schaefer remembers the 7-year-old girl and 4-year-old boy whom he assumed were brother and sister.
"Because he was so shy, he couldn't say anything," he says. "I turned back to the girl and said, 'Honey, what would your brother want?' She put her hands on her hips and said, 'That's not my brother, because my mom's on the pill, because I'm too much for her.' "
He laughs. "Kids say the darnedest things."
"I had a 97-year-old lady sit in my lap the other day," Solomon says. "I encouraged her to come over and she didn't want to do it. She said, 'I never sat in Santa's lap.' "
Solomon recently saw a big guy, "probably 6-foot-6 and 300 pounds. I asked him what he wanted for Christmas. He said, 'Know what? I don't know if you'll do it, but I want to sit in your chair and have you sitting on my lap. So we did and had a picture taken and his family had a roaring good time."
The list of gifts kids ask for always includes a few standards and whatever the season's hot toy happens to be.
The Santas say their best memories are when kids ask for gifts not for themselves, but for others. Solomon says that seems to be a running theme this year.
"And my response to that a lot of times is, I'll say, 'I'm going back to the North Pole, and when I go back, I'm going to go to my workshop and make a very special gift for you.' And I get the biggest smiles. I don't promise them anything, but I let them know how much I appreciate them."
Read more from John Przybys at reviewjournal.com. Contact him at jprzybys@reviewjournal.com and follow @JJPrzybys on Twitter.