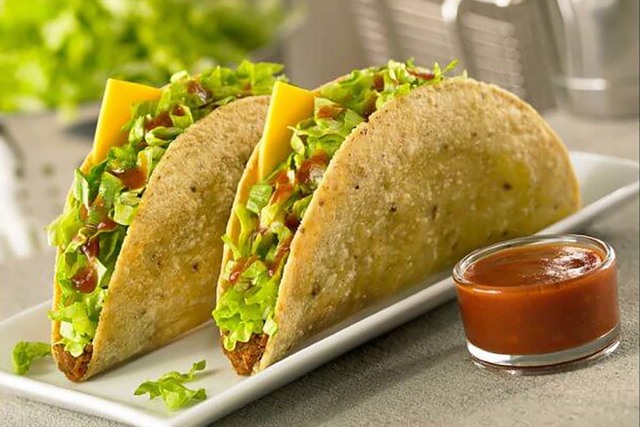 Hungry and have a fiver in your wallet? You can probably fill your belly with it — if you know where to look.
Many popular fast food joints offer value menus that will give you plenty of bang for your buck. Some serve up one-price value meals. Others tuck low-cost offerings among regular menu items. And in a few establishments, you can even still order off a rare dollar menu. Click through to see the best fast food value menus this country has to offer.
15. Arby's Sliders, Snacks and Friends of Meat
Enjoy more than a dozen value items under Arby's Sliders, Snacks and Friends of Meat menu headings with some prices under $2. For example, grab a couple Jr. Roast Beef Sandwiches or sliders and a snack-size order of curly fries for your $5 bill.
14. Subway Sub of the Day
Grab a 6-inch sub at Subway for just $3.50 when you choose its Sub of the Day. Start the work week with Sweet Onion Chicken Teriyaki, and wrap up your weekend with a Meatball Marinara sub. Turn any sub into a salad for an extra $2.50, or wrap it into a meal deal for $2.89. Stay around the $5 mark by adding apple slices, a bag of chips or cookies instead.
13. McDonald's Everyday Value Menu
Order a la carte from McDonald's Everyday Value menu to tear into a Hot 'n Spicy McChicken® or cheeseburger for a buck. And don't forget a drink — it's just $1 for any size.
Carls Jr./Hardees Classic Double Cheeeburger Combo
Depending on your location in the U.S., you might nibble your Famous Star under the name of Hardee's or Carl's Jr. The restaurant has value meals and a few dollar items mixed into its regular menu.
Try a $4.99 Classic Double Cheeseburger Combo with fries and a drink, or get just the sandwich for $2.49. You can also grab a la carte items like the Spicy Chicken Sandwich or soft drinks for a dollar.
11. Little Caesars Hot-N-Ready Classics
When you're craving pizza but want a good deal, Little Caesars Hot-N-Ready Classics are only $5. Choose from pepperoni, cheese, or, in some locations, sausage for the deal.
If eating a whole large pizza sounds a little much, grab the Hot-N-Ready Lunch Combo, which rolls out four slices of Detroit-style deep dish pizza and a bottle of soda for the same fiver.
10. Dairy Queen $5 Buck Lunch + $6 Buck Lunch
When you're hungry for a full meal, try one of Dairy Queen's two value meals. The $5 Buck Lunch teams up three chicken strips or a Deluxe Cheeseburger with fries, a 21-ounce drink and a sundae.
If you have an extra buck and an appetite, sink your teeth into the $6 Buck Lunch with a choice of a Crispy Chicken Sandwich or ?…" -pound Double with Cheese. You can swap out your sundae on either meal for a small Blizzard treat for one more dollar.
9. KFC $5 Fill Ups
You might have to look under your car seat for change to pay tax, but Kentucky Fried Chicken's $5 Fill Ups serve up a full meal for your money. Bite into Extra Crispy Tenders, two-piece drumstick and thigh, or chicken breast accompanied by mashed potatoes. Or, delve into a Famous Bowl or pot pie. A soft drink and cookie round out each meal.
8. Sonic Everyday Deals
Choose from entrees, sides, drinks and desserts on Sonic's Everyday Deals menu. Offerings such as the Jr. Deluxe Cheeseburger, Chicken Strip Sandwich and Corn Dog will run you a buck and some change. Team up your choice with small tots or fries, a small soft drink and a vanilla cone for a meal that comes in under the $5 mark.
7. Jack in the Box Jack's Value Menu
With Jack in the Box's two tacos for 99 cents, you can get a bellyful for $5. But that's not all the fast food restaurant has on its value menu. Get a 5-piece order of chicken nuggets, a Jr. Jack, Jr. Bacon Cheeseburger or Chicken Sandwich for $1.59 or less. Don't forget Value Fries and a 16-ounce drink for a buck each.
6. White Castle Sliders and Sides
You'll have no problem finding items for less than $2 at White Castle. Stretch your dollar by ordering an Original Slider, or opt for specialty options like a Bacon Cheese, Jalapeno Cheese or Chicken Breast Slider. Keep the little burgers company with a small order of fries or applesauce for less than $2 each.
5. Culver's Snackpak Meals
Get a full meal for about $5 with Culver's Snackpak. You'll get crinkle-cut fries and a drink plus a choice of nine entrees. The selection of ButterBurgers, Deluxe Singles and Chicken Tenders makes it easy to come back for more money-saving meals time after time.
4. Wendy's Right Price, Right Size + 4 for $4
Whether you want a value price on individual items or an entire meal, you can find it at Wendy's. The restaurant's Right Price, Right Size menu boasts a dozen items under $2 each. Entrees include burgers, nuggets and wraps.
Or, grab the 4 for $4 Meal, which delivers your choice of three sandwiches, alongside chicken nuggets, a drink and fries.
3. Burger King Value Menu
While Burger King regularly runs limited-time offers, it also has a value menu with items ranging from $1 to just over $2. Sandwiches for a buck include the Crispy Chicken Jr., Spicy Crispy Chicken Jr. and Cheeseburger. Mix it up with value-priced sides and drinks for a buck and change, and a soft serve ice cream cone for 75 cents.
2. Taco Bell Dollar Cravings Menu
With 11 items for only $1, Taco Bell's online Dollar Cravings menu makes it possible to fill up for your fiver.
Start with an appetizer of Triple Layer Nachos, and move on to heartier fare like the Beefy Fritos Burrito, Spicy Tostada or Shredded Chicken Mini Quesadilla. If you're a non-meat eater, try the Spicy Potato Soft Taco, Cheesy Roll-Up or Cheesy Bean and Rice Burrito. You can even add on a $1 dessert, such as Cinnabon Delights, Cinnamon Twists or a Caramel Apple Empanada.
1. Del Taco Buck & Under Menu
Del Taco's Buck & Under menu tops the list for its choice of a dozen entrees and snacks that let you try something new each time you visit. Try a Jacked Up Value Bean, Rice and Cheese Burrito or Crunchtada Tostada to start. Wash it down with a Prima Java Iced Coffee or Real Strawberry Lemonade, all for a dollar or less each.
From GoBankingRates.com: Best fast food value menus in America
RELATED
Hottest secret menu fast food items under $10
10 things you did not know about McDonalds