Binoculars in hand, bird watchers enjoy special day at Wetlands Park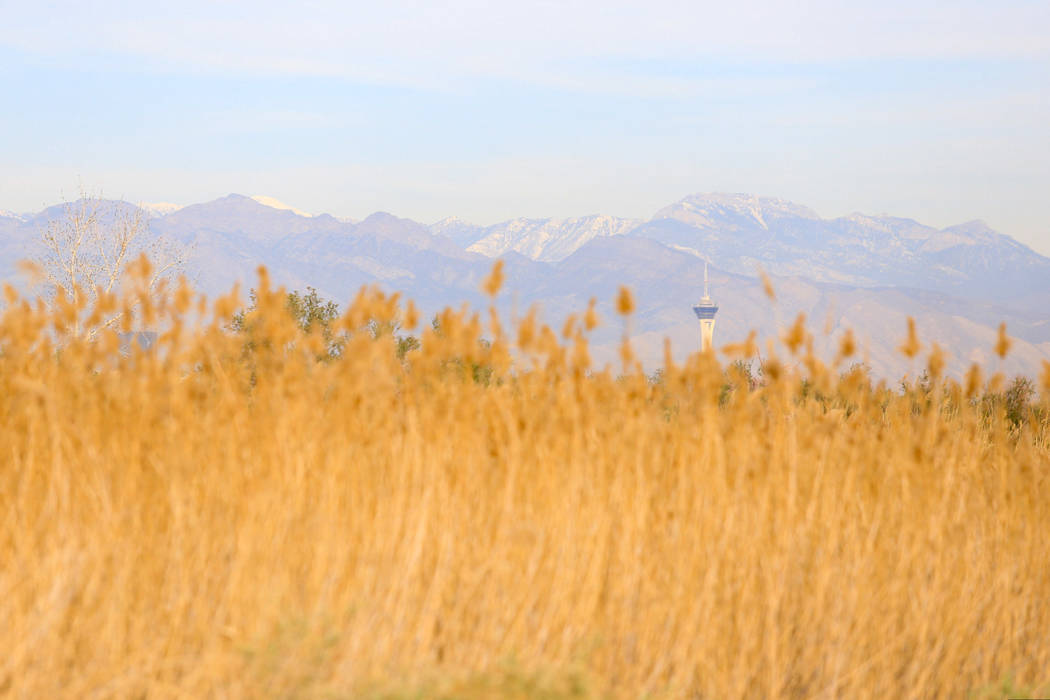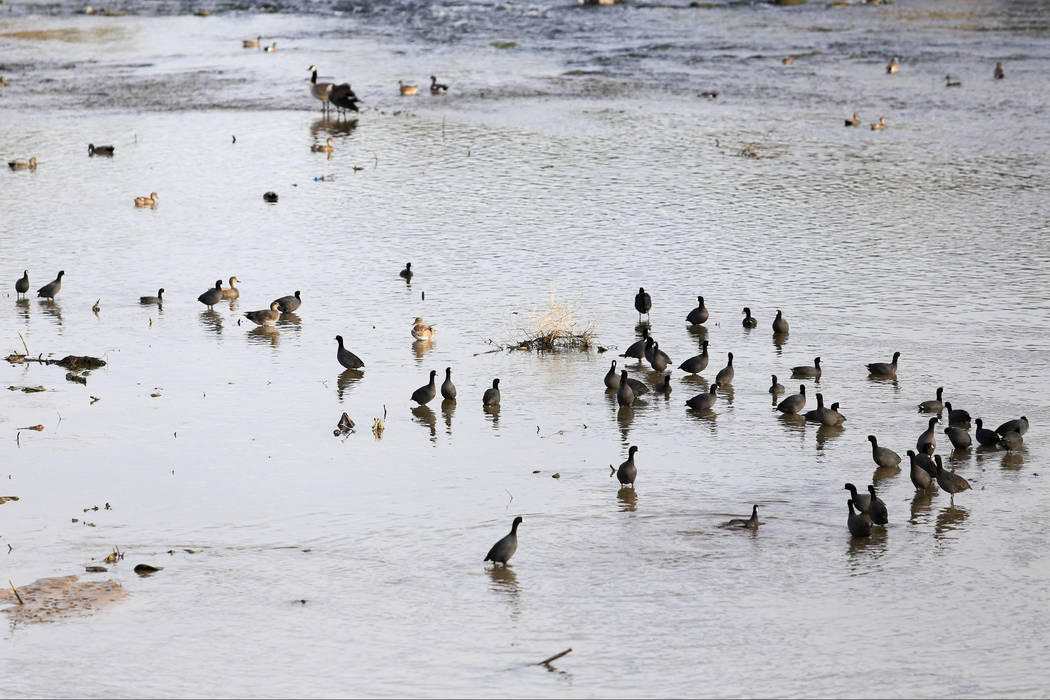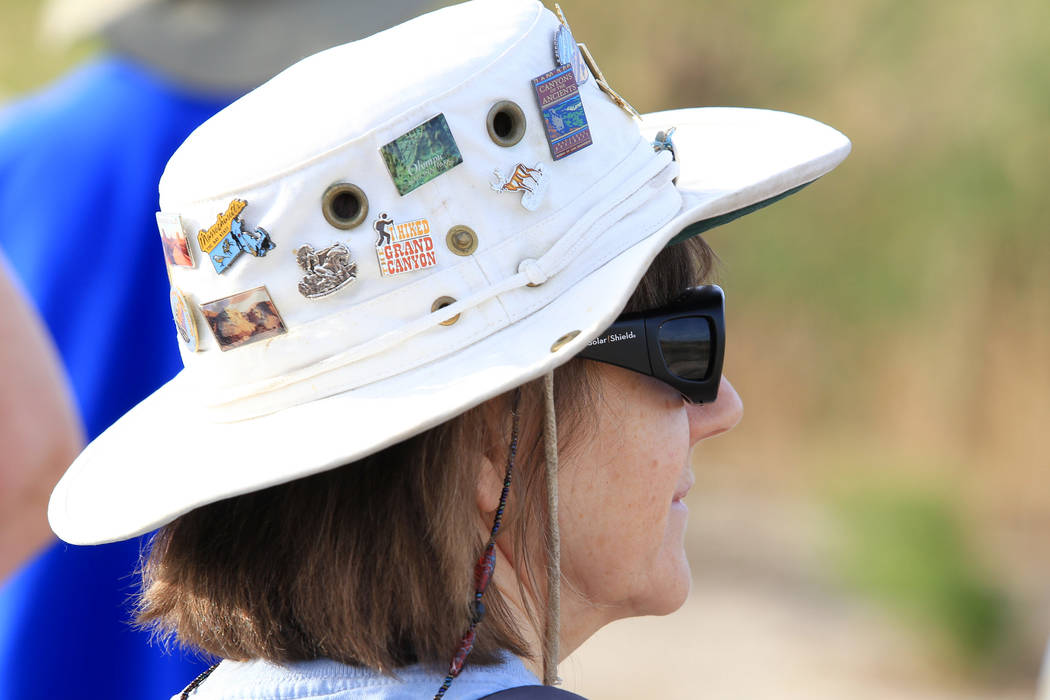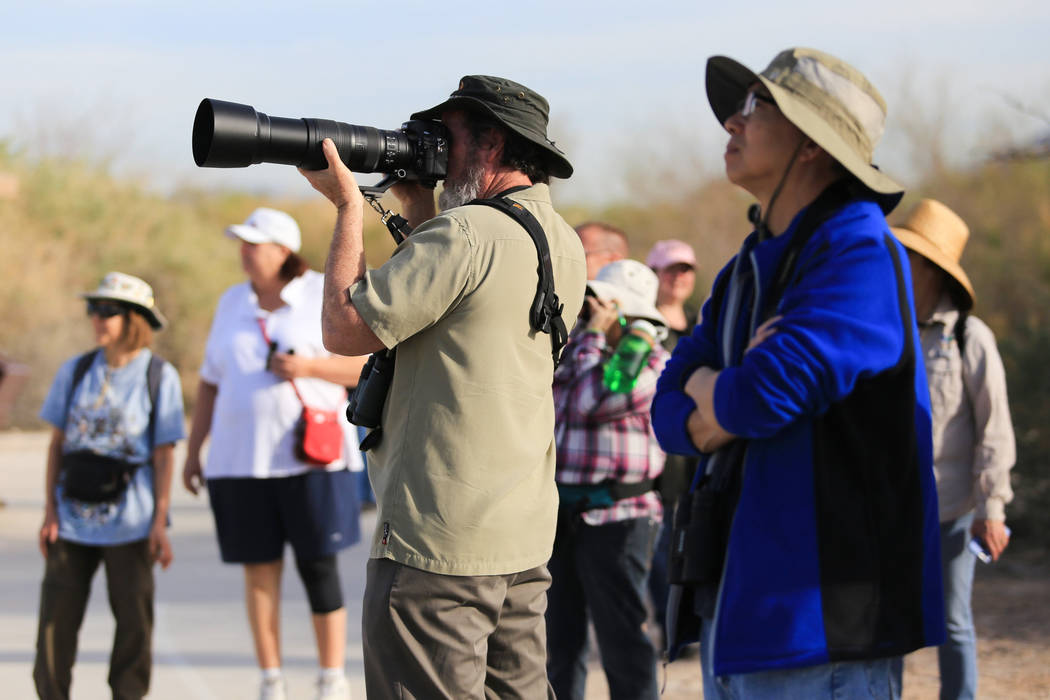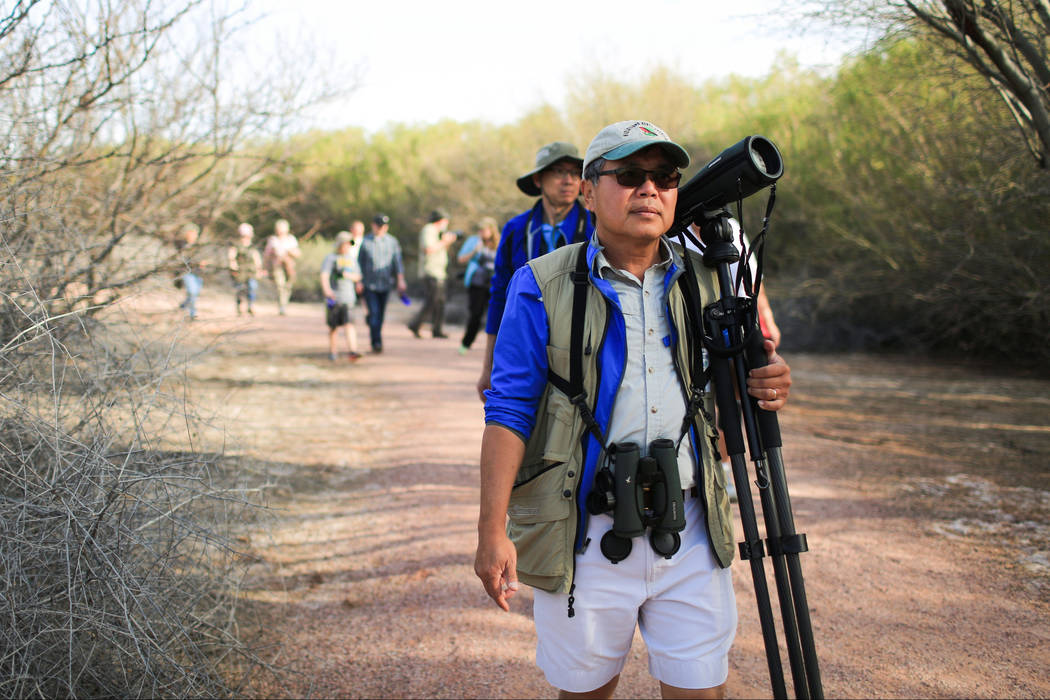 Just after sunrise Saturday, bird enthusiasts gathered to celebrate International Migratory Bird Day by wandering through Clark County Wetlands Park, hoping to catch a glimpse of birds passing through.
Crystal Alura Jackson, a program specialist at the park, said around 600 schools, parks, zoos and museums in the Americas create events to celebrate the day, which is the main program of Environment for the Americas.
This year's theme was "Stopover Sites: Helping Birds Along the Way."
"For Southern Nevada that's quite important," Jackson said."Water is scarce here, so it's important to have a habitat for migratory birds that keep going and for those that rest here and nest."
Wetlands Park is a major stopover site for hundreds of species of birds traveling the north-south Pacific Flyway that extends from Alaska to Patagonia, organizers said.
Jackson said the approximately 30 people participating in the morning's two-hour walk through the nature preserve were likely to be "die-hard enthusiasts."
Birds trilled in the cool morning air as David Walker shot a photo of a black phoebe.
Walker, whose wife Jody works at the Wetlands Park, became interested in bird watching through her work about two years ago.
"For me, it's more about photography," said Walker, who posts wildlife photos on his blog, naturallyvegas.com.
The hobby began when his wife gave him a book, which is a bucket list of birds. "My goal is to take a good picture of a male and a female," Walker said.
The group's largest bird sighting was just above the preserve's Big Bridge as guide Doug Chang pointed out cinnamon teal and blue-winged teal ducks and a great-tailed grackle.
Chang, who is president of the Red Rock Audubon Society, said he became involved in wildlife after retiring from Proctor & Gamble and moving to Las Vegas five years ago.
"Bird-watching is just something that requires some studying, and for people to get out in nature," Chang said. "Both of those are things that I like to do."
He's taken many trips and read many books and articles about birds, but he said the bulk of his knowledge has come from being wrong.
"You go out and say, 'Oh, that's a duck!' And it's really not a duck, and somebody corrects you," Chang said, laughing.
Contact Brooke Wanser at bwanser@reviewjournal.com. Follow @Bwanser_LVRJ on Twitter.
BIRD-WATCHING TOOLS
Binoculars or camera
Binoculars are the go-to tool of most bird watchers, including nearly all those on Saturday's early-morning walk. Some use cameras with long-range lenses.
Spotting scope
Doug Chang, the guide for the Wetland Park walk, uses a Swarovski spotting scope to focus in on birds out in the field. Traditionally used for hunting, the spotting scope sits on a tripod and has a powerful lens allowing viewers to see birds in greater detail than by using binoculars.
Bird-watching guide or app
Chang uses the "Sibley Birds West: Field Guide to Birds of Western North America," but he recommends any guide published by the Audobon Society or National Geographic. He also uses the book's auxiliary smartphone app, which allows him to hear the bird's call.