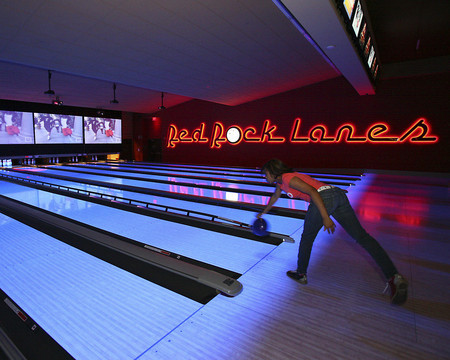 The guns of "Time Crisis 3" sit in their holsters waiting for a trigger-happy soul to stop the Zagorias' army invasion.
"Aliens: Extermination" awaits an exterminator while a Nintendo DS tantalizingly dangles in the American Idol Superstar Prize Redemption booth. All it takes is a few tokens for you to be a gamer on the move. Yeah, right.
As juicy and satisfying as these prizes may be — who doesn't want to kill aliens, save the world and win expensive stuff for 50 cents? — they remain unclaimed at midnight, their potential owners too caught up in scarfing nachos and scoring strikes on the bowling lanes.
It's an anemic crowd for Friday night/early Saturday morning bowling at Red Rock Lanes. The aroma of chicken fingers and fries is nearly as strong as the hip-hop beat pulsating from video screens above the lanes, about half of which are occupied.
The arcade, that place of wonder designed to keep the kids busy while Mom and Dad throw balls around, is empty. The kids who would usually be here battling aliens and such, they're probably home in bed at this hour. Right? Yeah, right.
It's hard to get a good count but at least 20 humans of short stature and very youthful appearance are bowling. There really is no bedtime for babies in this town.
A woman with a beer in one hand rocks a baby carriage with the other while the occupant's tiny infant feet point to the ceiling, kicking and jerking in rhythm with the crack of ball against pin.
In lanes 54 through 56, kids and adults celebrate the birthday of Tia Yancy, 14. Two boxes of cupcakes sit on a table, forgotten for now. The group is in the middle of a game. Tia's mother, Anjanette Yancy, might be winning.
Tia takes her ball and approaches the lane with a practiced step, flinging it toward the pins. Her ring goes with it.
It is a night of surprises for Tia. She is surprised by her surprise party.
"I thought my sister was taking me out," she says.
She is surprised when her new ring goes flying.
"I got it for my birthday," she declares.
She isn't surprised when her mother walks out on that greasy floor and fetches her ring from the gutter. In the purse it goes, until they are safely away from any gutters.
Three guys hang back, sort of near Tia's group. A big, broad man wearing a dark suit and a name tag stares at them. They appear to be without adult supervision, a no-no at this hour. His job is to handle the situation.
The three guys look like they could be with the party and they look like they could be alone. They eat burritos from the casino's food court and text on their cool phones. Turns out, they're celebrating Tia's birthday and checking out hot chicks, one of them says.
"You'd be surprised how many kids we find in here unsupervised," says the security guy. "It'll be 3 o'clock in the morning and a 13-year-old will be in here without a parent. We have to send them out, but to who?"
Right now, he doesn't have to answer that question. He turns back to surveying the crowd, situation normal. A man and woman kiss over their scoring screen. A father shows his young son how to hold a bowling ball.
It's nearly 1 a.m. and it feels like the room is sleepy. People are clearing off their snack baskets and changing back into their shoes. It seems like a good time to go home.
Then, a young woman goes shuffling back to her table, fresh pitcher of beer in hand. Just in time; it's her turn.
Contact reporter Sonya Padgett at spadgett@review journal.com or 702-380-4564.
ON THE WEB: MORE STORIES FROM THE BEWITCHING HOUR
Slideshow