Bishop Gorman volunteers help the near homeless — PHOTOS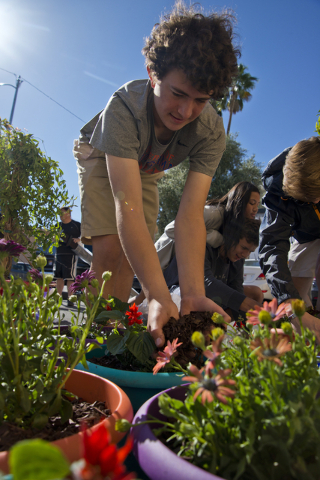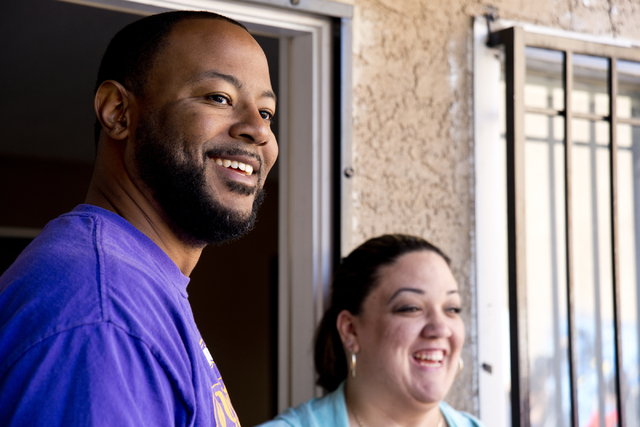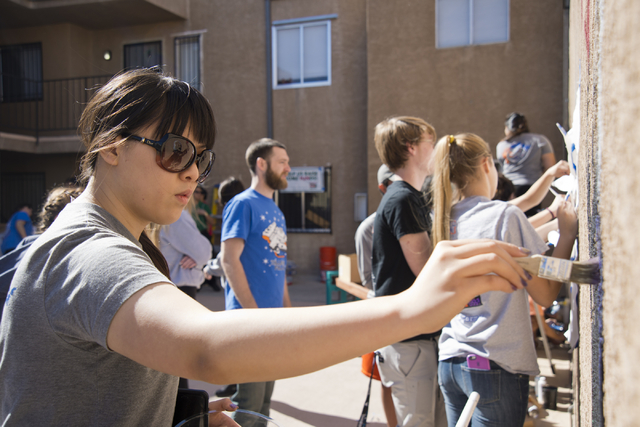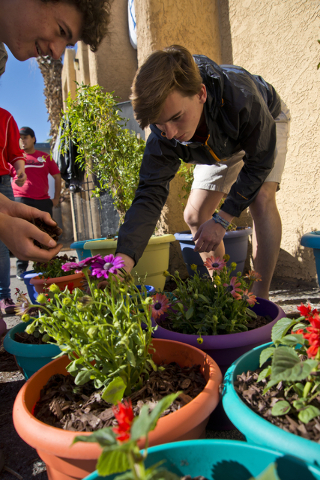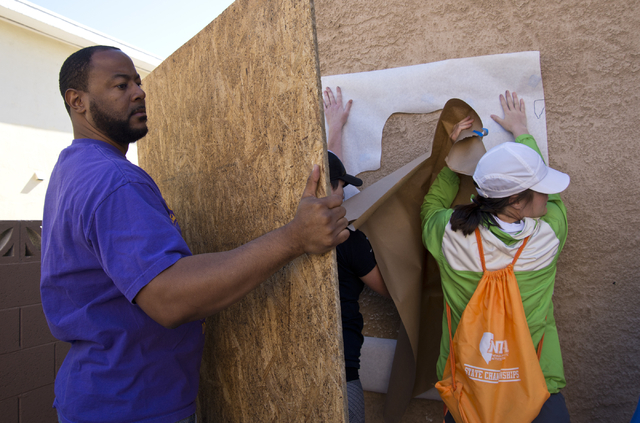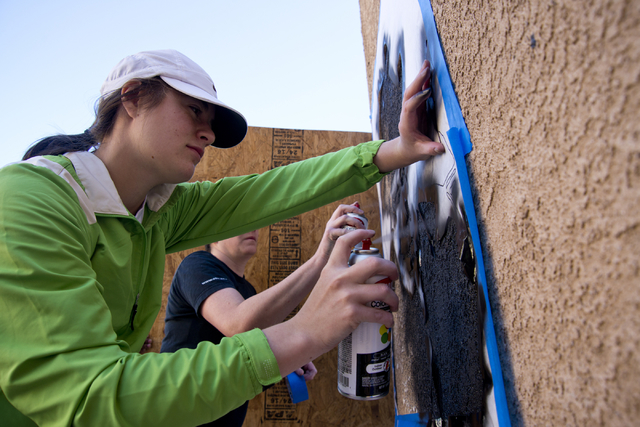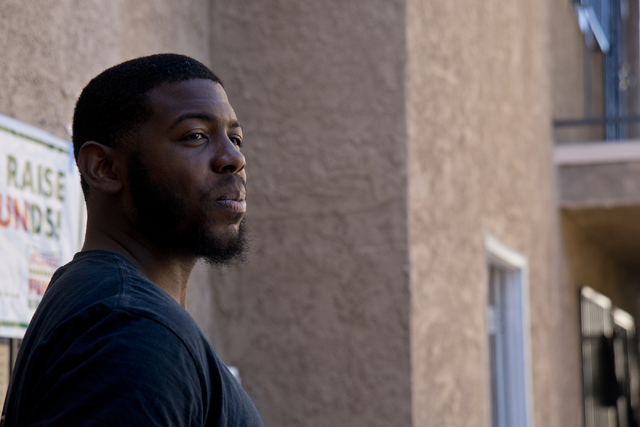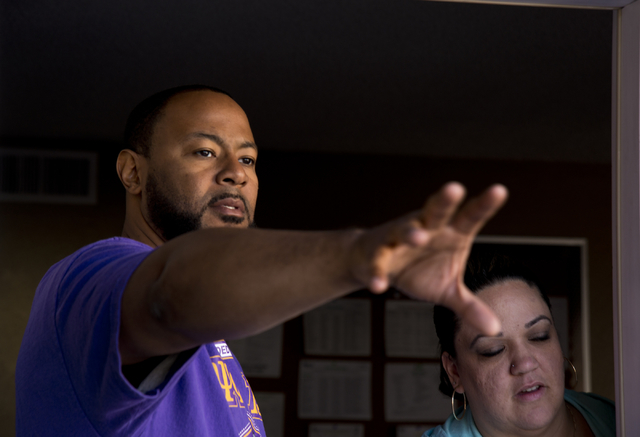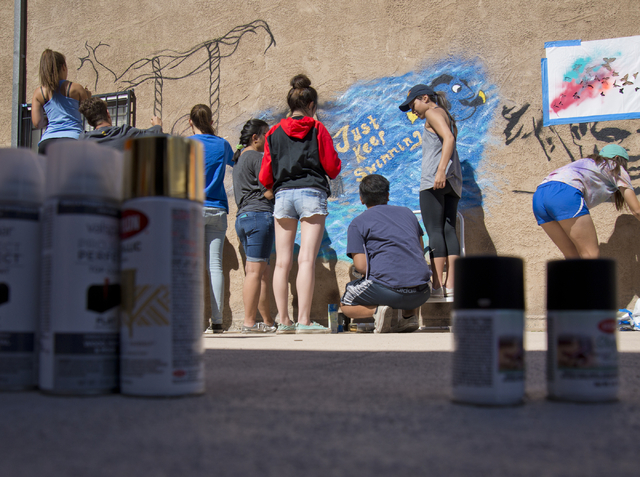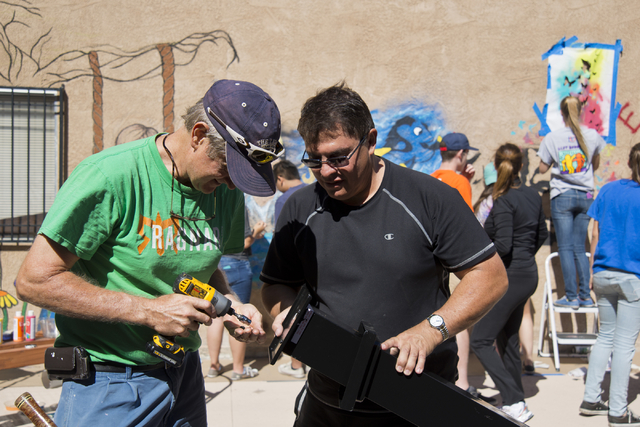 Philadelphia native Brenden Russell and his girlfriend moved to Las Vegas about a month ago in search of a better life.
"The past month has been interesting," the 29-year-old said. "Originally, I thought I could transfer my job out here, but I found out I couldn't."
A family friend of Russell's told him about New Genesis, a Las Vegas nonprofit organization that provides housing and employment services to those who are homeless or on the brink of homelessness.
Within two weeks, New Genesis helped Russell land a full-time customer service job and an apartment.
"It's a safe place to lay my head at night and compared to the situation I was in, it's a lot better," he said. "Hopefully once I get on my feet, I can lend a hand."
On Saturday, more than 50 students from Bishop Gorman High School were lending many hands at Russell's apartment building by beautifying the courtyard with murals, benches, plants and a gazebo.
Junior Randi Aguilar helped paint murals of Ellen DeGeneres and Dory from "Finding Nemo," which were surrounded by the quote, "Just keep swimming."
"We wanted to do murals of inspiring people so [the residents] can be inspired when they look at it every day," she said. "Many of us don't realize how lucky we are, and it's nice to give back to those who deserve it."
"For the last 10 years we've been able to help Las Vegas families get back on their feet," New Genesis Executive Director Maurice Page said of the organization's Las Vegas branch.
Residents can stay up to two years in one of nearly 25 apartments. They must be over 18, have employment and be substance-free, among other requirements. "Our clients take pride in having their own apartment, and they're hungry to see success in trying to sustain it," Page said.
The organization helps clients with needs such as getting a GED diploma, finding a job and addressing medical issues.
Resident Jerome Salazar, who has lived in his West Cleveland Avenue apartment for a year and a half, said he doesn't think the students realize the impact of their actions on residents' lives.
"Watching these young people come together and think of others is amazing," he said. "Now we can walk into the courtyard, sit down and feel joy and comfort."
Salazar, 55, was homeless before landing his current job moving furniture.
"I'm blessed not to be homeless anymore, but I'm still walking the path having one foot in and one foot out," he said. "It's scary because I don't want to be homeless ever again."
New Genesis has restored his hope for the future
"I want to get a car and own my home someday," he said. "When I was in the shelter I used to take it day by day, just trying to exist, but now that I've got this job, I can dream."