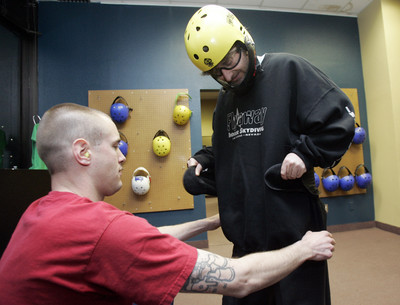 When Brad Hess, a manager at Flyaway Indoor Skydiving, invited me to be an instructor in his vertical wind tunnel, I jumped at the chance and yelled Geronimo.
Of course, I would have to pass the training first. But six years ago — for a similar series I wrote at The Daily Breeze in Torrance, Calif. — I stepped out of a perfectly good airplane as the newest member of the Flying Elvi.
How can fake sky diving be harder than that?
"Every little thing you do in there is gonna have an effect," Hess tries warning me beforehand.
Tucking your head in or flattening out your body will make you climb. Arching your back too much will make you fall. Turning your hands or feet one way or another will make you spin.
Whatever.
All I know is that, this time, there are no worries about my chute not opening, landing on live electrical lines, or the Elvis I'm strapped to losing consciousness. The walls at Flyaway are padded and the floor, through which a mighty wind blows, is springy wire mesh.
While 25 of every 100,000 sky-dives a year result in death, fake sky diving has the same death rate as quilting.
I await takeoff face down on the mesh, prepared to deliver a performance to be studied by tunnel rats (fake sky divers) for years.
"Start it up!" Hess yells to Dave McMahon, the manager controlling the fan in an overlooking booth.
This is the last thing audible for 20 minutes other than the noise produced by a DC-3 propeller powered by a 1,000-horsepower engine.
At 75 mph, I rise about an inch. Hess signals for more speed as a realization hits: This is nothing like real sky diving. Sure, air blows against your body when you free-fall, but not strongly enough to blow you back into the plane. The only other way to experience this outlandish degree of force is if you look to your right and trees, mobile homes and dogs named Toto are floating alongside you.
More significantly, there is no weightlessness during indoor sky diving. In fact, I feel every Taco Bell bean burrito I shouldn't have eaten since 1999.
The first vertical wind tunnel was built in 1943 at the Wright Patterson Air Force Base in Dayton, Ohio. It was for spin testing model aircraft. No one knew if it was safe for humans before Jack Tiffany, a parachute tester for the Apollo space program, decided to give it a whirl in 1964. (Johnny Knoxville only thinks he invented "Jackass.")
The first purely recreational vertical wind tunnel, the Levitationarium, opened in Canada in 1979. (Flyaway opened in 1982.) Today, 46 of the tunnels blow around the globe. Sky divers use them to master aerial acrobatics and the control necessary to fly close to one another in formation.
"I had been working at Flyaway three years before I went through sky-dive training," Hess said. "Normally, people make eight student jumps, but I only had to make four. I skipped levels because of my experience in here."
Hess, 26, grew up in San Jose, Calif., obsessed with flight.
"I always wanted to be a fighter pilot," he said, "but I'm not disciplined enough for the Air Force."
Sky diving indoors, pretty much whenever he wants and there are no customers, takes the edge off that regret. While attending the University of Nevada, Las Vegas in 2003, Hess became a Flyaway instructor, which pays $7.50 an hour to start.
"It's awesome teaching people to fly on their first time," he said, "to look up and see how much fun they're having once they finally catch some air."
Among Flyaway's 30,000 annual customers are occasional celebrities.
"Edward Norton and David Hasselhoff did good," Hess said, "but Leonardo DiCaprio did better. He got it and was actually starting to control himself on his first time without me teaching him." (It must have been all that practice on Titanic's bow.)
By 2006, the itch to sky-dive for real became too great for Hess not to scratch.
"As soon as the door opened on the airplane, my heart jumped out of my throat," he recalled of the dive he made from Mesquite. "But in the air was the most amazing feeling of freedom I'd ever tasted. And I knew right then and there that I was destined to be poor from spending all my money on this."
As the wind beneath my lack of wings reaches its full force of 120 mph, I suddenly remember all the things I enjoy defying — my parents, my bosses, antiquated sex laws — more than gravity.
Hess holds onto me. This is not because I need a hug, but because the wind doesn't blow equally in all areas of the 12-foot circle. It peaks like a bell curve in the center, where you must try to hold yourself like a beach ball atop a column of Bellagio fountain water.
Hess lets go, and the wall makes its first of many introductions. Like I said, it's padded. But that doesn't negate the strain on individual parts called upon to absorb the body's entire weight, and then some, at unfamiliar angles.
The day before my flight, a flier dislocated her shoulder this way.
"Rather than tucking and rolling, she stuck her arm out and tried to brace herself," Hess explained, adding, "but that's really rare." (Nevertheless, the contract all participants are forced to sign reads, "You could be seriously injured or even killed as a result of your participation.")
As I try walking back to the center of the circle for more torture, Hess' stiff and awkward body language tells me either that he's making fun of how much I'm slouching, or that he really should have paid a visit to the men's room before entering the chamber. (Later, he explains that leaning forward catches air that pushes you in the direction opposite from the one you want to walk in.)
I can't say which is blowing harder, the DC-3 propeller or me, but I flop at least as many times as David Lee Roth did before Van Halen took him back. Hess, meantime, decides to show off. He shoots 22 feet up to the roof like Charlie and his grandfather in the original "Willy Wonka." Here, he executes somersaults, back flips and drill-bit-fast spins.
As I gaze upward, McMahon comes running out of the booth, dives into the air jet and lets it hurl him directly into my chest. He tackles me with all the enjoyment of Bennett Gewurtz in Mr. Playa's junior high school gym class.
"If a 190-pound body comes flying at you, you have to learn how to move it," McMahon tells me later.
By this point, however, something tells me that this exercise was just for fun (theirs). Flyaway has already decided not to allow me anywhere near a first-time student.
"You're not even close to ready," Hess says after McMahon cuts the fan juice. "We didn't even get into spotting fliers so they don't land on their head, or how to move someone through the air."
He shakes his head.
Come to think of it, it wasn't me who dove out of a perfectly good airplane six years ago. It was the Flying Elvis I was strapped to in four places. Nothing we did relied on any decision, or skill set, of mine. I was basically just his oversized fanny pack.
As I change clothes, I overhear McMahon laughing with three of his instructors.
The video of my Flyaway experience will be watched by tunnel rats for years, it turns out — only not for the reason I had hoped.
Watch video of Levitan learning to indoor sky-dive at www.reviewjournal.com/columnists/levitan.html. Fear and Loafing runs Mondays in the Living section. Levitan's previous columns are posted at fearandloafing.com. If you have a Fear and Loafing idea, e-mail clevitan@reviewjournal.com or call (702) 383-0456.
Watch the video