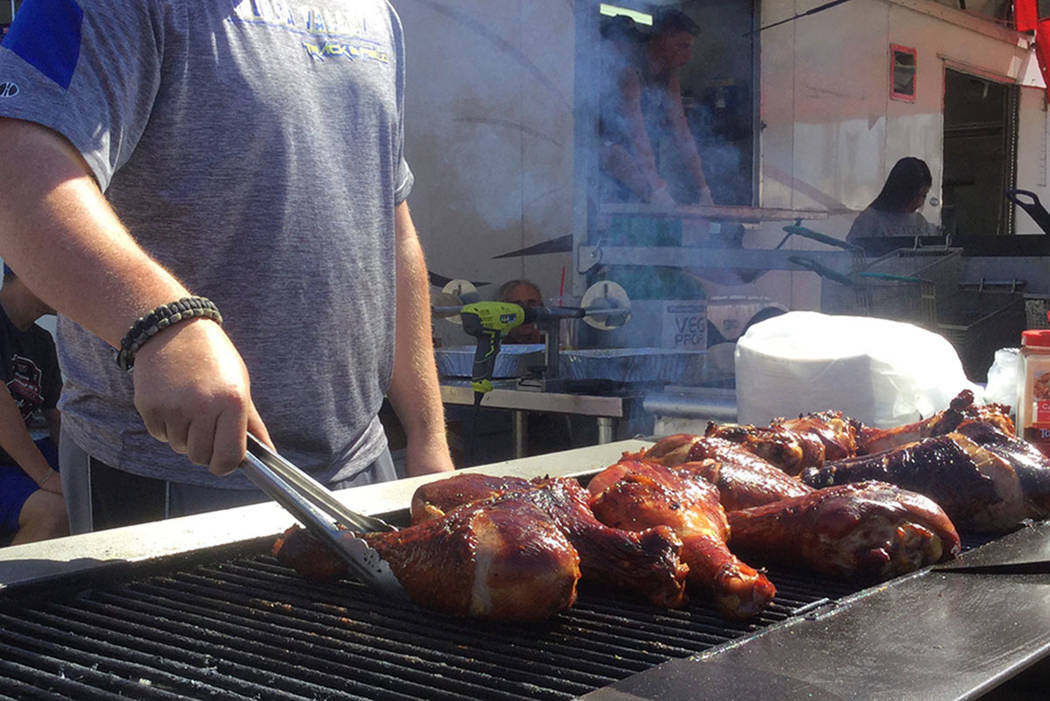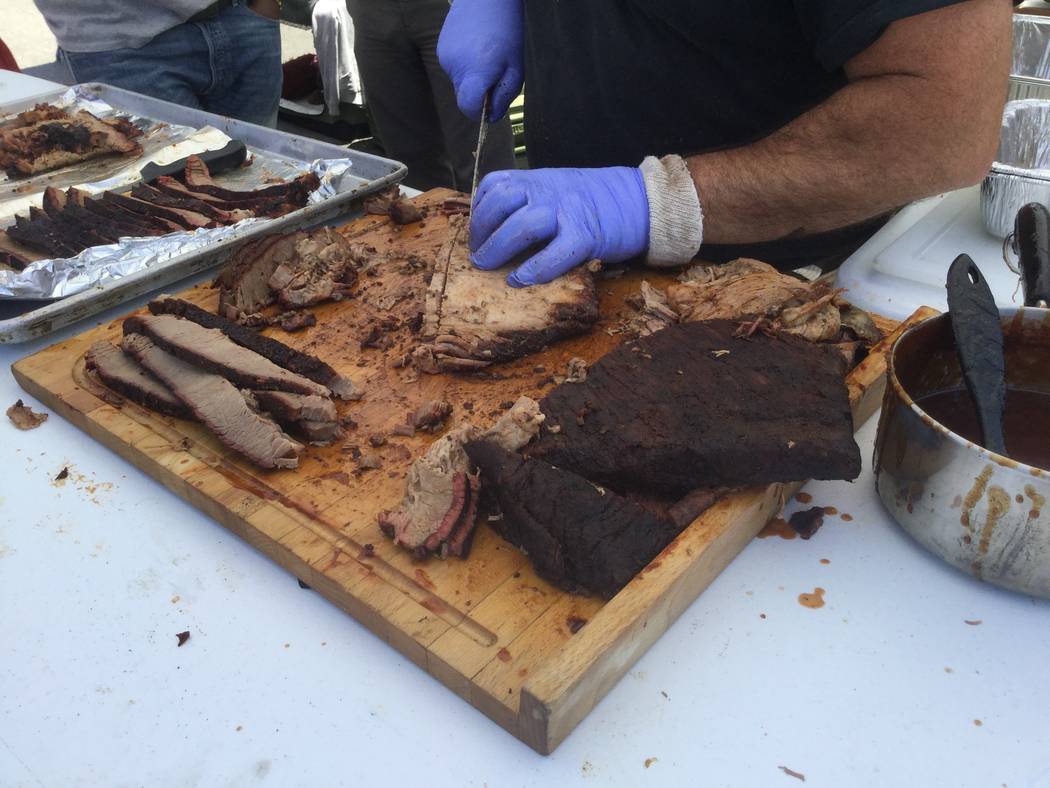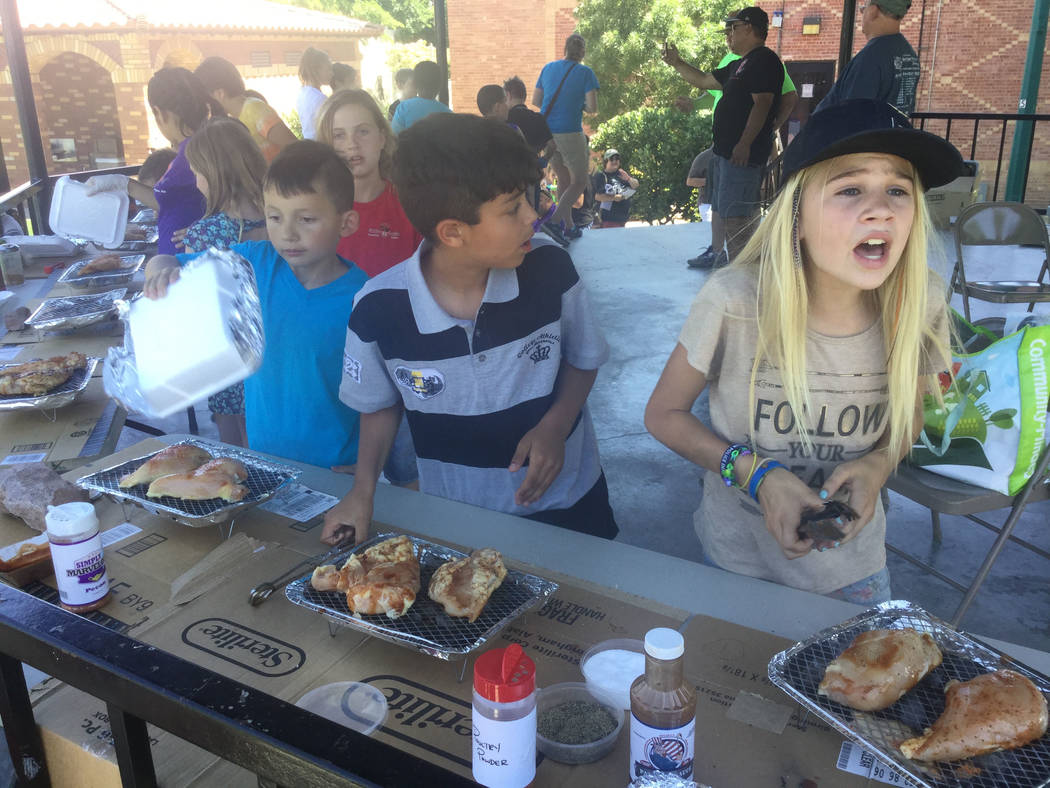 Ryan "The Dude" Whelan and his girlfriend, Kelcie Alder, needed all the time they could get to prepare for the Best Dam Barbecue Challenge.
Overnight Friday, Alder slept on an air mattress in the van they brought to Boulder City from Henderson and Whelan stayed up all night, checking brisket every 20 minutes as it slow-roasted. His first entry was due Saturday at noon.
The two are preparing to open a restaurant in Summerlin this summer, but Whelan said the barbecue competition was in some ways more challenging.
"This is way more meticulous," he said. "I spent over an hour butchering chicken thighs … you do a lot of very tedious work, like decorating the box with parsley."
Picking parsley took 30 minutes alone, Whelan said, and that's just for presentation — the least-weighted score category. All of that work was done to impress the Kansas City Barbecue Society-sanctioned judges at the 13th annual Best Dam Barbecue Challenge, held Friday and Saturday at the Boulder City Bicentennial Park. Event judges scored chicken, ribs, pork and brisket on taste, texture and appearance.
The barbecue challenge is the Boulder City Rotary Club's largest annual fundraiser, event coordinator and club President-elect Sandy Johnson said. She said 8,000 to 10,000 visitors were expected to attend this year's event, which was on track to raise $18,000, similar to 2016. The money will fund the club's philanthropy for the next year, she said.
The event, which honors former event coordinator Christy Springgate-Hill, had a variety of family-friendly activities, including face painting, vendors, a rib-eating contest and a children's barbecue challenge.
Whelan and Alder, competing as the Magic Flower Smokers, were one of 38 competing teams. Competitors arrived from all over the country for the chance to win prize money and qualify for the Jack Daniel's World Championship Invitational Barbecue and the American Royal World Series of Barbecue.
This year's grand champion winner, Big Poppa Smokers, received a $2,500 prize; the reserve champion, Hickory and Spice BBQ, won $1,500. Both teams are based in California.
Although the prize money probably attracted some contestants, camaraderie also seemed a potent draw. Vincent Carrocci and Alexa Fairbairn, who made up the Phoenix-based team Rhythm 'N Que, said barbecue contests have an inviting, friendly atmosphere.
"If somebody needs something, they help you out," said Carrocci, who said he and Fairbairn began competing in barbecue contest together in 2006. Once, he said, a rival team saw them struggling with their ribs and offered them a fresh set of ribs to start over with.
Johnson said the Best Dam Barbecue Challenge is growing. There have been more stands set up at the marketplace, more food vendors and more competitors every year.
"It just keeps getting bigger and better," she said.
Contact Bailey Schulz at bschulz@reviewjournal.com or 702-383-0256. Follow @bailey_schulz on Twitter.
999 Colorado St, Boulder City, NV 89005