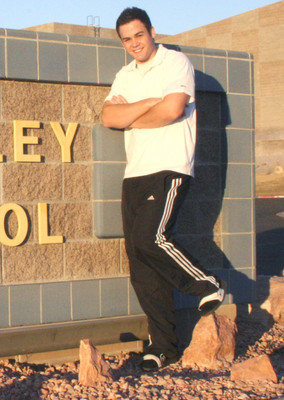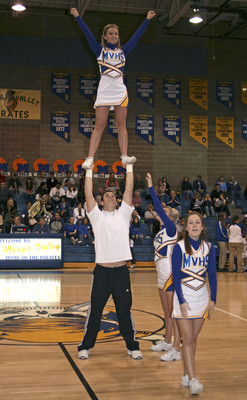 Dallin Wilson's day breaks down just like any other high school athlete. Wake up, come to school and then head off to a game or practice.
One exception: Wilson isn't practicing free throws or field goals; he's perfecting double back handsprings.
A senior at Moapa Valley High School in Logandale, Wilson has been cheerleading since August when, on a whim, he accompanied a friend's sister to a cheer practice in Mesquite.
"I went in the beginning because I wanted to learn how to tumble," Wilson says. "Then I found out that the other aspects of the sport were challenging and kind of fun."
The actual decision to pursue cheerleading, however, was not one that came easily.
"The most difficult thing I had to do was make the decision to join my high school squad," says Wilson. "There's never been a male cheerleader at my school and I knew the majority of the student body would not react favorably."
Wilson overcame any doubts and chose to cheer full time. He now cheers for his high school squad and competes regularly with his All-Star squad in Mesquite. He attributes his drive to the benefits he will reap beyond high school.
"I definitely have future plans for cheerleading — that's the main reason I do it now," he said. "I hope to go to college in Utah, or maybe UNLV or UNR, and make one of their squads. They hand out some serious scholarship money if you can make it as a guy cheerleader."
Besides earning scholarships, cheering has other significant benefits. Performing cool stunts and being surrounded by cute girls also are enticing aspects of the gig.
"I love to tumble, but partner stunting is probably my favorite part," says Wilson. "I think I like cheer because it is so challenging; we have so much to learn. What's not to love, though? I'm surrounded by 30 really good-looking girls every day."
Though Wilson jokes about the girls on his squad, he knows what people must think of a guy involved in a predominantly female sport. One of two male cheerleaders who joined this year's squad, Wilson is familiar with the assumptions that come with his cheerleader status.
"I've been the victim of a stereotype many times," he says. "I've often been labeled as feminine or gay, but does that affect me? Absolutely not. I love what I do and I'm good at it."
Fitting the mold, it seems, isn't exactly Wilson's style. He is anything but the chanting, toe touching, all smiles and spirit fingers cheerleader one might expect. His specialties are focused on tumbling and stunting, which involves lifting his partner straight into the air, a feat that comes with some responsibility.
"I hate that people don't appreciate the sport," Wilson says. "I know people are looking at me and judging me. If a stunt falls, it's my fault because I'm the guy."
While the girls on the squad are clad in blinding blue and gold uniforms with the glaring letters MVHS stitched on, Wilson performs in a clean white polo and black athletic pants. And, should there ever be any misconceptions thanks to movies such as "Bring It On," Wilson is quick to shut them down.
"I've seriously never touched pom-poms in my entire life," he laughs.
R-Jeneration