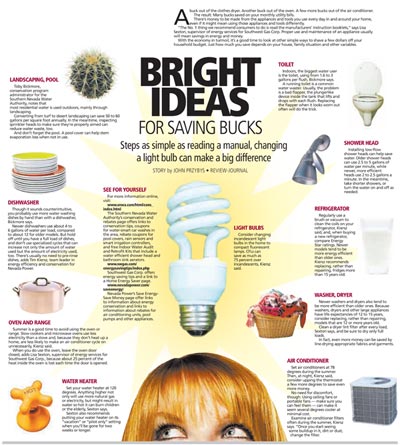 A buck out of the clothes dryer. Another buck out of the oven. A few more bucks out of the air conditioner.
The result: Many bucks saved on your monthly utility bills.
There's money to be made from the appliances and tools you use every day in and around your home, even if it might mean using those appliances and tools differently.
"The No. 1 thing we recommend consumers to do is read the manufacturers' instruction booklets," says Lisa Sexton, supervisor of energy services for Southwest Gas Corp. Proper use and maintenance of an appliance usually will mean savings in energy and money.
With the economy in turmoil, it's a good time to look at other simple ways to shave a few dollars off your household budget. Just how much you save depends on your house, family situation and other variables.
LIGHT BULBS
Consider changing incandescent light bulbs in the home to compact fluorescent lamps. CFLs can save as much as 75 percent over incandescents, Kiersz said.
LANDSCAPING, POOL
Toby Bickmore, conservation program administrator for the Southern Nevada Water Authority, notes that most residential water is used outdoors, mainly through landscaping.
Converting from turf to desert landscaping can save 50 to 60 gallons per square foot annually. In the meantime, inspecting sprinkler heads to make sure they're properly aimed can reduce water waste, too.
And don't forget the pool. A pool cover can help stem evaporation loss when not in use.
AIR CONDITIONER
Set air conditioners at 78 degrees during the summer. Then, at night, Kiersz said, consider upping the thermostat a few more degrees to save even more money.
No need for discomfort, though: Using ceiling fans or portable fans — make sure you can feel them — can make it seem several degrees cooler at minimal cost.
Examine air conditioner filters often during the summer, Kiersz says. "Once you start seeing some buildup in it, dirt or dust, change the filter.
TOILET
Indoors, the biggest water user is the toilet, using from 1.6 to 3 gallons per flush, Bickmore says.
A running toilet is a common water waster. Usually, the problem is a bad flapper, the plungerlike device inside the tank that lifts and drops with each flush. Replacing the flapper when it looks worn out often will do the trick.
SHOWER HEAD
Installing low-flow shower heads can help save water. Older shower heads can use 2.5 to 5 gallons of water per minute, while newer, more efficient heads use 2 to 2.5 gallons a minute. In the meantime, take shorter showers, or turn the water on and off as needed.
DISHWASHER
Though it sounds counterintuitive, you probably use more water washing dishes by hand than with a dishwasher, Bickmore says.
Newer dishwashers use about 4 to 6 gallons of water per load, compared to about 12 for older models. But hold off until you have a full load of dishes, and don't use specialized cycles that can increase not only the amount of water used but the amount of electricity used, too. There's usually no need to pre-rinse dishes, adds Tim Kiersz, team leader in energy efficiency and conservation for Nevada Power.
OVEN AND RANGE
Summer is a good time to avoid using the oven or range. Slow cookers and microwave ovens use less electricity than a stove and, because they don't heat up a home, are less likely to make an air conditioner cycle on unnecessarily, Kiersz said.
When you do use the oven, leave the oven door closed, adds Lisa Sexton, supervisor of energy services for Southwest Gas Corp., because about 25 percent of the heat inside the oven is lost each time the door is opened.
REFRIGERATOR
Regularly use a brush or vacuum to clean the coils on your refrigerator, Kiersz said, and, when buying a new refrigerator, compare Energy Star ratings. Newer models tend to be more energy efficient than older ones. Kiersz recommends replacing, rather than repairing, fridges more than 15 years old.
WATER HEATER
Set your water heater at 120 degrees. Anything higher not only will use more natural gas or electricity, but might result in water so hot it can burn children or the elderly, Sexton says.
Sexton also recommends putting your water heater on its "vacation" or "pilot only" setting when you'll be gone for two weeks or longer.
WASHER, DRYER
Newer washers and dryers also tend to be more efficient than older ones. Because washers, dryers and other large appliances have life expectancies of 12 to 15 years, consider replacing, rather than repairing, models that are 12 or more years old.
Clean a dryer lint filter after every load, Sexton says, and be sure to dry only full loads.
In fact, even more money can be saved by line-drying appropriate fabrics and garments.
SEE FOR YOURSELF
For more information online, visit:
www.snwa.com/html/cons_index.html
The Southern Nevada Water Authority's conservation and rebates page offers links to conservation tips, coupons for water-smart car washes in the area, rebate coupons for pool covers, rain sensors and smart irrigation controllers, and free Indoor Water Audit and Retrofit Kits that include a water efficient shower head and bathroom sink aerators.
www.swgas.com/energysavingtips/index.php
Southwest Gas Corp. offers energy saving tips and a link to a Home Energy Saver page.
www.nevadapower.com/saveenergy/
Nevada Power's Save Energy-Save Money page offer links to information about energy conservation and links to information about rebates for air conditioning units, pool pumps and other appliances.