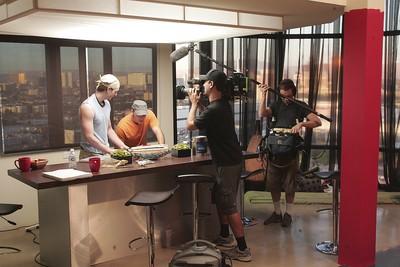 Las Vegas may be the neon and glitz capital of the world. But the interior design capital of the world?
Despite decor traditions ranging from gold-veined mirror tiles to Elvis on velvet, cable's HGTV thinks so — at least for the next eight weeks — as it rolls the dice here during the second season of "Design Star."
The home and garden channel's homegrown reality competition, "Design Star" features 11 on-camera wannabes vying for the chance to host an HGTV series all their own.
Last year's inaugural contest took place in New York City.
This season, however, a Regency Tower penthouse provides the suitably spectacular rooms with a view.
And the 11 finalists — chosen from among thousands of applicants — demonstrate suitably enthusiastic reactions when they arrive at their home base, a high-rise east of the Strip with a panoramic perspective on the Las Vegas Country Club golf course, the Las Vegas Convention Center and the Strip beyond. (On a clear day, you can even see Red Rock Canyon National Conservation Area.)
"Look at the VIEWWWWWWW!" contestant Neeraja Lockart of Palm Springs, Calif., enthuses upon arrival — a moment preserved in tonight's Welcome-to-Fabulous-Las-Vegas episode, which debuts at 9 p.m. "Oh, my God!"
Right now, however, nobody can see much of anything, because the sun's not quite up yet.
The contestants are, though, beginning the third day of their first challenge — to design their own living space as the series begins a monthlong shoot in mid-March.
And on this particular morning, they have eight hours to finish what they started in Regency Towers' 28G, a 10,000-square-foot double unit featuring an outdoor swimming pool with the show's logo emblazoned on the bottom.
A sunken space with built-in steps is being transformed into a "dining pit" by Scott Corridan of Santa Barbara, Calif., and Kim Myles of Queens, N.Y.
It's "our Vegas zen retreat lounge, inspired by the pimento olive," as Corridan describes it.
"I kinda like it and I kinda hate it," Myles admits during the makeover. "Is that wrong?"
Will Smith of Charlotte, N.C., and Josh Johnson of Hendersonville, Tenn. — dubbed "Sparkle Josh" for his shoulder-length blond hair, which he ironed before the day's shoot — team up to transform the large upstairs bedroom into a "serene" master-suite retreat.
"The key thing is trust," Smith says, "and I trust Josh."
Although Smith and Johnson seem to be on the same page, designwise, counterparts Christina Ray of Canton, Ga., and Adriana Nussbaumer of Orange County, Calif., clash over ideas for the smaller upstairs bedroom.
Except, of course, for one common goal: "Make the room fabulous — and don't get eliminated."
"It still looks pretty unfinished," notes host Clive Pearse, checking in on the contestants as they head into the final hours of their first — and, they hope, not final — round. "Good luck to you both, I hear that ticking clock."
Downstairs, Robb Mariani of Orlando, Fla., and Josh Foss of St. Paul, Minn. — dubbed "Green Josh" because of his environmental interests — tackle the "Living Lounge," but time's running out to construct the custom elements they envision.
"Despite your jolly exterior, you guys seem terrified," Pearse says.
Lockart takes the bar, foyer and stairwell area, deciding on a dramatic red paint scheme for the penthouse's dominant pillars.
"It's so Sin City red," says the take-charge Lockart, who's overseeing the project's $15,000 (cash) budget. "It's like the devil. I love it."
Proudly punked-out Lisa Millard of Berwick, Pa., takes the entrance area, turning it into an "industrial corner," complete with painted-on graffiti of the contestants' names — spelled backward. (That explains the "RATS" on the wall; it's really "STAR.")
Seeing her handiwork, Pearse informs her, "It's EVILC" — in case she wants to add his name to the wall.
As for skater dude Todd Davis of San Francisco, he's busy building an indoor skateboard ramp.
"You're creating something that could be considered whimsical and quirky — or too offbeat," Pearse warns as he interviews Davis regarding his progress.
"I'm skating on a quarter-pipe and looking at the Strip in Vegas!" Davis retorts. "Kill me now!"
In the cramped third-floor control room, four monitors provide constant visual information from throughout the penthouse — and outside it — as executive producer Sally Ann Salsano communicates with Pearse over a headset.
"Clive, go down to the kitchen area and check in with the boys," she instructs.
In the control room, the fourth camera provides a constant shot of the Las Vegas Strip as the sun slowly rises, glinting off Wynn Las Vegas' bronze-windowed exterior and Circus Circus' pink dome.
Most "Design Star" episodes take three days to shoot, explains supervising producer Jason Hunt — including shopping trips to some of the 80 Las Vegas-area stores, from The Attic to the World Market Center, cleared for contestants to patronize. (A map pinpoints the store locations, along with a red arrow marking the contestants' home base with a can't-miss-it "You Are Here.")
Because so many local stores have area warehouses, "it's much easier in Las Vegas than it was in New York" for competitors to find what they need, Hunt says.
Not always, however.
"As you can see, I have no bar stools," Lockart frets to Pearse, "and it's freaking me out."
Especially with the clock ticking ever-closer to the time's-up deadline, which Pearse signals with a push-button horn.
Next, it's up to "Design Star's" returning judges — Martha McCully, executive editor of In Style magazine, and designers Cynthia Rowley and Vern Yip — to analyze the results.
And, inevitably, send one of the contestants packing as Pearse intones the dreaded words: "Your show has been canceled."
From the host's perspective, "I'm very excited it was Vegas" that turned out to be the show's second-season headquarters, Pearse says. "What a backdrop!"
Especially for "a huge, life-changing experience," he adds. And though "there's drama 'cause they're all fighting their way to the top," Pearse points out, "it's not mean-spirited."
But this is Vegas — somebody has to win and everybody else has to lose. And, says Pearse, "these people really, really want to win."
PREVIEW
What: "Design Star"
When: 9 p.m. today
Where: HGTV, Cox Channel 68