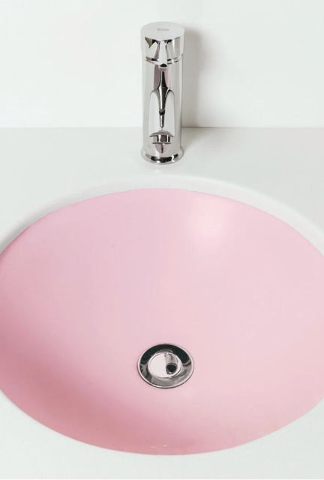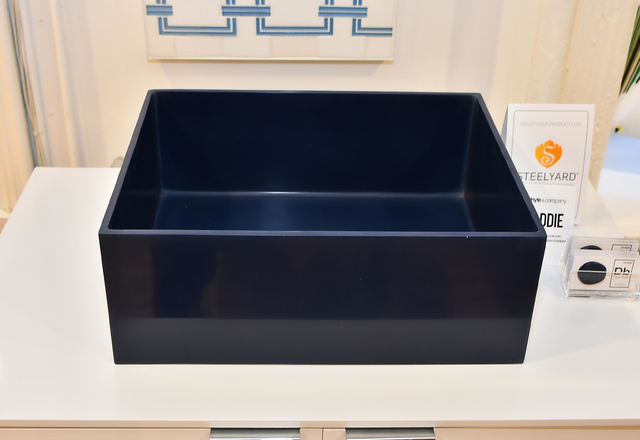 Once upon a time, bathrooms burst with color.
In the 1940s through '60s, pastel pinks, blues and mint green hues dominated ceramic sinks, tile countertops, tubs and even commodes. Yellow-gold tones populated powder rooms in the '70s, followed by the dark maroons and forest greens that fell into favor during the '80s.
But bathroom fixtures turned blah beginning in the 1990s, according to Kim Vance, whose new company is attempting to bring color back into the space.
Vance and her team of designers at Dallas-based Whyte &Co. recently debuted its line of solid-surface sinks and countertops for bathrooms, kitchens, laundry rooms and wet bars that are available in more than 30 eye-popping colors.
She is confident they quickly will become must-have items for interior designers and homeowners who want more fashion-forward plumbing fixtures than what previously has been available. "I think the public is really ready for options" beyond the white, cream and beige sinks that for decades have been the standard in bathrooms and kitchens, Vance said.
The names of Whyte &Co.'s colors do a good job in describing them, including the brilliant orange Tangerine, velvety-brown Chocolate Kiss and peacock-blue Santorini Sky.
At an event in August in New York heralding the company's official launch, Vance said a hue called Breakfast at Tiffany's proved particularly popular with attendees, who included Meg Caswell, host of HGTV's "Meg's Great Rooms," and celebrity interior design blogger Ashlina Kaposta aka The Decorista.
"It's basically a true Tiffany blue," Vance explained of the color. "It's not necessarily a neutral (shade), but I call it a 'new neutral' because it's the kind of color that you can … live with for years."
Another color, called Sweet Plum, was created by Las Vegas interior decorator Lisa Escobar. She is one of four design professionals handpicked by Vance to serve as the company's 2016 "Coloristas." Each was tasked with crafting a signature color for the line.
"She's an amazing designer," Vance said of Escobar. "It was not a surprise to see her come back with such an amazingly vibrant color that I also felt was very Vegas, too. I loved it. It's super sexy."
A graduate of Clark High School and UNLV, 38-year-old Escobar spent years working at hotel-casinos and nightclubs along the Strip, including Caesars Palace, Wynn and Encore, before opening her decorating business four years ago. Since then she has consulted with architects on numerous local projects, including luxury homes, condominiums and commercial spaces. She is prepping to style the penthouse at the Mandarin Oriental Las Vegas.
Escobar, whose work has appeared on the design and decorating websites houzz.com and HGTV.com, is among the designers collaborating on the Las Vegas Showcase House. For that project, a midcentury home in the Scotch 80s neighborhood will be redesigned and opened in 2018 as part of a fundraiser benefiting Core Academy. Vance and Escobar met this past year during an installment of the Las Vegas Market, held biannually at World Market Center.
"I like to call Lisa's (design) aesthetic 'approachable glam.' It's just so on point," she said.
Escobar said she toyed with dozens of color combinations before settling on the one that became Sweet Plum. Its name is a nod to her late stepmother, Sandy, whose nickname was Sweetie Pie.
"Purple was her favorite color," Escobar said. "I really wanted to honor her and commemorate her."
But the shade is no ordinary purple. "It just has so much personality. … I'm not really a neutral kind of person, so it needed to be unique," she said. "Bringing purple into any space, it's like an instant smile."
The brightly colored sinks and countertops "are definitely a way for designers to leave their mark on any project," Escobar said. "Somebody's gonna walk into your powder room and see this vibrant, saturated color, and they're gonna love it."
Beyond residences, she also plans to specify the sinks and countertops be used in other design projects on which she consults, including a restaurant and nightclub that she is decorating in Austin, Texas.
"Design should be fun. It should evoke emotions and happiness," Escobar said. "Color wouldn't exist if we weren't supposed to smile from it and be excited about it."
The cheeky monikers of Whyte &Co.'s sink designs also are bound to elicit grins.
Kitchen sinks bear the names of celebrity chefs — "Julia" and "Bobby" among them — while the bar sinks wink at famous TV-sitcom barkeeps including Isaac from "The Love Boat."
Vance, a longtime marketing industry exec who previously owned her own firm before founding Whyte &Co. this year, paid homage to her friends and family members by naming the bathroom sink designs after them.
"I love personalizing product. I think it makes it fun," she said. Also, "the design community sometimes has a tendency to take itself a little seriously, and I come from outside of this industry. … I've found the more fun you breathe into it, the more people let their hair down." The company's made-to-order sinks and countertops are crafted from a material called Whytestone, which features a proprietary blend of ground stone minerals, pigment and resin that is nonporous, stain resistant, has a high-heat tolerance and from which scratches easily can be removed. The sinks retail from $395 to nearly $1,300 at whyteandcompany.com.
Like other home decor items, "I'm trying to approach sinks as being just as much about the aesthetic that it brings into your life, in your room and the energy of your space as I am about the function," Vance said.
"I always like to say, 'When was the last time your sink made you feel cool?' … Because basically, you're going to brush your teeth in a Tiffany Blue sink or a Sweet Plum sink every day and feel like a complete badass."
For most people, especially woman, the sink-buying experience "is like when you know you need a pair of high heels for a function," she said. "You go to the store, and you know you should get nude or black because it's practical.
"But then you get there, and there's that tall pair of red patent-leather high heels. You put them on because you can't help it, and they look so good, and they make you so happy. You don't know when you're going to wear them exactly, but you still get them, and you build your wardrobe around wearing those shoes.
"That's how this is," Vance said of her company's products. "It's like finding that (design) piece that brings out your inner happiness. … When you think about it, it's like treating yourself."