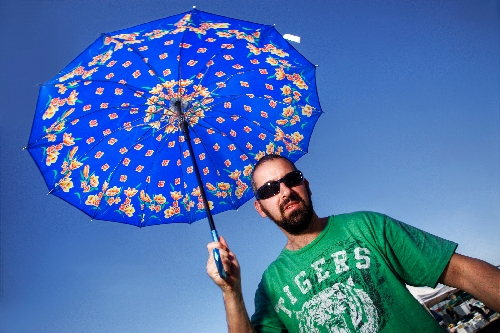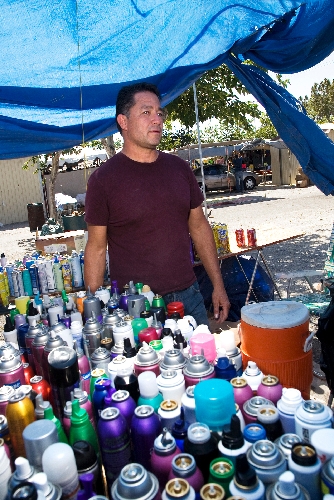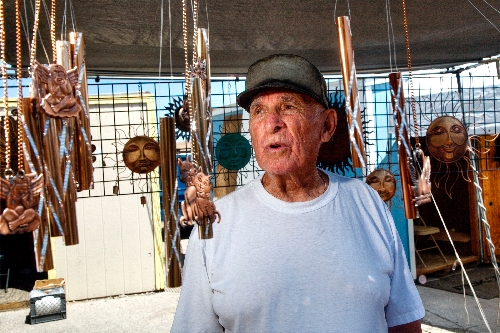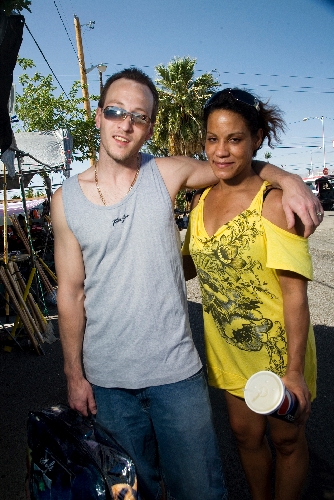 If you need answers, always seek out the man with the flowered purple umbrella. At least that's how it worked on a recent Saturday at Broadacres Marketplace and Event Center in North Las Vegas.
"I'll tell you everything you need to know about this place," says casino worker David Toth. "You want shoes?"
Toth walks half an aisle, twirling his umbrella, then motions toward a vendor of $12 leather footwear.
"Look, there's the good stuff from Europe you pay $400 for and then there's everything else," he says. "And this is where you find everything else."
Since new owners purchased it in 2007, the former Broadacres Swap Meet has undergone a $5 million renovation. The rebranded property, now 44 acres broad, includes a snack bar and six restaurants, plus a canopied new picnic area where today, a band called Vision 1 performs three sets of Spanish-language songs.
One thing that hasn't changed is that Broadacres — open from 6 a.m. to 4 p.m. every Friday through Sunday — is the cheapest place (other than garage sales) to find used clothing, furniture, exotic birds and nearly anything you can possibly want. Or not want in a million years.
Did someone say he or she needed a marijuana leaf blanket?
"Actually, I came here looking for a bicycle for the kid," says Sam Pringle, who is browsing with his girlfriend. "We've seen a couple, but they're all used."
The blanket screamed their names because of their interior decorating scheme: "In the living room, we've got a Vegas theme; in the kid's room, we've got a SpongeBob theme; in the bedroom, we've got a weed theme."
The couple already owns a similar blanket. But, as Pringle explains, "this one's got flames."
Toth bought his flowered purple umbrella earlier today to shield him from the sun.
"If it was pink and had Barbie written on it, I'd still use it," he says. "A good deal is a good deal."
Although haggling is frequently encouraged here, Toth didn't see the need.
"Hey, four bucks, man," he says.
Around a corner from a linen vendor called Holy Sheets, Jesus Carbera sells new spray cans for $1: hair mousse, shaving cream, carpet cleaner.
The catch? They're all missing their tops. Carbera buys them for pennies each from a supplier on Washington Avenue.
"People bring them home and put the cap on from their old ones," Carbera explains as the wind knocks a can of Boundary dog repellent off the edge of his table.
On an average weekend, Carbera's profits outpace his expenses ($10 rent for Friday, $25 for Saturday, $30 for Sunday) 3 to 1.
"It's good," he says.
With hardly a glance, Tim "The Key Man" Welch recognizes the make of door lock mechanism that auto mechanic Francisco Rodriguez hands him. Welch immediately begins cutting a Toyota key.
"Two and a half days a week is one and a half more than I want to work," he says, "but I need beer money."
Welch, a retired locksmith and Vietnam veteran, has been a Broadacres vendor since 1989, back when his daily rent was $5.
"I had a great spot on the main aisle," he says.
Because of the elimination of five rows in 2009, he's now hidden down the narrowest alley at the swap meet.
"My old spot's in the middle of a parking lot now," he says.
Welch finishes the key, gives a dismissive hand wave and returns to the Keystone Light he has hidden inside a can cooler.
Robert Sattler is the vendor with the longest Broadacres tenure. The Canoga Park, Calif., transplant set up shop six months after opening day in 1977.
"It's a lot, lot bigger than when I came here, and it's all Mexican now," says Sattler, 85. "But it's fine. I like the people, and I still have a good time."
As Sattler speaks, the wind kicks up to about 25 mph.
"Wind is no good," he says.
This seems a strange statement from someone selling wind chimes.
"It's the noise," he explains. "It scares people away."
At Gate 5, a giant inflatable product replica is loosed from its mooring. Instead of greeting customers, the 20-foot Tecate beer can now threatens them like The Blob.
A woman screams in mock terror from the ticket office, whose windows are obscured by the expanding red and gold vinyl.
"Somebody needs to call the guy from Tecate," a guard says into his walkie-talkie.
"Unplug it! Unplug it!" someone else shouts.
Before any innocent souls are lost, The Blob is deflated. But so is today's swap meet — three hours ahead of schedule. Customers rush the exits as white vans appear from nowhere. All at once, hundreds of thousands of unwanted items suddenly vanish.
Until tomorrow.
Contact reporter Corey Levitan at clevitan@ reviewjournal.com or 702-383-0456.