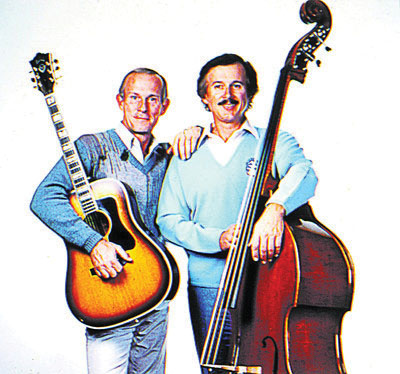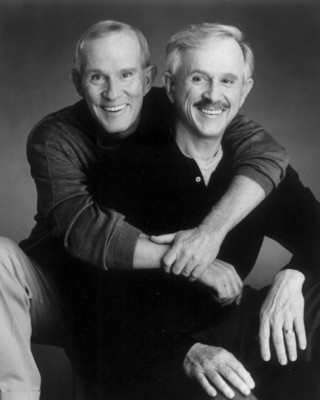 EDITOR'S NOTE: This is the second in an occasional series of stories highlighting performers who played an interesting role in the history of entertainment in Las Vegas.
Tom and Dick Smothers know a thing or two about successful brother acts. So when the famously feuding Everly Brothers appeared headed for trouble in Las Vegas, the Smothers were moved to intervene.
"We were real steady people," Dick Smothers told me during a recent interview. "One time about 1970, we were headlining at Caesars Palace, and the Everly Brothers were opening for us. The Everly Brothers were probably the most important postwar singing brothers (act) that ever existed. But they traditionally never got along. They hated each other. And they decided they didn't want to go on. They were mad at each other. And you just didn't do that (not go onstage) to a Vegas showroom. They have ways of persuading you to go on."
"And so Tommy and I decided to have dinner with them, as we were almost exactly the same age as the two brothers, and tell them, you know, how they could get along with each other," Smothers continued. "Tommy took one guy aside, and I took the other. And Tommy and I almost broke up and didn't go on! But we got them to go on."
In the end, everybody went on. In fact, the Smothers Brothers have been going onstage for 50 years, and will be back in Las Vegas at The Orleans Thursday through Sunday.
It has been a long and exciting run for the siblings, from their early folk-singing days through their controversial "Smothers Brothers Comedy Hour" on CBS to keeping the act fresh for today's audiences.
Their story begins on Governors Island in New York, where their father, a West Point graduate, was stationed. Thomas Bolyn Smothers III was born Feb. 2, 1937, and Richard Remick Smothers came along on Nov. 20, 1939. After the death of their father in World War II, their mother moved them and their sister to California.
Tom and Dick Smothers started singing together in 1954, and after graduating high school, they briefly worked with the folk group Casual Quintet. While students at San Jose State College in 1958, they got their official start as a folk singing trio — along with Bobby Blackmore — at the Kerosene Club in San Jose, Calif.
The next step was San Francisco's legendary Purple Onion club in 1959.
"They had open auditions the last Saturday of each month, you know. You could come in there and say, 'I play the musical typewriter' … and they would give you a shot," Dick Smothers said. "And we got up there (to San Francisco) and we didn't even have a car. … Some guy gave us a ride up."
"While we were doing our numbers — we knew only about four songs — Tommy would make up stories about them," Smothers recalled. "While he was doing that, some old lady was sitting by the door. It was a small little basement club, and she started talking and Tommy told her to shut up. It was the owner's mother! And he didn't stop talking about the song. 'This song is about these children, SHUT UP, who go down into this, SHUT UP. … That was pretty funny. And they hired us."
The act consisted of "Tommy's understanding of what folk music was and American history. He would screw up the songs and I would have to hold him accountable," Smothers explained. "I would correct him, a lot of the times wildly incorrectly, it didn't matter."
Tommy's usual final sulking catchphrase would become "Mother always liked you best."
Within months after opening at the Purple Onion in February 1959, they appeared at Harvey's in Lake Tahoe back as a swing group.
"The Newton Brothers were playing — Wayne was a short little guy and sang like a tenor and he had a big brother. Each act had to have one day off a week, that was the deal," Smothers recalled. "So, Tommy and I and the third guy had a different start time every day for 10 days. We just thought this was great. We'd never made so much money in our lives — a hundred dollars a day, oooh!"
"We opened on a Sunday morning at 7:30, behind the bar, looking at a bunch of slot machines. I tell you what, that was exciting," Smothers continued, adding, "And for me to be in show business starting in February and in June playing a lounge in Lake Tahoe, that's pretty phenomenal."
As a duo — with Tommy on acoustic guitar and Dick on string bass — they forged ahead into the 1960s, a period when change and originality were relished.
They recorded a successful comedy album, "LIVE at the Purple Onion," in 1961, the same year they achieved national television exposure on "The Jack Paar Show."
While appearing at the Purple Onion in 1962, the Smothers Brothers received an offer to perform at the Flamingo in Las Vegas.
Smothers remembered their first appearance in Las Vegas with dancer Juliet Prowse. "We were so naive when we opened for Juliet. I mean we were so excited, man. I mean, gosh, it was a gambling club in Las Vegas!"
"We didn't know how structured the shows were," he continued. "Like for instance, we decided one night to cut out a number and we didn't tell Juliet and she wasn't ready to go on. She was furious with us, and rightfully so."
The sensual excitement of appearing in Las Vegas was not lost on the brothers' innocence either.
"And then the first night we opened, we saw her (Juliet) and she had one of those Vegas dancing outfits, you know, with a thong up the back. I said, 'Tommy, you're never going to believe what I'm looking at. I've never seen a woman like this before.' He came over and we were just bug-eyed. He said, 'Oh, boy — this is a great job!' "
Headlining at the Flamingo again in July 1965 with Barbara McNair, Smothers explained their appreciation of female singers. "Because Tommy and I are just into the guy stuff and we're not — we're musical, but more so comedic. And to have a classy, good-looking lady who could really sing a tune … the audience loved her. Barbara McNair (just) had that quality."
In 1965, the Smothers Brothers were given their first television show, a short-lived situation comedy. In 1968, another show, the popular and politically charged "The Smothers Brothers Comedy Hour" encountered censorship and opposition from CBS management. By 1970 it was off the air.
"Don't use the word 'canceled,' " Smothers said. "That's too soft a word. We were 'fired.' Anyone can be canceled."
The controversy that followed the abrupt demise of the show made national news. (Their censorship battle with CBS is documented in the film "Smothered.")
Over the years, the Smothers Brothers have appeared in Las Vegas at about a dozen hotels.
"We looked forward to it," Smothers said of their appearances here. "You know, the crews, the facilities, the town and the lights."
Sometimes the brothers were called upon to do foolish publicity stunts. "One time I had an ear operation and it took months to get back my sense of balance," Smothers remembered. "The first job (after the operation) we did was in Vegas. And there were still vacant lots about where Treasure Island is now. There were holes all over the place there. And there was a big billboard. We were selling lots of records, and they thought it would be a really good idea to do a PR thing where Tommy and I got up on the billboard and pretend we were sign painters with big long brushes on poles. And I got up there, and I was more petrified than I've ever been. I was on my hands and knees. I could fall off … I had no balance!"
They would do two shows a night — the dinner show and the cocktail show — seven nights a week. The days of youth were not wasted on the brothers. Late after their shows, Smothers said, "we had so much energy because we were so young. Sometimes in the summer we'd get on our motorcycles, take our shirts off and go riding in the desert. It just felt so good."
"Or we'd spend half the night until sunrise hitting the shows. (There's a) big division between main room headliners and lounge acts. The lounge acts were not any less good, by the way," he continued. "They were extremely talented acts. Big ones like Louis Prima and Keely Smith, the Kim Sisters. You had Jackie and Roy. I saw Della Reese and Joe Williams at Caesars Palace. Man, he was one of the best, classiest blues singers you ever saw!"
Las Vegas was home to Dick Smothers and his family in the 1990s. Now he lives in Florida and is the father of six. (Tom Smothers lives in California with his wife, Marcy, and has three children.) They continue to work together and independently.
They have worked long and hard on their act and their relationship. "People come to Vegas and they pay a lot of money now to see your show because they love you," Smothers said.
"And do you know why we've stayed together for 50 years?" he asked teasingly. "Because we haven't died."