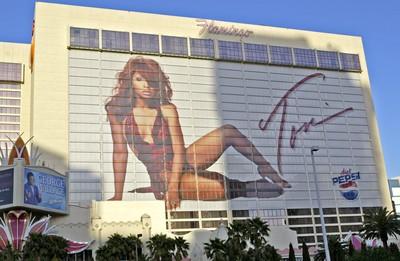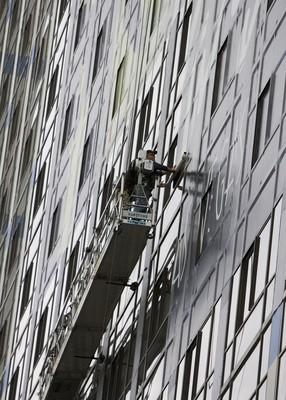 Along with the standard in-room alarm clock and hair dryer, some Flamingo Las Vegas guests can receive an unorthodox amenity: the chance to stay in a Toni Braxton body part.
At least, that's the approach a few guests have taken to the hotel's 50,000-square-foot mural of its star performer.
"People have actually asked to be placed in rooms (corresponding) to strategically located body parts," says Flamingo President Dan Marrandino.
And it doesn't matter that the "body part" isn't visible from inside the room; just being able to say they stayed in Braxton's navel is enough, apparently.
"Oh, yeah. Why not? You can tell people you stayed in the thigh or the boob," says South Dakota visitor Dan Lachowitzer. Though he was staying with his wife, Coleen, in their Polo Towers time share, he sees the appeal of such a room. It's for the experience and the oddball story you'll have later, he says.
It's not quite the reaction that management was going for when it decided to erect the mural last year, but it's proof that it's doing its job, Marrandino says.
These murals, or "big spectaculars" as they're called in the business, are becoming a mainstay in Strip advertising. You'll see them on a Strip resort when a big sporting event is scheduled, such as a boxing match or the NBA All-Star game. The Hilton features one of Barry Manilow. The Rio advertised Prince's presence with one. The Mirage is draped in "Love," Cirque du Soleil's show, and Bally's touts "The Producers" at Paris Las Vegas. The murals measure thousands of square feet and cover several floors of a hotel. In some instances, they're visible miles away.
But do they make an already kitschy town look crass? In the case of big spectaculars, beauty seems to be in the eye of the beholder.
"It looks tacky. It makes the hotel look too much like a magazine ad," Atlanta visitor Rolando Torrens says while looking at Barry Manilow's mural looking out over the city. "I think the architecture of a building should be the focus, not the picture, even though this isn't a particularly attractive building. I just think it makes it look kind of cheesy. It's too much."
Then again, Lachowitzer says, they wouldn't be so bad if the murals featured performers who are a bit more "hip," such as the Prince mural. "I don't mean to be mean but Barry Manilow is about as vanilla as you can get."
Coleen Lachowitzer agrees, but says she likes the Toni Braxton mural. When she first saw it, "I thought, 'She's back and she's hot.' "
Braxton likes it. The mural brought her to tears when she first saw it during a meeting across the street from the Flamingo. She didn't even realize it was her own image, at first.
"I remember looking up, seeing the mural, and thinking, 'Wow, nice Pepsi Ad.' Shortly later I realized it was me," she says. "I was so shocked and so surprised, it was one of the happiest feelings I had felt in a long time."
Love it or hate it, they're here to stay because they work. Thousands of people see them, and that's what advertising is all about, resort representatives say.
"Advertising is awareness. … Awareness sells. Certainly people know Toni's here," Marrandino says of the mural's effectiveness.
And that's a good thing, because it cost about $200,000. A Diet Pepsi logo is displayed at the bottom of the mural, too, because the company paid for a portion of it. The Braxton mural is the largest in town.
Even the man responsible for many of the murals, including the Manilow, Braxton, "The Producers," Prince and "Love" murals, doesn't want to see them overtake the Las Vegas skyline.
But this town is an "absolute natural for big spectaculars," says Mike McNeilly, artist and president of Skytag. "I think if you've got superstars you need superstar spectaculars."
The first one McNeilly remembers installing in Las Vegas was in 1998 on the Luxor, an advertisement for the opening of "Armageddon."
"I don't want to see hotels turned into billboards because I think you've got really great architecture out there. But what I think is, three or four times a year, you put them up when you have something really special," McNeilly says.
That's why the Rio and Bally's management decided to feature Prince and "The Producers" murals, says Madeline Weekley, the marketing director for Rio, Bally's and Paris. Those are special shows and as such, management wanted a unique way to advertise them.
"It's a good way to brand our properties and really put the message out there and get people excited about our entertainment," Weekley says, adding that their effectiveness probably will be long-term, because they're targeting a transient audience.
Bally's and the Rio are both the kinds of buildings that lend themselves to something like this, Weekley adds, because their architecture isn't as prominent as resorts such as the Paris.
One could make the argument that Las Vegas buildings, at least the casinos, are billboards, says Glenn Nowak, visiting professor of architecture at the University of Nevada, Las Vegas. And though architecture is about art, it's also a business, he adds.
That means the bottom line is, it's about the bottom line.
"The buildings were billboards to begin with to a certain extent," he says. "Really it's a notion of redesigning them to get more money out of them."
HOW THEY DO IT
Write your name on a sticker, peel it off and apply it to your shirt, that's essentially what a building mural is, says Mike McNeilly, an artist and president of Skytag.
That's a simplistic explanation of how to make and install a "big spectacular," as they're called in the business, but it's the same concept, only on a grander scale, he adds.
Most of the process and the materials are proprietary but the technology has been around for about six years, he notes. Building murals work just like advertising on the side of a bus: They're visible from the street but invisible when you're looking out the window.
They're "glued" to the buildings using an optically clear adhesive, applied directly to the surface of the windows. Then, the mural — which is installed in pieces — is "pasted" in place. When it's pulled off, there is no residue, McNeilly says.
The images are either hand-painted — it took McNeilly about a week to paint the Barry Manilow mural — or a graphic design. Toni Braxton's mural on the Flamingo Las Vegas was created using a photo of her, he says.
Installation takes about a week, depending on weather conditions, he says.
They're weather-resistant but require regular maintenance every few months to keep them looking their best, McNeilly says.