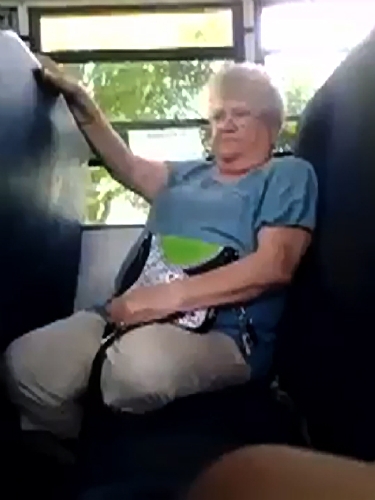 It all seems so … wrong. Bizarre, even.
But here it is: The perils of being bullied don't end with the arrival of adulthood. In fact, adults are just as susceptible as kids to being bullied.
Consider Karen Klein, the 68-year-old grandmother and bus monitor from Rochester, N.Y., whose uncomfortable minutes as the target of a pack of middle school-age bullies have become an Internet sensation in recent weeks.
And for every high-profile Klein, there are numerous other adults who are bullied by other adults – be they bosses, spouses or colleagues – years, even decades, after that particular interpersonal peril was supposed to have disappeared.
For most grown-ups, the notion of bullied adults is counterintuitive, because we tend to associate "bullying" with kid-on-kid attacks. Yet, in recent years, adult bullies, and the adults bullied, have become increasingly noticeable blips on our societal radar.
However, licensed marriage and family therapist Donna Wilburn suspects that the extent of adult bullyism isn't "any better or worse than it ever was. It's just being noticed and acknowledged more."
While kids tend to be brutally obvious in their bullying – just watch the YouTube video to witness the unbridled cruelty the kids direct toward Klein – adults can be a bit more subtle.
"I think the term 'adult bullying' is kind of a broad-based term," said Christopher Kearney, a University of Nevada, Las Vegas psychology professor and director of UNLV's Child School Refusal and Anxiety Disorders Clinic.
"When we think of kids and adolescence, we tend to have a more circumscribed idea of what (bullying) involves," he said. "But, at the adult level, there are a whole variety of behaviors that can be put under the label of 'bullying.' It could be something verbal, something physical, something more passive – like sabotage or ignoring someone – or lying to someone."
But even if bullying among adults can encompass "a spectrum of behaviors," Kearney said, "obviously, if it makes someone feel poorly, that's a good definition."
Wilburn said bullying is a topic that arises often during sessions with adult clients, and that "there are two areas that I see a lot of it happening."
The first is "in the family, where family members bully other family members," Wilburn said, and where bullying can take the form of a spouse bullying a spouse, a parent bullying a child or siblings bullying each other.
Then, Wilburn said, "I also see it in the workplace, where someone with authority will bully an employee. I see that a lot."
Bullying in those arenas speaks to a key prerequisite for bullying, as well as a reason why Klein's kid-bullying-adult dynamic is so alarming: Bullies, Wilburn said, "need to have a power position."
"They're either bigger than you or they're your boss or they're holding something that gives them power," she said. "There has to be a power differential, where one person is less powerful than the other."
Also as part of this dynamic, bullies require "a fear factor and an intimidation factor," Wilburn said.
"Intimidation is the tool they use to try to scare their victim, whether it's physically, or (by) blackmail, or with your job – 'You're going to be fired.' I've seen relationships where they're married and the children are involved, and the fear factor is, 'If I leave, I'll never find someone else and (the bully will) take my children.' In domestic violence, that's a big factor. That's a huge factor."
The absence of a power differential and an inability to provoke fear and intimidation in a target make friendships a less likely setting for bullying.
It's emotionally difficult to leave a marriage to escape a bullying spouse. It's financially risky to leave a job to escape a bullying boss. But, in a friendship, "there's so much of a choice factor," Wilburn said, and a relationship with a bullying friend can be ended easily.
And what of Klein's experience? Kearney noted that the dynamic of bullying, whatever the configuration, is "usually the same, which is someone preying upon someone they perceive to be weaker."
"Some traditional barriers between adults and kids have sort of diminished a little over the years," Kearney said, and "I don't think the kids in that situation necessarily saw a big power differential between the lady and themselves.
"That certainly does not in any way excuse their behavior, which was reprehensible. But I think they didn't see her as an authority figure."
Another bullying dynamic also applies: "People being bullied keep it a secret," Kearney said. "There's some kind of isolation attached to it."
But even beyond all this, Kearney said, "I think it was the level of cruelty that shocked people more than anything.
"I think if they were making offhand comments about something innocuous, maybe it wouldn't have had as much of a reaction. But they really went over the line in terms of what they were saying."
Bullies, of any age, seldom admit to being – or may not even realize they are – bullies. That makes it difficult to say how many of us are either bullies or the targets of bullies.
However, a 2010 survey commissioned by the Bellingham, Wash.-based Workplace Bullying Institute said 35 percent of American workers say they've experienced bullying in the workplace, while another 15 percent say they've witnessed it.
(The survey defined "workplace bullying" as "repeated mistreatment; sabotage by others that prevented work from getting done, verbal abuse, threatening conduct, intimidation (and) humiliation.")
Gary Namie, the organization's co-founder, said workplace bullying by bosses can include such behaviors as arbitrarily withholding training opportunities to targeted employees but not to others, imposing unrealistic deadlines on employees, not providing employees with sufficient resources to succeed, and yelling at or disciplining employees in front of others.
Whatever the mechanism, bullying causes stress and physical illness in its targets, Namie said, while companies can experience consequences in the form of high rates of sick time and absenteeism, low morale, decreased productivity and – if a bully goes too far – administrative and legal costs.
Yet, Namie said, when an adult complains about a bully, "the attitude is, 'Kids need protecting. What the hell are you crying about as an adult? Why don't you just toughen up?' That's our national mantra, and it's a problem akin to domestic violence and abuse at the workplace."
Child abuse and domestic abuse long ago became both legally and morally unacceptable in our society, Namie added, leaving workplace bullying as "the last form of abuse we've said 'no' to."
Lest employees become too self-righteous, Gregory Reilly noted that employers also can be the target of bullying employees. Reilly, a shareholder with the employment and labor law firm Littler Mendelson, said there have been several cases in which employees took to cyberbullying to anonymously attack bosses and companies on social media sites.
In the past, such comments may have been shared only at the office water fountain or coffee machine, he said. Now, a false, damaging and intimidating statement about a boss is "stored on a server and stays there forever," he said, and, because the comments often are anonymous, bullying employees "feel they can say virtually anything."
When dealing with any bully, it turns out that Mom and Dad were right. Understand, first, that a bully typically is "a very insecure person who is trying to feel successful or feel in power," Wilburn said, and that "one of the only ways they can do that is to dominate or bully somebody."
So "hold the bully accountable," she said. Complain to human resources or, at home, "when communication turns into bullying, you set up a boundary and say, 'I'm not going to continue this discussion.' "
Confronting bullies about their behavior might not fix them, but it might make them behave better, Wilburn said.
"So many people who are bullies don't acknowledge or recognize it," Wilburn said. "And honestly, when we call them on it, sometimes they'll have motivation to work on it."
The bully long has been a staple of comic strips, movies and TV shows. In the case of adult bullies, what may be new here isn't that adult bullies exist, but that we've decided to give them a new, more on-point name.
Maybe today's "adult bully" is just yesterday's "jerk."
Yet, Kearney said, using the label of "adult bully" does help to "raise awareness about certain over-the-top behaviors that are probably not acceptable, just like what we used to do and what we've done now with 'sexual harassment.' "
It's hard to believe it these days, but not long ago – think "Mad Men" – behaviors and remarks that today would send a boss at least to HR and maybe even onto the street were considered office standard operating procedure.
"So, if this is sort of the next step," Kearney said, "that's not necessarily a bad thing."
Contact reporter John Przybys at
jprzybys@reviewjournal.com or 702-383-0280.