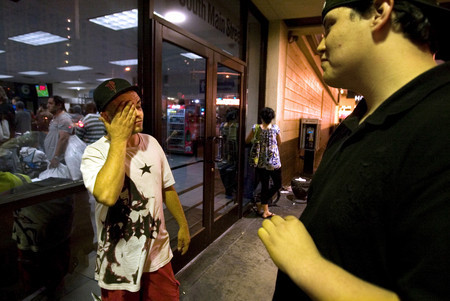 Makes sense outside, lettered across the glass-door gate, buses pullin' in.
WELCOME TO LAS VEGAS.
They're comin', after all.
Inside? Hell, they're goin'. Whatever, ya know? Whoever, leavin' whenever for wherever. No "come back soon" sign. Just some jumble-puzzle scrawl. Isn't a backward "welcome" sort of a "get the hell out"?
EMOCLEW OT SAL SAGEV. Whatever.
Between these nondescript walls? Talk about whatever. Standing, staring, shifting weight from right foot to left and back again. Lotta nothin' to do. "Waiting for Godot" if Godot was Greyhound. (At least Greyhound shows up and takes off regularly.)
Out front, fresh — OK, smoky-fresh air. B-U-S sign, block letters, black on white, plain, very un-Vegas-y. Kinda gray joint next to the neighbors, on the lip of downtown's flat, dull chunk of Main Street, shunted to the drab margins below the flashy lights of the Plaza and Golden Nugget. As a fairy-tale character, this place would be a luckless Cinderella: no ball (that's nearby Fremont Street), no prince, just scrub the floor, hag.
Street person, must be a regular, ambles over. Lopsided gait, crooked smile, Yankees hat nearly blowing away, stops when someone says, "Happy birthday." Puts his fist unsteadily into her palm, awkward gimme-five, moves on.
Guy storms out. "(Expletive) you, I'll (expletive) fly home, that's what I'll (expletive) do. Rerouted me. Didn't want to come through (expletive) Vegas anyway." Says his bus stalled in the desert for six hours. Demands a discount — a $15 ticket. Counter lady's not havin' it. "Screwin' my ass!"
Levi and Mark, headin' home, hangin' out. First time in Vegas. So? "Pretty cool." Guy in a motorized chair, on the neat side of disheveled. Army wear — first Gulf war, Bush 1's war — denim vest. Name's Nathan. Tat on his forearm: "Dude." Halting, breathless speech, croaked out between gulps of air. "Going to … Hermosa … Beach … get … married." Congrats, man. Enough of the outdoors.
Menu above the ticket counter: Chips, $1.75. Lunchables, $2. Medicine, $2. "Medicine"? What? Aspirin? Laxatives? What? Shush, announcement: "If your luggage is improperly tagged, it will not leave Vegas." Sounds like a scolding.
Brighter waiting area. Bolted seats, big-screen TV, Red Sox-Mariners highlights. Woman sipping strawberry V8 Splash couldn't care less.
Geez! Woman with "Grumpy" tattooed on her right cheek — and over unsubtle cleavage, warning gawkers away from some forbidden zone. And attracting them to it. Serious "back off!" glare. Hey, no problem. Tough kid in a strange goatee, sharpens to a Satanic point. Old man with a cane totters by. What's shaved into that dude's crewcut? Road map? Mayan symbol? Teen, crouched, speed-walking, black sweatshirt hood concealing his face? Keep clear.
Woman in a wheelchair, left leg gone, racing down the aisle, pushing furiously with her right, three kids running behind, rolling into the restroom. … and out again. Settles the kids now sprawled on the floor, punching up luggage bags as pillows, finally leans back. Against the window. Under the sign.
"EMOCLEW OT SAL SAGEV."
Whatever. Whoever. Get onboard.
Contact reporter Steve Bornfeld at sbornfeld@reviewjournal.com or 702-383-0256.
ON THE WEB: MORE STORIES FROM THE BEWITCHING HOUR
Slideshow