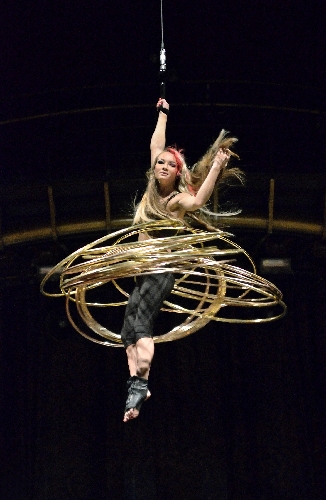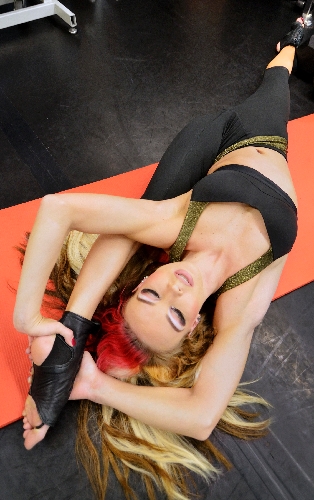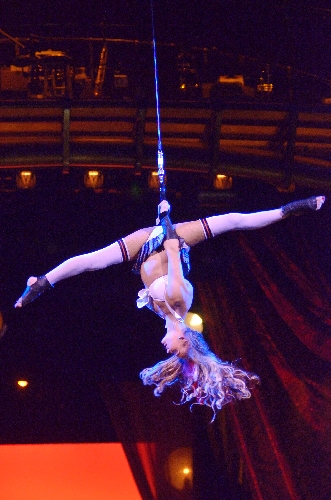 There is a moment when Julia Kolosova is airborne – her body slicing through the air, forming perfect geometric shapes – that you feel the sensation of wind on your face and the flutter of movement in your stomach.
It is the perfect blend of action and sound; when the music crescendos, the aerialist takes flight, triggering the viewer's senses in a way that Cirque du Soleil does so well.
The moment passes and you land firmly back in your Zumanity Theater seat because now, Kolosova is standing onstage, spinning five hula hoops around her waist and you have absolutely no illusions of being able to do that. Her body ripples and undulates with the effort as two hoops break away from the cluster and glide up her torso while another sinks to her knees, spinning the whole while.
Then, Kolosova is in the air again, the hoops still spinning, and the audience roars in amazement.
She makes it look so easy, you think Kolosova was born to do this.
• • •
Julia Kolosova was born in 1981 to a Russian aerialist father and a gymnast mother, both circus performers.
This was 11 years before the Soviet Union dissolved, a time when it was prestigious to be a Russian circus artist but demanding, too. There was no maternity leave for Svetlana, Julia's mother; she gave birth to her baby and returned to her act as soon as she was physically able.
And just as the Russian circus was not gentle with new mothers, it wasn't easy on kids. Kolosova was tumbling and learning gymnastics as a toddler, performing in her first act when she was only 2 years old.
"I remember the torture of rehearsing and getting me ready for it," she says of her first years on earth, which were also her first years in the circus.
Kolosova has videos from those days but no memory of her performance. She does recall the harsh training regimen she endured at the hands of a strict taskmaster, another Russian gymnast who was part of her mother's act and the man who first started her in gymnastics.
In those days, Soviet athletes dominated world gymnastics; even Russian circus coaches demanded perfection from their charges.
By the time she was 8, Kolosova had her own hand-balancing act and regular gigs in circuses around the world.
• • •
Some people run away to join the circus, the calling is so strong.
They yearn to defy gravity and bask in thunderous applause under the big top.
Others, like Kolosova, are not given an option. The circus is a birthright, a pedigree, a life path. It's as much a genetic trait as her heart-shaped face and lithe physique.
"I am a second-generation circus performer," she says. "I was born in the circus, really. I didn't have a choice to become a lawyer or a doctor or anything. Performing, that was pretty much my childhood."
When Kolosova was 11, she signed on with Ringling Bros. and Barnum & Bailey Circus, joining a kids' troupe called Children of the Rainbow. For three years, she traveled to every state in the United States and parts of Canada. She learned English. Before, when she performed in circuses with mostly adults, she didn't have the time to meet other kids and make friends.
As an artist in Children of the Rainbow, Kolosova had the time of her young life.
"I was in one spot where I was able to get to know those kids and we all traveled together," she remembers. "We worked together, we played games together. This is the biggest memory I have of my childhood."
At 15, she embraced her fate and cemented her future by turning from gymnastics to aerial work. With her mother serving as her coach, Kolosova developed the act that has won her awards and accolades such as "Artist of the Year" in Russia. That same act landed her a coveted spot in the original cast of Cirque's "Zumanity" in 2003.
•••
Kolosova considers herself a gypsy.
For her whole life, she traveled the world with her mother, performing in shows and circuses. Her parents divorced when she was 15 but she remains close to her mother, who is still her coach today. Her father lives in Russia; they talk occasionally.
When Cirque approached her at a festival in Monte Carlo in the late 1990s, Kolosova couldn't imagine settling down. It took a few years for her schedule to clear so that she could even entertain the idea.
In the beginning, she signed a two-year contract.
"It scared me at first because I am so used to travel. I never would imagine I would last this long," Kolosova says. "Now I've experienced having a house, having a dog, a car. Now I like that."
At some point, she knows she will have to think about retirement. All circus performers do. Kolosova has decided to let her body tell her when it's time to quit. But right now, she enjoys performing too much.
"My act is very energetic and I have a lot of connection with the crowd," she says. "My goal is to get the crowd involved as much as possible. I try to let them know it's OK to cheer, have fun with me. If I get to achieve that, that is my reward."
• • •
Every gymnast knows how to hula hoop. It's a given, like possessing the skill to do a cartwheel. And hoop acts in the circus are about as common as aerial acts.
You rarely hear of the two skills being combined, says Silke Ortloff, artistic director of "Zumanity."
That is why Kolosova replaced the doves with hoops. In "Zumanity," when she is in the air, Kolosova spins up to 30 hoops on her body. When she's on the ground, Kolosova says her act is much more physical. Once she is in the air, the focus shifts to the mental.
"There is no moment where I can just relax and chill," Kolosova says. "I try to make it look much easier than it actually is."
Contact reporter Sonya Padgett at spadgett@reviewjournal.com or 702-380-4564.
Follow @StripSonya on Twitter.