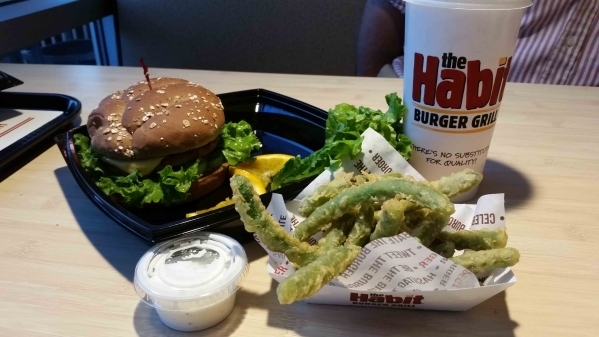 The Habit Burger Grill proved itself aptly named when, after one visit, I was already thinking about the next time I could get my hands on their tempura green beans and char-grilled chicken sandwich with house-made teriyaki sauce.
Its main draw is the charburgers — served original with fries and a drink for $6.85 or double for $7.85 — but not being much of a red meat-eater, I opted for the hand-filleted, marinated chicken breast and Veggie Burger options. But first, those green beans.
Lightly battered and fried, these tempura-style veggies ($2.95) will have you wondering what you ever saw in french fries. Try them with the house-made ranch dressing. If you're a purist, fries are available in the french and sweet potato varieties ($1.95 to $2.75), and there's also onion rings ($2.35) that are crunchy and not too greasy. A side salad or Caesar option also is offered for $2.35.
The Habit Burger Grill, which started in Santa Barbara, Calif., in 1969, opened its first Nevada location in Las Vegas about a month ago at 365 Hughes Center Drive, No. 110, (near East Flamingo and Paradise roads). Plans are to eventually add at least two more valley locations. The dining room pays homage to its California roots with surfing art on the walls, and patrons order at the counter and have their food brought to their table. Everything is made fresh to order.
My grilled chicken sandwich ($5.95) came on a choice of toasted French roll, grilled sourdough or a wheat bun (I opted for wheat) and featured the aforementioned teriyaki sauce —among the best I've tried — slathered on char-grilled chicken breast topped with melted cheese, caramelized onions, shredded lettuce, tomatoes and mayo (you can also opt for BBQ sauce instead of teriyaki).
Other grilled sandwich choices are Trip-Tip Steak ($6.95), also with BBQ or teriyaki sauce; Albacore Tuna Filet with sushi-grade tuna steak with teriyaki glaze and house-made tartar sauce ($6.95), Chicken Club with bacon and avocado ($6.95) and the Veggie Burger ($4.95), which comes on a wheat bun with green leaf lettuce, tomatoes, cucumbers, onions and honey Dijon dressing.
Regular charburgers start at $3.10 for a single and $4.10 for a double and can be had with teriyaki and grilled pineapple, BBQ bacon, mushroom or Santa Barbara Style with cheese and avocado on grilled sourdough ($5.90 and the most expensive of the burgers).
Finally, for those who have made veggies a habit, there's also a nice selection of salads: grilled chicken, BBQ chicken or grilled chicken Caesar ($6.95 each) and the Santa Barbara Cobb ($7.75) with grilled chicken breast and red wine vinaigrette dressing. A Caesar salad and garden salad ($3.95 each) offer the option to add grilled tuna or tri-tip for $3.75.
If you've saved room, definitely try a hand-spindled, made-to-order shake ($3.25; mocha and coffee are among the options), soft-serve ice cream cone ($1) or a sundae ($2.25).
A children's menu for diners younger than 10 offers a charburger, chicken nuggets or grilled cheese with fries, apple slices or applesauce and a soft drink, apple juice or milk for $3.95.
The Habit Burger Grill is open from 10:30 a.m. to 10 p.m. Monday through Thursday and Sunday and 10:30 a.m. to 11 p.m. Friday and Saturday. Visit habitburger.com or call 702-838-0593.
The Habit Burger Grill
365 Hughes Center Drive, No. 110 (Paradise and East Flamingo roads)
Call 702-838-0593 or visit habitburger.com.