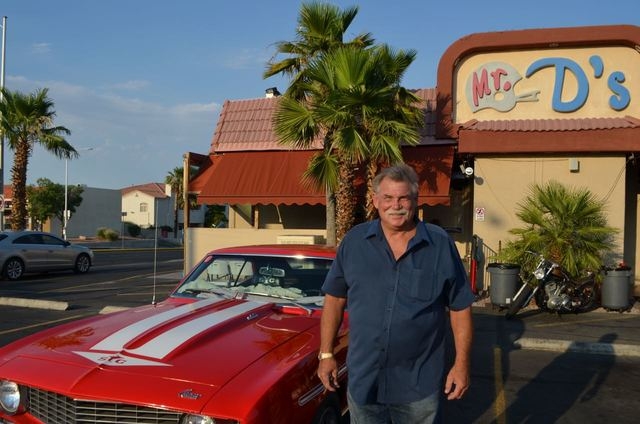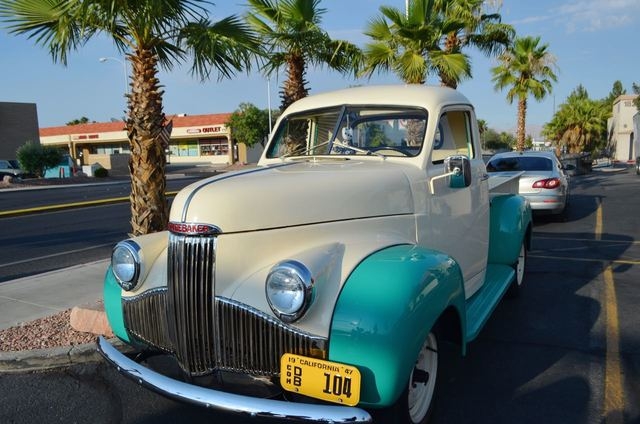 Car culture is hot in the southwest and Spring Valley, so hot that even the heat can't beat the weekly car night at Mr. D's sports bar and grill, 1810 S. Rainbow Blvd.
Every Tuesday starting at 6 p.m., classic car fans flock to the bar for car night and $1 tacos. But once the weather hits triple digits, only the stalwarts are there before dark.
"When the sun goes down, that's when they start coming out, especially in the summer," said Dennis Haecke, Mr. D's namesake and owner. "None of these old cars have air conditioning."
On a cool night, Haecke said at least 40 cars will show up. On hot nights, the numbers are lower.
"Summer hurts me bad," he said.
Hot or cool, Michael Gevargiz is there virtually every week with his 1947 Studebaker truck. He bought it in 1979 but didn't get around to restoring it until 1994. Over the course of a year, he worked on it every chance he got.
"I took everything off of the car — the engine, everything," he said.
It would have been less money and work to buy a new vehicle, but that's not the point.
"The value of the car is historical," Gevargiz said. "That's the way it works. I can go buy a brand-new Chevrolet Corvette for $50,000, but it's no fun to restore it."
Personal nostalgia is part of the draw, too.
"My father used to have one of these," he said. "It brings back my childhood memories, sitting next to him. He's still alive at 97."
Gervargiz's advice to potential hobbyists is simple: patience.
"This is a lot of money and a lot of time," he said. "You've got to be patient. It's not easy."
Haecke sponsors car night at Mr. D's to share his passion.
"I just love old cars," he said. "It's all I drive."
A 1969 Yenko Super Car Camaro is only one of 15 classic cars Haecke owns.
"I've got a lot of cars," he said. "I've been doing this my whole life."
Haecke may have a fleet of cars, but the Camaro is special.
"It's a real rare car," he said. "It's a Yenko. That's the guy who built these cars. He took them from the factory and then put the big engines in and did a lot of work to them. He only made 190 of these in 1969. These go for anywhere from $150,000 to $250,000 at auction, depending on who wants them."
The Yenko may be rare, but legendary movie and television concept car designer Jay Ohrberg plans to create a one-of-a-kind record-busting car in his studio in the back of the Hollywood Car Museum at Hot Rod City, 5115 Dean Martin Drive.
Ohrberg holds the world record for the longest limousine with the 100-foot-long American Dream, and he intends to top it.
"We're going to build a new limo this year of a late-model Rolls-Royce," he said. "It's going to be 110 feet long. It's going to have a lap pool in it. We'll build that in three pieces in the back here."
Ohrberg said to expect a helicopter landing pad and "lots of wheels, lots of motors."
He estimates the build-out of the car will cost about $200,000 and take about eight months.
Though it will be a while before the limo takes shape, there are plenty of completed cars to see in the museum, including vehicles from James Bond films, Batmobiles and more.
The museum is open from 10 a.m. to 5 p.m. daily. Admission is $15 for adults and free for children younger than 16. For more information, visit hotrodcitylasvegas.com or call 702-331-6400.
For free Hollywood car fun, residents can head to the Windmill Library, 7060 W. Windmill Lane, for a 30th anniversary "Back to the Future" marathon July 25, starting with a free screening of the first film at 11 a.m., the second at 1:15 p.m. and the third at 3:30 p.m.
Southwest Las Vegas resident Paul Casey plans to bring in an NBC Universal licensed DeLorean time machine car and a replica of Doc Emmet Brown's van for "Back to the Future" fan photos from 10 a.m. to 6 p.m. July 24 and 25 in an event he's calling Back to the Library.
"The whole purpose is to create excitement about the library," Casey said. "I come from a long line of educators."
The DeLorean is not from the movie but was modified to look like the film car. Casey, who describes himself as a producer, "not a builder," has been busy during the first film's anniversary with events in Las Vegas and beyond. In addition to the Windmill Library event, he is set to visit Las Vegas City Hall, 495 S. Main St., July 16 for a car collector celebration day.
"I've got stuff going on all the time," he said.
For more information about the library event, visit lvccld.org.
Contact View contributing reporter Ginger Meurer at gmeurer@viewnews.com. Find her on Twitter: @gingermmm.