Carnival marks natural history museum's birthday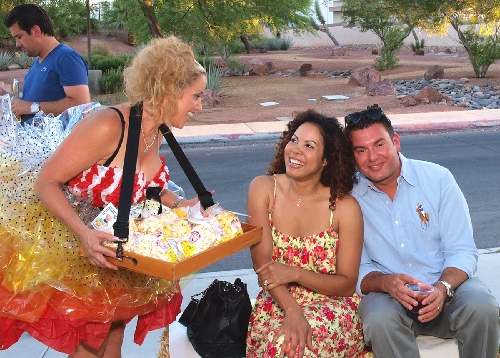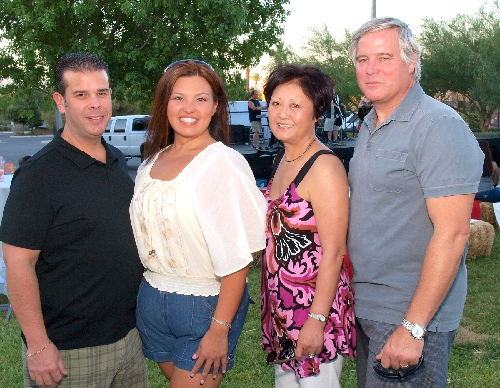 The Las Vegas Natural History Museum recently hosted a hip carnival party for grown-ups to celebrate its 21st year and to raise money for its educational programs.
Mayor Carolyn Goodman and entertainer Carrot Top welcomed guests who could partake of activities both inside the museum and out on the facility's grassy knoll.
To enter the carnival, guests proceeded through the museum's main entrance, where they were given an idea of what it is like to experience the museum at night. It was eerie walking among the dinosaurs and other prehistoric creatures. Even the "Treasures of Egypt" displayed in the ancient Egypt Gallery felt more real at nighttime.
On the journey out to the carnival, guests including Susan Houston, Terri Eden, John Good, and Christine and Charles Creigh paused long enough to have their fortunes told or what the reader called "mystical insights."
Other guests stopped to sit and have a caricature drawn by Maggie Brown.
Out on the lawn, two bands, Kid Meets Cougar and Wild Card, provided entertainment.
Several restaurants, mostly from downtown, were busy preparing their favorite "small bites." Barrymore presented short ribs and Casa Don Juan served beef and chicken taquitos. Triple George offered porcini-crusted filet and blackened salmon, while Mob Bar did spaghetti and meatballs. Bar+Bistro at the Arts Factory provided pomegranate sangria and seafood paella. Hash House a Go Go made kiwi-and- watermelon lemonade to go with its famous No. 3 hamburger filled with mashed potatoes and bacon. There also was a selection of popcorn from the Popcorn Girl store, and desserts came from Nothing Bundt Cakes and Jerry's Nugget.
Seen enjoying the carnival's games of chance, music by the Vitale Trio, strolling artists and the photo booth were Stephanie and Steve Stallworth, Cathy Smith and Douglas Suerdieck, Laurie Biddle, Noey Richardson, Denny Weddle, Christine McKellar, Chad Norton, Joe Cain, Jen Marc Eljwaedi and Cam Kamila, Tricia and Mark Sugden, Carol and Dave Levins, Dana Windhorst, Chrisse Waddell, Russell Rowe, Russ Stevens, Gail Rowe, and Debbie, Jenna and Drew Levy.
Mickey Norton led the event. Marilyn Gillespie, the museum's executive director, spoke about the latest traveling exhibit, "Eww! What's Eating You?" It explores the secret world of parasites within the body. It will be on view until September.