Celebrities aren't the only ones who say Scientology helps them
March 14, 2010 - 12:00 am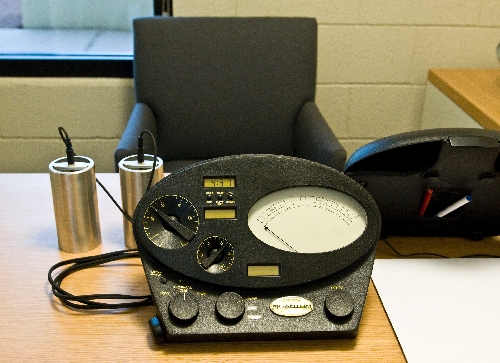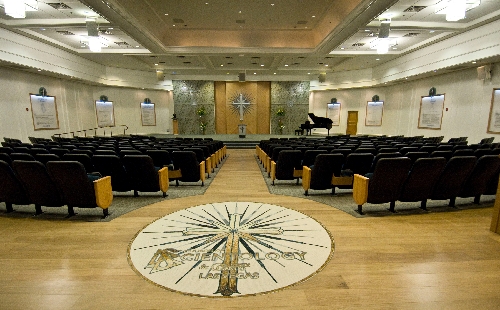 Scientology is known to most of America through such high-profile adherents as actors Tom Cruise and John Travolta. It is young, as religions go. And it's controversial, even if few outside it could cite with certainty any of its beliefs.
But for Brian Pool, Scientology is, simply, the faith he has known for most of his life.
Last month, the Church of Scientology International dedicated its new Church of Scientology and Celebrity Centre Las Vegas. That facility now serves as the administrative and spiritual center of the church in Southern Nevada.
Pool, along with other valley Scientologists, hope that the new church can serve as a vehicle for others to learn about what they say is an often misunderstood faith.
While the first Church of Scientology was founded in 1954, the denomination traces its lineage back to founder L. Ron Hubbard's studies during the 1920s of the mind and how it works. In 1950, Hubbard, otherwise known most prominently as a science fiction author, published the results of his work in the book "Dianetics: The Modern Science of Mental Health."
That book, along with Hubbard's subsequent books and lectures, became the basis — and scriptures — of the Church of Scientology International.
Scientologists study their religion's tenets and precepts primarily through courses based on Hubbard's writings and lectures. The courses, which nonmembers also may take, cover subjects such as interpersonal communications, the mind and Dianetics. Several local church members say much of the religion's appeal lies in the practical nature of those teachings.
Scientologists believe that man is an immortal spiritual being whose experiences extend beyond a single lifetime, and that man's capabilities are unlimited but not yet realized. Church members gather for Sunday services, where sermons typically center around Hubbard's lessons and work, as well as for such special occasions as marriage and naming ceremonies.
Pool, 39, was raised in the faith from the age of 11, after his mother married his Scientologist stepfather. For Pool, Scientology's appeal — and what makes it different from other faith traditions — is its "practical tools you can use in every aspect of your life, whether it's business, whether it's interpersonal relationships, whether it's children."
Wensey McComb also likes Scientology's focus on practical tools by which people can improve their daily lives. McComb, 34, discovered Scientology about four years ago when a co-worker told her about a Scientology communications course she was taking.
At the time, McComb, who was baptized in the Lutheran church, knew nothing about Scientology. But she took the course and found it "awesome."
"So I took another one — I believe (it was about) personal values and integrity — and that was awesome," she says. "Then I started applying things I was learning around me, including (with) my children, and it was awesome."
Eventually, McComb opted to do the "purification rundown," a church regimen intended to purge the body of toxins and drugs, and deepen her participation in the church.
But, she says, "I was definitely a Scientologist after the first course I took."
Brent Jones, 46, discovered Scientology about 17 years ago. He was living in Ventura County, Calif., then and working as a successful, but unhappy, attorney.
"I was in the parking lot outside Carl's Jr., eating my lunch in the car, and a lady came by and tapped on the window," he says. "I rolled the window down and talked to her, and she sold me a book, 'Dianetics.' "
Jones was born and raised in the Catholic church but had explored a variety of other faith traditions — Jehovah's Witnesses, The Church of Jesus Christ of Latter-day Saints, Pentecostalism, and "a little bit of Eastern philosophy" and "a little New Age" — throughout his life.
What's different about Scientology, he says, is that "its rules and these truths work so well, you can apply them now. You don't have to hope you're going to do better later.
"It just made such sense to me. When I started to apply these guidelines, these rules — we call it the technology — when you apply it to your life, things just start working better for you."
Larry Perna, 46, was born and raised in a strong Catholic family and admits that, when he first met some Scientologists, "I was a little bit leery."
Why? "Well, I wasn't a perfect Catholic, to tell you the truth," he answers, laughing. But "the word 'church,' I didn't understand. So I came in, I guess, tentatively, you could say. I took a class, and I was happy to learn there's no real conversion process, no dietary restrictions, no incense."
Perna took a communications class and had "real good success" with it. "I said, 'Well, that could just be luck.' So I took another one and that was good. It just seemed I kind of gradually got involved until, finally, I figured out the word 'church' I probably had a misunderstanding of. My definition was very narrow."
Joining any new religion can cause stress among family members, and Jones says that was true with his decision to become a Scientologist. Jones says his mother at first was "a little upset, because she perceived that I was abandoning the (Catholic) faith, so to speak. She had me talk to a priest."
But, as time went on, Jones says, she saw that "my communication with her (was) better."
And, now? "She's totally OK with it," he says.
Every religion is a target for somebody, and that's also true of Scientology, whose beliefs and church administration have been attacked on Internet sites, by members of other churches and some of its own former members, and in such pop culture venues as "South Park."
Jones admits that, when he was new to the church, "I got kind of upset" at such slams. Now, he assumes that most come from "ignorance," because "when anything is new, people kind of jump on it."
But he also senses that a tide has turned. These days, Jones says, "people are actually asking me (about Scientology). They want to know, honestly, what's the difference with Scientology and what Scientology is."
That's a "dramatic" change from as recently as the '90s, he adds, when "almost everything was negative. Now a lot is becoming positive."
When asked about the "South Park" episode — which offered what it called an allegedly true (the church doesn't comment), sci fi-flavored rendition of Scientology's core beliefs — Perna laughs.
"Yeah, some people, that's like their education: 'Hey, dude, you gonna get beamed up?' " Perna says. "I'm, 'No, that's Heaven's Gate, man.' "
Perna remembers once talking to two men about Scientology, who asked if the religion was a cult.
Perna responded by telling them about his former involvement in Catholicism, which he characterized to comic effect as being "really freaky," with, as he put it, ministers who dressed in robes and spoke in foreign tongues and used incense.
"And I went on and on," Perna says. "They were just, like, 'Wow.' "
"I said: 'It's all perspective, man. What you grew up doing, that's normal,' " Perna explains.
Perna joined the church in 1981 and says there used to be — "in the '80s, for sure" — a stigma associated with being a Scientologist. Now, he says, "there's a lot of curiosity out there, too."
He laughs. "And it's funny, because back in the '80s, I had a lot of LDS friends. We were like comrades, because they used to get a shellacking."
Pool, too, sensed much more controversy about the religion during the '70s and '80s, a period that includes his high school years.
"It was tough for me," he admits. "But now, because I've learned more and have more knowledge of what the church truly is, and … what it is doing to help other people, I can stand up and say I'm proud."
Contact reporter John Przybys at jprzybys@ reviewjournal.com or 702-383-0280.
Controversy remains
The Church of Scientology International has been controversial since its founding more than 50 years ago.
It fought a long battle to receive legal status as a church in the United States. It has been characterized by its opponents and even some former members as a cult that employs strong-arm tactics against its critics. And, it has been ridiculed for its beliefs.
Tommy Davis, spokesman for the Church of Scientology International, has heard it all. Now, with the opening of the denomination's new Las Vegas church, he hopes Southern Nevadans will take the time to learn about Scientology themselves.
There is, Davis says, "a lot of stuff on the Internet that gets categorized as being what Scientologists believe — our creation theory and these kind of things."
However, the church, as a matter of both policy and theology, doesn't comment on assertions of what is or isn't contained in scriptures it considers confidential.
"And the thing is, we do have confidential scriptures in the church," Davis says. "It amounts to less than 1 percent of all the scriptures of the religion, but it is confidential scripture."
But, Davis says, "we're never going to confirm or deny what we do or don't believe as regards our confidential scriptures."
What can be discussed publicly are Scientology's core beliefs — for example, Davis says, that "we have lived before and that we'll live again, and that we are immortal spiritual beings, and that Scientologists use the word 'Thetan' to describe the spirit, and you don't have a spirit, you are a spirit, and you inhabit a body and, when you die, you're going to pick up a new one."
Davis says an unexpected benefit of attacks on Scientology is that they prompt nonmembers to check out the church and, even, to join it.
Scientology "has grown more in the last year than the last five years combined," he says, and "more in the last five years than the last five decades," to now encompass more than 8,000 churches, missions and affiliated groups in 165 countries.
With such expansion, Davis says, it's easy for anybody to visit a church themselves and to meet Scientologists, or people who know Scientologists, firsthand, and find out what the church is, and isn't, about.
Otherwise, Davis says, it's always "easier to criticize or think strange things about something you know nothing about, because the information you're receiving is coming into a void."
— By JOHN PRZYBYS
View slide show