CERCA: Arizona's Canyon de Chelly steeped in history
September 25, 2011 - 1:02 am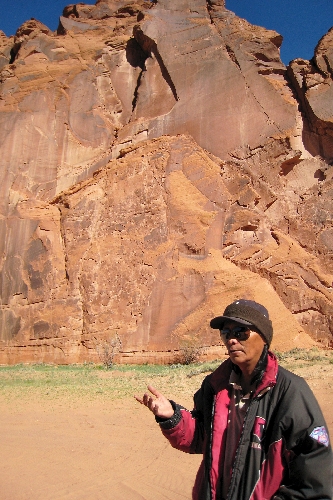 Standing on the rim of Canyon de Chelly, you wonder about how to get to the bottom. Your options are limited. You either hire a Navajo guide or you make a 2½-mile round-trip hike down from the mesa to the canyon floor, a drop of 660 feet. Of course, you also have to come back up.
My wise choice was to hire Adam Teller of Antelope House Tours and arrange for a private half-day tour for two, costing $156, in an SUV that bounced over the dirt roads and through meandering streams while avoiding quicksand.
A half-day tour provided plenty of time to pepper Teller, a natural storyteller just like his family name promised, with questions about anything we wanted. We talked Navajo politics, economics, history, architecture, etiquette, values, assimilation, his family history, rival tour guides and fluctuating relations with the National Park Service. The flexibility to steer the conversation to our own interests made it well worth the cost.
Other tours are also available through his and other tour companies, from open-air Jeep tours to hiking tours to horseback riding tours. Antelope House Tours also handles overnight group camping.
But for us, the enclosed SUV worked fine, especially since our trip was the first week of May and it was both cold and windy, which is preferable to summer's sweltering heat. The tours are given year-round, although May through October is considered the best time.
That's the how to see Canyon de Chelly, but what about the why?
What is it about Canyon de Chelly (pronounced d'shay) that landed it on Patricia Schultz's list of "1,000 Places to See Before You Die"?
As our first two-night stop on our weeklong vacation to the Four Corners area, Canyon de Chelly National Monument's nearly 84,000 acres were a perfect escape from our Las Vegas lives. The canyon was imposing yet intimate.
We viewed it first from above, using the few hours of sunlight left after a day of driving to cover part of the 16-mile South Rim road and peek down into what we would be seeing up close and personal the next morning. In some places, the sheer walls are 1,000 feet high, impressive from above and below.
Want to feel young? Hang out in places where people have lived since 2500 B.C. The canyon's history covers five peoples, starting with the Archaic, then the Basketmakers in 200 B.C., the Anasazi in 750, the Hopi in 1300 and the Navajo since 1700.
The sandstone labyrinth created by gentle streams has a sense of peace about it and is a sacred place to Navajos, who consider it the epicenter of Navajo culture, a sanctuary where they felt safe, protected by supernatural powers.
But it was not as safe as the Navajo believed. Even the petroglyphs show Spanish invaders.
Despite assaults from the Spanish in 1805 and the Americans' brutal relocation effort led by Kit Carson in 1863-64, Canyon de Chelly and Canyon del Muerto (Canyon of Death) remain a spiritual home for the Navajo.
Today, you can see peach trees and corn fields and young Navajo boys atop wild horses. There are cliff dwellings and ruins in remarkably good shape, including the White House Ruin, home to the Anasazi 1,000 years ago.
Teller's family has lived in the canyon for generations, and he began giving tours when he was 13. It's a family affair, his father, siblings, in-laws, children and cousins are involved in the tour business. They don't live full time in the canyon any more, having moved to Chinle, where power and water make life much easier.
But Teller treasures the old ways and relishes sharing stories of his family's experiences there, particularly his grandparents.
He described how his mother was sent to Catholic school in Chicago as a girl; his dad was sent to Oklahoma. It was part of the forced assimilation the Bureau of Indian Affairs thought would be best for the Navajo.
Based on our questions, his stories bounced back and forth between modern-day life in the canyon and ancient tales. One minute we were chatting about the Navajo Code Talkers of World War II, and the next he was talking about the mythical Spider Woman who gave the Navajo the gift of weaving and lived atop the 800-foot Spider Rock. Then he taught us the Navajo way of pointing, not with fingers, but with lips, using a kind of kiss/pout. His advice to tourists? Respect the Navajo culture and dress modestly.
He showed us Fortress Rock, where in 1864, 300 Navajos fled to escape from Kit Carson, explaining how they climbed down at night forming a human chain to replenish their water while the Americans slept below. Despite outlasting the Americans at Fortress Rock, the Navajo were eventually relocated by Carson to Fort Sumner in New Mexico. In 1868, the Navajo were allowed to return.
The Anasazi carved fingerholds and toeholds throughout the canyon to provide ways to get up and down the walls. They're still there today and used by the fearless, but not by us.
After our tour of the canyon floor ended, we drove the 15-mile North Rim road on our own to peer down at Massacre Cave, where in 1805, Spanish invaders found 100 women and children hiding in a cave and shot bullets into the roof, where they ricocheted, killing almost everyone. Massacre Cave is also remembered for the Navajo woman who, seeing a Spanish scout enter the cave, rushed toward him, wrapped her arms around him and, in a deadly embrace, hurled them both hundreds of feet down to their deaths.
We finished the day by driving the entire South Rim, finally seeing the impressive Spider Rock, stepping back into the lore once again. Teller's grandmother had told stories of how Spider Woman would find bad little kids and boil and eat them. That's why there are white-banded streaks at the top of Spider Rock, according to Teller. Those are the bones of bad little kids.
Don't expect gourmet food in Chinle, just plenty of good home cooking and authentic Navajo fry bread, and you won't be disappointed.
But we weren't there for the food, nor did we require a luxury hotel. We were there for the scenery, the stories and the serenity, experiencing a mini-version of the Grand Canyon, but without the crowds.