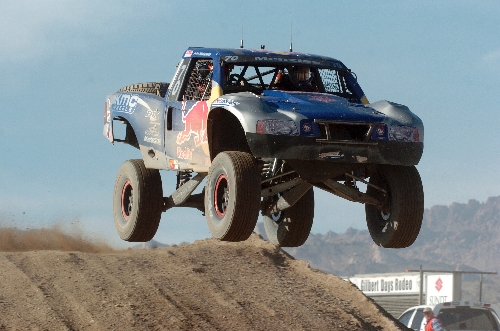 Winter is celebrated in many ways in Cerca country. Here's what's happening as a new year begins.
Through Tuesday, Ely: Polar Express. Head to the North Pole and visit with Santa Claus and his elves. On the way, there will be a reading of the children's classic "The Polar Express." Santa will present a silver bell to all believers. Cookies and hot chocolate will be offered. Reservations recommended. (866) 407-8326. www.nevadanorthernrailway.net.
DEC. 31, BRIAN HEAD, UTAH: Fireworks and Torchlight Parade. This New Year's celebration features skiers making their way down the slopes carrying a torchlight, followed by a fireworks display and party. Brian Head Resort. (435) 677-2035.
www.scenicsouthernutah.com.
DEC. 31, ST. GEORGE, UTAH: Twilight to Midnight Downtown Party 2012. Swing into the new year with the performing arts. Local bands and food booths placed indoors and out in Downtown Square and Main Street. (435) 627-4560. www.sgcity.org.
THROUGH JAN. 2, PRESCOTT, ARIZ.: World's Largest Gingerbread Village. More than 100 locally constructed gingerbread houses are displayed in the lobby of the Prescott Resort. (800) 967-4637. www.prescottresort.com.
THROUGH DEC. 30, and JAN. 6 and 7, WILLIAMS, ARIZ.: The Polar Express. Listen to the children's classic "The Polar Express," by Chris Van Allsburg, while taking a magical journey to the North Pole, where Santa and his reindeer will greet passengers. Hot chocolate and cookies will be available. A silver bell will be presented to children. Reservations recommended. (800) 843-8724. www.thetrain.com.
JAN. 5-16, PALM SPRINGS, CALIF.: 23rd annual Palm Springs International Film Festival. This is one of the largest film festivals in the country, with more than 200 films from 70 countries. Seminars, events and gala receptions also featured. (800) 898-7256. www.psfilmfest.org.
JAN. 7, LAKE TAHOE: WINTER TRAILS DAY. This family-friendly event offers a free three-mile guided snowshoe tour along the Kingsbury Grade north trail in South Lake Tahoe. Participants will snowshoe about three miles and learn about trail safety and the environment along the way. (530) 542-4637. www.tahoerimtrail.org.
JAN. 10-17, ST. GEORGE, UTAH: ST. GEORGE HERITAGE DAYS. The city celebrates its 150th anniversary with a variety of programs and events. Musical programs, art shows and historic artifacts from days of old. Dixie Center. (435) 773-1221.
www.heritagedays@sgcity.org.
JAN. 13-15, ELY: White Pine Fire and Ice Show. Snow and ice sculptures are created by locals and visitors alike at Cave Lake State Park. Fireworks show Jan. 15 at the park. Cash prizes. (800) 496-9350. www.parks.nv.gov.
JAN. 13-15, LAKE HAVASU, ARIZ.: Groovy: Buses by the Bridge 16. This is the London Bridge Bullis Vintage Volkswagen Show and Campout. Slow drag races, raffle, free tacos and children's activities. Windsor Beach State Park. (928) 208-6566.
www.busesbythebridge.com.
JAN. 13-15, LAUGHLIN: 18th SCORE Laughlin Desert Challenge. More than 200 of the world's top off-road drivers compete in the annual race. An estimated 30,000 fans attend this event, the first race in the SCORE series throughout the Southwest, which ends with the Baja 1000 in Baja, Mexico, in November. (818) 225-8402.
www.score-international.com.
JAN. 28, KINGMAN, ARIZ.: Public Star Party. Join High Desert Astronomy for a winter look at the night sky. Telescopes will be set up or bring your own to view the craters on the moon, the Pleiades, Andremoda Galaxy and more. Walleck Ranch Park at sundown. (928) 753-9949. www.hdac-az.com/
JAN. 30 through FEB. 4, ELKO: 28th annual National Cowboy Gathering. A weeklong celebration of Western life featuring traditional and contemporary arts. Poetry, music, film, photography. Exhibits, workshops, film screenings. Western Folklife Center. (775) 738-7508. www.westernfolklife.org.
JAN. 26-28, ST. GEORGE, UTAH: Ninth annual Winter Bird Festival. Take part in field trips, workshops, live displays and presentations while enjoying southwest Utah's hot spots. Red Cliffs Audubon Society. Tonaquint Park and Nature Center. (435) 673-0996. www.utahstgeorge.com.