CERCA: December in Arizona's Christmas City
November 28, 2010 - 12:15 am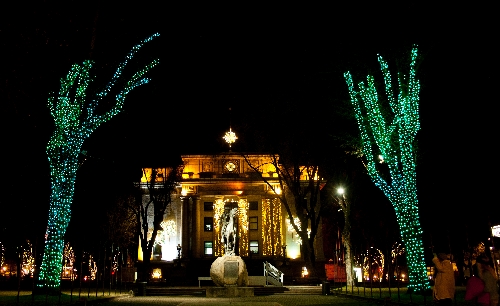 Drawn to the colorfully lighted gazebo, two small children tore past us at full throttle and leaped up the short set of stairs. Pressing their noses against the cold outside surface of the glass, they looked as if, could they only push hard enough, they might be magically transformed to become part of the life-sized diorama scene within. Inside, time had frozen a quintessential holiday living room, complete with Santa Claus who appeared to be finishing up his delivery to this home. Taking center stage was a traditionally trimmed tree, with red and gold glass balls and ribbons with the lower limbs protectively covering festively wrapped gifts.
We found this enchantingly decorated gazebo one evening on the large expanse of lawn in front of Prescott's majestic Yavapai Courthouse. This was just one of the dozens of holiday displays the people of Prescott showcase every December. These annual decorations, along with a monthlong list of holiday events, are the reason the city was officially designated by the state as "Arizona's Christmas City." At an elevation of 5,347 feet, there is a good possibility of a white Christmas here.
Two of my daughters and I, seeking an old-fashioned Christmas experience, had come to Prescott to see firsthand what the city offers during what might be its finest month. Our first stop was Whiskey Row, which back in the day was home to a couple dozen saloons, gambling halls and wild crowds. It now is primarily frequented by couples or families visiting the historic buildings, upscale stores and art galleries or getting a bite to eat.
Prescott's main holiday events start Saturday with the 28th Annual Christmas Parade, immediately followed by the 56th Annual Courthouse Lighting. During December, the entire area is festooned with thousands of Christmas lights and other festive decorations, creating the perfect centerpiece for the town. The three-story Yavapai Courthouse was completed in 1918 in the neo-classical Revival Style of locally quarried granite. It is surrounded by wide expenses of lawn on all four sides canopied by mature American elm trees.
We started our visit at one of our old favorite places for lunch, the Palace. The Palace was opened in the late 1870s and is said to be the oldest frontier saloon and restaurant in Arizona. In 1900, a major fire broke out in town and savvy saloon patrons carried the ornate back bar, along with the liquor, across the street to Courthouse Plaza to keep it safe. The fire destroyed 11 blocks of town, but the Palace was rebuilt immediately and reopened in 1901.
Even if you don't eat here, it's worth taking a look around. Upon entering the saloon-style doors you are in the bar where you will find many historic displays and photographs. Gone are the days when faro, poker, roulette and craps were played here. Antiques from that era though can be found in glass cases along the right-hand wall. We found hundreds of items, including playing cards, poker chips, dice cages and roulette wheels. One of the roulette wheels was a portable model, about 6 inches wide, circa 1900.
You can still see the original safe, built into the wall with a small door directly above it. In Prescott's younger and wilder days, a man sat behind that door with a shotgun, ready to fire if anyone attempted to rob the place or its customers.
Leaving the Palace we headed over to the original Prescott jail, which now serves as the Chamber of Commerce. There we picked up a historic walking tour booklet; more than 700 Prescott homes and businesses are listed on the National Registry of Historic Places. We limited ourselves to those within easy walking distance of the courthouse.
Accordingly, our next stop was the nearby Hotel Vendome, a two-story inn built in 1917. One of the more colorful aspects of its history was serving as the temporary home of Tom Mix, famed for his silent Western movies and his extravagant "cowboy" outfits. Mix would take a room at the Vendome for a year at a time while filming movies in the area.
The place was restored and updated with modern conveniences in 1983. Desk clerk Tiffany Stamphel showed us around and let us see an unoccupied room. The room was a little small by 21st-century standards, but very homey, with transom windows. The attached bathroom had a claw-foot tub and pull-chain toilet. She pointed out a buzzer button on the wall near the door of the room that guests would press if they needed staff to come to the room. Surprisingly, these still work.
Like many old buildings in Prescott, the Vendome has had numerous ghost sightings. Their resident ghosts are Abbey and her cat Noble, whose unpredictable appearances draw more than their share of visitors, news crews and paranormal enthusiasts to Room 16. Abbey Byr and her husband were owners in the 1920s but fell on hard times and had to sell. They stayed on as managers, but then Abbey's husband went out one evening and never returned. After this, she supposedly refused to eat and eventually starved to death.
"I have never experienced an Abbey sighting, but one odd thing was once when I was down in the basement, the washing machine suddenly turned on by itself," Stamphel said.
Be sure to head over to the historic Hassayampa Hotel, opened in 1927 and known as the "Grand Dame of Prescott." At one point the place had fallen into disrepair, but after a multimillion dollar renovation completed in 1985 it has been returned as one of Prescott's most elegant places to stay. Noted former guests include Will Rogers, Clark Gable and President George W. Bush. We also have stayed there in the past and loved it.
Christmas season is an especially appealing time at the Hassayampa, as the spacious lobby is lined with Christmas trees, each uniquely adorned by Prescott's grade-school children. It's a great place to warm up by the fireplace and relax, taking in the hand-stenciled ceilings and transom windows. Check out the Talavera-tiled stairs, where you can still see the places broken off by Tom Mix's co-star, Tony the Wonder Horse. After a night of imbibing, Mix rode Tony into the lobby and up the stairs.
Later on we walked over to the Sharlot Hall Museum. Hall was a poet and Arizona's first territorial historian, who founded the museum in 1929 to preserve Arizona's past. She gathered American Indian and pioneer items. There are nine buildings on the property, including the First Territorial Governor's Mansion, completed in 1864. The five-room log structure was constructed from local ponderosa trees and still sits in its original location. Other highlights include the Fremont House, the Bashford House and the Sharlot M. Hall Building, which holds the primary exhibits.
That evening we headed over to Murphy's, one of the most popular restaurants in town. We feasted on American favorites such as prime rib, and shrimp and scallop pasta. The menu offers the prime rib entree in 8-ounce, 12-ounce or 16-ounce portions, yet even the smallest was more than I could eat. Our waiter, Drew Christiansen, told us there is one local customer who always orders a special 24-ounce portion.
Besides excellent service and top-notch food the place has a wonderful ambience. Murphy's is located in the J.I. Gardner Building, erected in 1890 and served as a mercantile store. It features a cast iron storefront, original entry doors, pressed tin ceiling and a skylit mezzanine, common during that era, which was once used as an office but now as a dining area.
On the morning of our departure we visited more historic sites around town and then headed over to the Prescott Resort to see "The World's Largest Gingerbread Village." This annual display features handmade, and mostly edible creations, by professional chefs, businesses and area schoolchildren. Some are small cottages, while others are enormous structures and a model train runs through the display.
It's my personal theory that one of the functions of such important festivals as Christmas is to make us feel part of a country that stretches back to the 17th century, giving plenty of time for British, Germanic, Spanish and American Indian traditions to blend and become the property of all Americans. We do not love gingerbread houses and luminarias merely for their inherent beauty and charm, but also because our grandparents loved them. Displaying them in this well-preserved city, where events that shaped this region and our culture are visible in the very buildings, strengthens that connection.
With these thoughts we drove north toward our own Christmas, humming alternate verses of "Tannenbaum," "The Holly Wears A Berry" and "Feliz Navidad," pausing occasionally to nibble a gingerbread cookie.