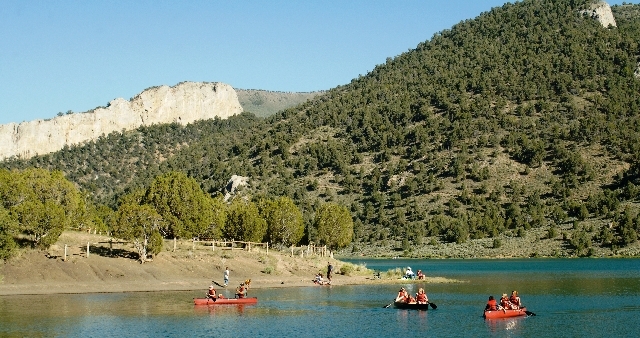 There are two paths you can go by, as Led Zeppelin's Robert Plant so famously sang. Of course, he was lyricizing about a stairway to heaven and not a roadway from Las Vegas to Ely.
But there are indeed two. One is shorter in time and distance, and more of a straight shot north, but involves two highway changes. The other is about 45 minutes longer, but drivers remain on the same road and are treated to a mixture of mountains and ghost towns that makes for a more enjoyable journey.
Either way, the destination is the same, and Ely, with apologies to the local chamber of commerce, will never be confused with heaven. But it can be a paradise of sorts for folks looking to escape the blast-furnace heat of a Las Vegas summer.
That's why the UNLV football team trains every August in Ely, where temperatures are typically about 20 degrees cooler than in Las Vegas — a welcome relief, especially if you're not wearing shoulder pads.
Rebels players are too busy with practices and meetings to sightsee during their roughly 10-day stay. But there's plenty to see, do and eat in and around the Eastern Nevada town that was built largely on the mining industry.
The dining options are surprisingly plentiful for a town of about 4,500.
Ely features two quality Mexican restaurants. No one would go hungry eating at La Fiesta or Margarita's, given the large portions. Those who have dined at both tend to be split on which establishment they prefer.
Diners also can go for quality Chinese at Twin Wok or delicious Italian at the Evah's inside the Ramada Copper Queen Casino.
The Jail House Motel Casino is a popular steakhouse and provides diners with the rare (hopefully) opportunity to eat inside an actual cell.
For a more varied menu, try the restaurant at Prospector Hotel and Casino. Those seeking more of a greasy spoon should go to the Hotel Nevada and Gambling Hall restaurant. But be prepared to stand in a line next to a casing of stuffed rattlesnakes.
Down the street from Hotel Nevada is an old-fashioned ice-cream shop inside a drugstore. The shop's menu seems as long as the White Pine County phone book. The tasty choices and ambience are like a trip back to the 1950s.
Ely also has plenty of lodging options, including the La Quinta Inn & Suites, which was built four years ago. It's the Ritz-Carlton of Ely, but it's also pricier than most nearby establishments, though a night at the Ramada costs about the same.
The Prospector and Bristlecone Motel offer comfortable lodging at reasonable rates, and the Jail House and Hotel Nevada are popular spots as well.
Many people drive the four hours from Las Vegas to Ely without any intention of staying in a hotel or motel, preferring to rough it at a campground.
And it's the outdoors that lures so many visitors to Ely.
Within easy driving distance is hiking at 13,063-foot Mount Wheeler in Great Basin National Park, skiing at Ward Mountain Recreation Area and fishing at Cave Lake State Park. Great Basin is 70 miles to the east, a side trip worth making to see the Lehman Caves and take a spin on the 12-mile Wheeler Peak Scenic Drive.
Ely, itself, has plenty of recreational options, including the 6,843-yard White Pine Golf Course. The award-winning Nevada Northern Railway includes regularly scheduled rides and the end-of-year holiday season Polar Express with Santa hopping aboard.
The Polar Express also comes with North Pole-like temperatures and snow. In August, when it's warm — though far from Las Vegas hot — tourists flock to Ely to bet on horses and see the classic car show. The horse races are part of the annual county fair, and finding a hotel room can be difficult if you wait too long, especially if the Rebels are still in camp at that time.
The antique car show usually takes place at about the same time, and another similar display happens in March when a parade of vehicles ushers in slightly warmer temperatures.
If you make the trip, choose the time of year wisely. Summer is the best time to visit, but the window is short. Snowbirds have a much larger time frame.
Ely and the surrounding area seem to be a better fit for a two- or three-day visit, and there is plenty to do to fill up such a trip.
Everyone should make the drive at least once to see a place that's a throwback to Nevada's roots. It's a reminder of what makes this state so special, no matter which path you choose.
Contact reporter Mark Anderson at manderson@review journal.com or 702-387-2914.
IF YOU GO
Location: Ely is about 250 miles north of Las Vegas, and is closer to Salt Lake City than it is to Las Vegas and Reno.
Directions: One route is U.S. Highway 93 north to state Route 318 north to U.S. Highway 6 east, a drive that takes about four hours. The other way, which is about 45 minutes longer, is nearly all on U.S. 93 north, merging with U.S. Highway 50 west and U.S. Highway 6 west.
Lodging: La Quinta Inn & Suites starts at $99, Ramada Copper Queen Casino at $102, Prospector Hotel & Casino at $79, Bristlecone Inn at $61.95 and Hotel Nevada and Gambling Hall at $50.
Nevada Northern Railway: 1100 Avenue A. Open from 8 a.m. to 5 p.m. weekdays, 8 a.m. to 6:30 p.m. Saturdays and 8 a.m. to 4 p.m. Sundays. Call 775-289-2085 or visit nevadanorthernrailway.net.
Great Basin National Park: 70 miles east of Ely on U.S. Highways 6 and 50 before turning onto state Routes 487 and 488 and into the park. Great Basin Visitor Center is open from April 19 to October from 8 a.m. to 4:30 p.m. Lehman Caves Visitor Center is open year-round from 8 a.m. to 4:30 p.m. Call 775-234-7331 or visit nps.gov/grba/index.htm.
Cave Lake State Park: Eight miles south of Ely on U.S. 93, then east seven miles on state Route 486. Open year-round and featuring fishing, hiking and camping, among other activities. Call (775) 296-1505 or visit http://parks.nv.gov/parks/cave-lake-state-park/.
Ward Mountain Recreation Area and Camp: 10 miles southwest of Ely on U.S. Highway 6. Open until Oct. 12. Call 775-289-3031 or visit recreation.gov/camping/Ward_Mountain_Rec_Area_And_Camp.
White Pine Golf Course: 151 N. Golf Course Dr. Green fees $38 with a cart. Call 775-289-4095 or visit elygolfing.com.
White Pine County Tourism and Recreation Board: 150 Sixth St. Call 800-496-9350 or 775-289-3720 or visit elynevada.net.