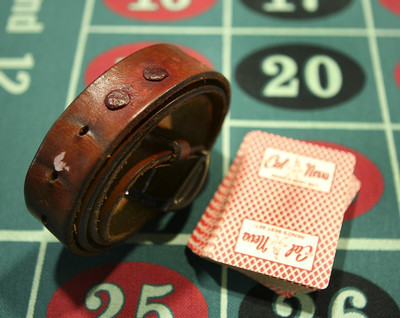 Jim Edwards slides his blackjack hand under his bet, a stack of four $5 chips.
In the millisecond it takes for him to lift his fingers from the cards, the chip stack shrinks to three. It's a cool sleight-of-hand technique that would play well at a dinner party, but you're more likely to encounter it at a blackjack table.
Edwards has demonstrated the most common form of casino card cheating: pinching a bet. He quickly shows how to do the other half of that technique, pressing the bet. That's where a player adds chips to his bet while the game is in play.
"Your game protection starts with the dealer," Edwards tells his class.
A senior agent with the Nevada Gaming Control Board, Edwards is teaching a one-week academy on casino games to a group of gaming representatives from across the country. The goal of the academy is to familiarize them with how casino games such as baccarat, craps and blackjack are played and how they're cheated.
Beating the casino is a topic that fascinates people. The "Breaking Vegas" series, about various cheating incidents, has aired repeatedly on the History channel. The story about a group of MIT students who counted cards in Las Vegas casinos is the focus of the new movie "21," which opened Friday. Counting cards is not illegal but successful stories about it are no less popular than some of the more notorious cheating scandals that have rippled through Nevada casinos, gaming experts say.
But all that media attention can be a little misleading about the frequency of cheating.
Cheating and theft account for about 30 arrests a month in Nevada, says Jerry Markling, chief of gaming control's enforcement division. About a third of arrests are employees.
"Cheating, as we discuss here, is actually extremely rare," Edwards says. "Casino procedures go a long way to preventing cheating from occurring."
Then he goes on to show the class additional moves or scenarios to look for on the casino floor.
Flashing. The name is titillating but it's not a 1970s prank where someone runs naked through a casino. Rather, it's when dealers show, or flash, cards to players. They usually have an accomplice and it works best on blackjack, Edwards says.
Of course, a dealer sometimes takes it upon himself to help the casino out.
"God knows why, they don't get any benefit," Edwards says, recounting the tale of a dealer at Circus Circus in Reno.
The dealer worried he was going to lose his job if he lost to players. So, he peeked at the cards as he dealt them. This went on until a customer left and complained to management: "It's not fair that he gets to look at the cards," Edwards recalls.
Another dealer flashed her friends. Edwards was tipped off that the dealer and her accomplices talked about the condition of the weather to signal whether they could see the cards. For instance, if she wasn't flashing enough of the card to be identified, the weather was "bad."
Slot machines aren't immune to cheating, either. Over the years, slot cheats have used various methods to trip the payout mechanism, including slugs, light wands, monkey paws and sliders, Edwards says. The light wand was one of the most effective because a cheat could slide it into the slot machine's payout chute and override the payout sensor, which counts the number of coins paid out. Cheaters could sit undetected for hours, he adds. Ticket-in, ticket-out technology replaced coins with a bar-coded ticket, making light wands obsolete. Now, however, cheaters use new methods, including photocopying payout tickets and selling them to unsuspecting players for a "discounted" price, Edwards says.
Some experts have claimed that casinos lose 6 percent of their gross revenue to employees and cheating, says David Schwartz, director of the University of Nevada, Las Vegas Center for Gaming Research. But he doesn't think it's that high.
"No matter what kind of scam or cheating method people could come up with, there's pretty much a permanent visual record of what you've done, so it's not that smart," Schwartz says. "There are people who are watching. It sounds really good, but the plain fact is that it's very hard to get away with it. It's one of the most heavily watched businesses. "
Most cheaters are serial cheaters, Markling says, and they usually get caught. Today's surveillance systems — including eye-in-the-sky video, undercover agents, plainclothes security guards — are thorough.
Gaming authorities have learned cheating techniques in what Edwards calls the "school of hard knocks."
Casinos don't like to publicize instances, as it gives people ideas, Schwartz says. Bally's, Paris Las Vegas, Caesars Palace and MGM Mirage declined to participate in this story.
"It's not always something the business wants to discuss (especially) the ways it's done," Schwartz says.
Contact reporter Sonya Padgett at spadgett@reviewjournal.com or (702) 380-4564.
CHEATIN' WAYS Slot machines long were vulnerable to cheating until the technology advanced to ticket in, ticket out and away from coins, says Jim Edwards, senior agent for the Gaming Control Board's enforcement division. Cheaters have used various tools, such as light wands and the monkey paw, to fool a machine's payout mechanism. Card cheaters have marked cards by scratching them, bending them or marking them with a substance. Card counting is an area of concern to casinos because much of what they do can appear to be cheating, says Jerry Markling, the chief of the Nevada Gaming Control Board's enforcement division. "Rarely do you have one person on a table counting cards. You tend to have teams," Markling says. Casino security detains people who appear to be cheating.By SONYA PADGETT