Chef looks forward to more Life Is Beautiful outings
August 17, 2015 - 12:10 pm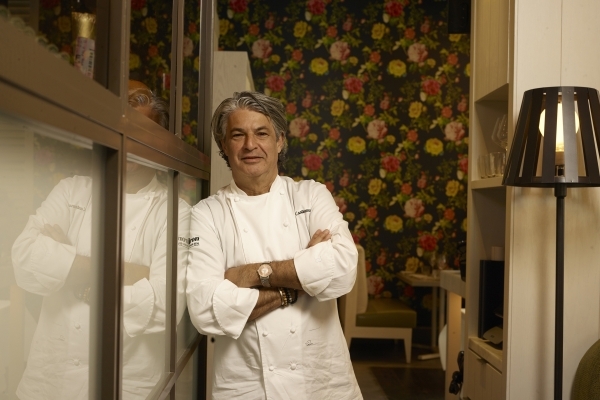 Vegas Voices is a weekly question-and-answer series featuring notable Las Vegans.
Veteran chef Kim Canteenwalla has been involved in restaurants in Las Vegas and various locations around the world. He is a partner with his wife, restaurant developer Elizabeth Blau, in Honey Salt, Made L.V. and Andiron Steak & Sea, and with "Cake Boss" Buddy Valastro in Buddy V's Ristorante at the Grand Canal Shoppes on the Strip. He supports several community organizations and he and Blau have been involved in the Life is Beautiful Festival since its flagship year in 2013. Life is Beautiful, which is scheduled for Sept. 25-27 in downtown Las Vegas, is a three-day celebration of music, food and learning that attracted more than 60,000 people the first year and more than 90,000 last year. The culinary lineup had not been announced as of press time; for details and tickets, visit lifeisbeautiful.com.
Review-Journal: You've supported Life is Beautiful since the beginning. Why?
Canteenwalla: Firstly, I'm totally into music. I love everything music, especially rock and roll and all the local stuff we have, Imagine Dragons and just the bands that are coming out of Las Vegas. It was a natural fit, food and music. I was asked to be part of the board; Bruce Bromberg (of Blue Ribbon Sushi Bar & Grill at The Cosmopolitan of Las Vegas and Blue Ribbon Fried Chicken in Downtown Summerlin) was very instrumental. We came together, did the first one, came together and moved on to the second one. Elizabeth is heading it now that Bruce has moved on to Hawaii. Life is Beautiful keeps evolving, keeps moving. It's all about giving back to Las Vegas, being part of the community and really helping that whole downtown sector, which is a different scenario. Downtown every year builds a little bit more. There's a momentum to it.
Review-Journal: What does Life is Beautiful bring to the community?
Canteenwalla: It brings insurmountable revenue and recognition to Las Vegas — downtown Las Vegas — which I think we all feel gets a little lost sometimes, with all the power and magnitude behind the Strip; everything is focused on the bigger casinos. Throughout the (Life is Beautiful) weekend the El Cortez will be smoking hot, the (Downtown) Grand and all the hotels around there really become instrumental and become part of the downtown folklore. People who would stay on the Strip are now staying downtown. And I believe downtown is getting repeat business also, because there are some really cool properties downtown. Downtown is wanting to be more approachable, wanting to be the face of Las Vegas as well.
Review-Journal: How does the festival add to the sense of community downtown?
Canteenwalla: I think it brings everyone together for this one weekend. The shows, the music and the acts keep getting bigger. It's become a little more mainstream in the way of the entertainment, with more recognizable names.
Review-Journal: What does the culinary aspect of Life Is Beautiful provide to the community at large?
Canteenwalla: Throughout the weekend, you have restaurants that don't participate in the bigger events (such as Bon Appetit Uncork'd, on Mother's Day weekend each year). They all get involved and they sell their products Friday, Saturday and Sunday. That's providing a great variety of product for all our guests who come in from all over the country. From lunchtime onward until late night throughout the event, there's many different things happening. On Saturday night I'll do a cooking demo; chefs get paired up with musical artists. And it's kid-friendly, too; I've taken my son every year. The first year we really worked hard on bringing in chefs from all across the country, but we've had to become a little tighter with it. The cool thing about Life is Beautiful is that I know most every chef or restaurant. I think we're going to have a great lineup of chefs, restaurants, mixologists and entertainment. It's a win-win.
Review-Journal: What sort of similar events would you say Las Vegas needs?
Canteenwalla: I think it needs more of these events; they don't always have to be on a large scale. There are enough events that happen on the Strip. The events that happen off the Strip I think are the bigger picture for Las Vegas.
Review-Journal: Did the first two festivals provide you with any particularly interesting moments?
Canteenwalla: The first year, Donald Link from New Orleans, his booths were phenomenal. What he brought in was unbelieveable — whole animals and things. That stood out for me. Last year, Jose Andres (of Jaleo and China Poblano at The Cosmopolitan of Las Vegas and Bazaar Meat at the SLS Las Vegas) was involved and he used this solar equipment, which was way beyond cool.
Contact Heidi Knapp Rinella at Hrinella@reviewjournal.com. Find more of her stories at www.reviewjournal.com and bestoflasvegas.com and follow @HKRinella on Twitter.