Chef's perfectionism lives on at Tapas by Alex Stratta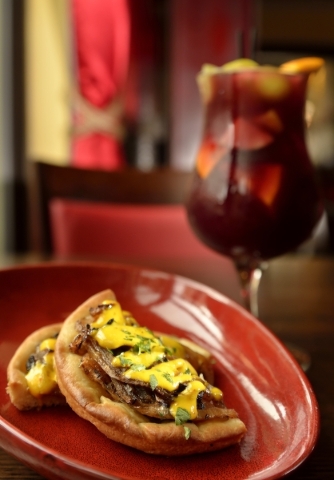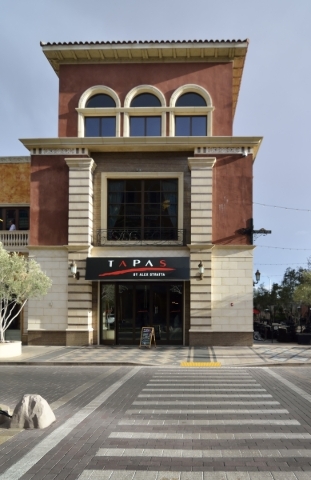 Perfectionism isn't always a positive trait — unless the subject at hand is a chef.
I've known Alex Stratta was a perfectionist way back to Renoir, his jewel box at The Mirage around the turn of the millennium, and then with Wynn Las Vegas' Alex and Stratta, the former of which was awarded two Michelin stars. And like a legion of foodies, I was soundly disappointed when first Alex and then Stratta closed, and Alex Stratta left town.
But then he was back with ambitious plans that have borne fruit in Tapas by Alex Stratta, where his perfectionism lives on in another genre.
As you've probably figured out from the name, Stratta's new restaurant specializes in the small-plates concept that has become popular in recent years. But this classically trained chef has taken a very classical approach here in an obvious tribute to the origin of tapas as the little dishes of Spain.
Which is not to imply a lack of creativity; there are plenty of updated touches, but you won't find any Asian or French or American dishes on this menu.
Eggplant dip ($7) was a silken wonder, the assertive flavor of the vegetable tempered by mellow roasted garlic and the neutral nature of chickpeas, and perfect with the accompanying lavash.
A roasted-beet salad ($11) was a nice interplay of flavors and textures, the earthy nature of the beets side by side with bitter endive and astringent grapefruit sections. But the star of this show was the goat-cheese toast, warm and gently gamy and so good it felt like an indulgence.
We're huge fans of roasted cauliflower ($9), which by nature vastly improves the flavor and texture of the vegetable, taking away the cruciferous bite. This version, though, had added sweet, salty and crunchy accents thanks to the chopped dates, almonds and olives scattered throughout.
Curry lamb ($16) was fairly straightforward, the three delicate, medium-rare chops balanced nicely with a mild pepper relish and a mellow mint-almond yogurt.
And flan ($7), the pure simplicity of which should be not embellished but celebrated, as it was here.
There was one clinker in the bunch, the roasted Medjool dates ($10), which had been simply wrapped in pancetta. The problem was that they were overly dry, which meant that the salty-sweetness that should have been the main attraction had been dulled considerably. An apple-mustard sauce on the side was balanced toward the former and very nice (and apparently very popular, since our runner asked if we'd like to keep it for other dishes), but not enough to save the dates.
Service throughout was very good, polished and professional. We sat indoors but with a view of the serene outdoor patio, which would be a great spot on temperate evenings.
The chef himself says it with a hashtag, a rare instance of one of those things being absolutely accurate: Alex Stratta is back. And you don't have to be on the Strip to see that for yourself.
Las Vegas Review-Journal restaurant reviews are done anonymously at Review-Journal expense. Email Heidi Knapp Rinella at Hrinella@reviewjournal.com. Find more of her stories at www.reviewjournal.com and bestoflasvegas.com, and follow @HKRinella on Twitter.