Children's book tells the story of Jackson the Red Rock burro
Updated November 12, 2018 - 5:15 pm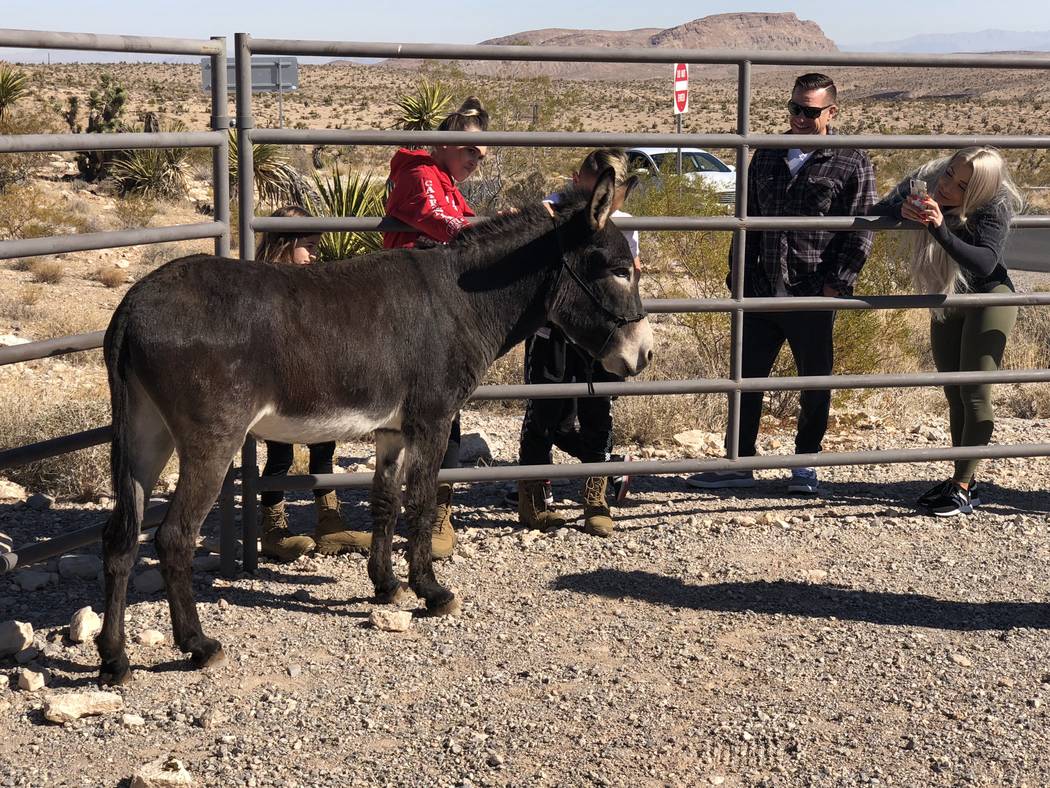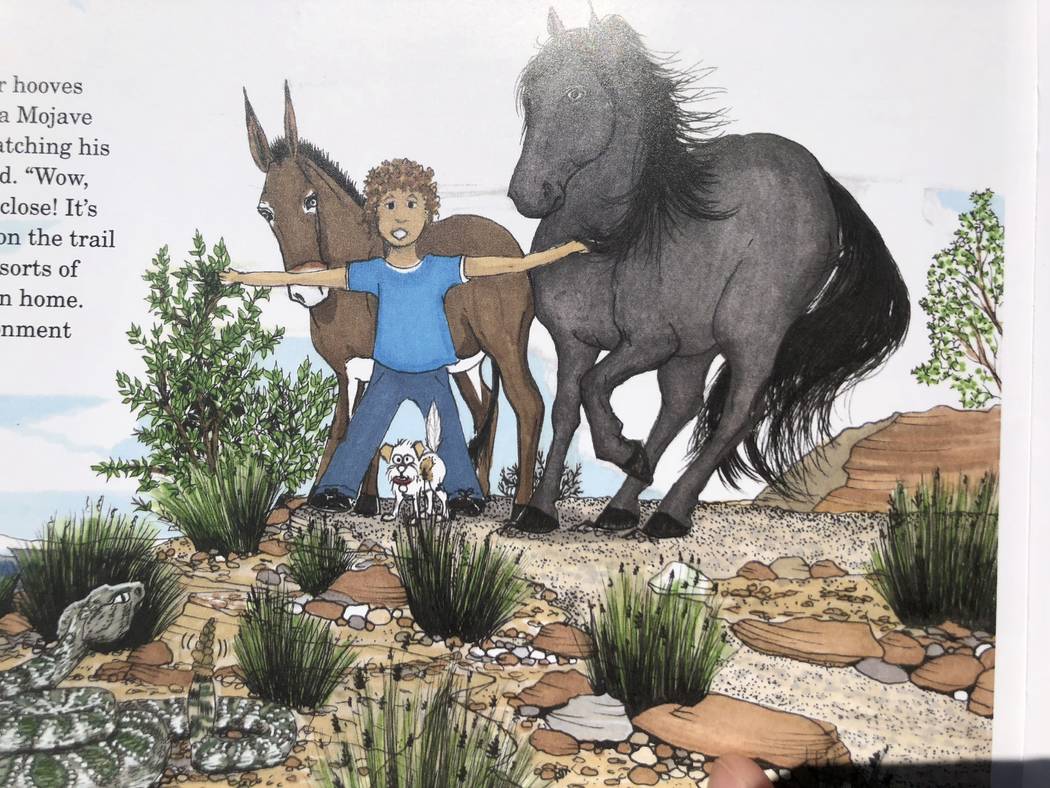 Bryce Hokanson has been coming to Red Rock Canyon National Conservation Area since he was 1 month old. On that first visit, he met Jackson, Red Rock's unofficial "spokesburro."
That trip wasn't too long ago — Bryce is 8 months old now — but his dad, Eric Hokanson, insists it left its mark. "This is a special place for him. So we had to bring him back today."
On Saturday, Bryce reunited with his four-legged friend for Jackson's paperback debut and book signing.
"Jackson: The Red Rock Canyon Burro" is the story of Jackson, Carson the mustang, Millie the dog and Sam (the human)," Las Vegas author Leonie Mowat said. "They go on an adventure together and discover all that Red Rock Canyon has to offer."
The children's book, illustrated by Jackson's former handler, Allison Sosa, is Red Rock's first fully custom book, created by locals and featuring illustrations of Red Rock's natural beauty.
Jackson, who is 7 years old, was adopted at 6 months old and trained by Sosa and her son, Samuel, who worked on gentling the burro so he could become a representative for Red Rock.
He makes monthly appearances at Red Rock Canyon's visitor center where he helps visitors learn about desert wildlife.
"Jackson is here so visitors can interact with a real burro," said Jackson's owner, Blaine Benedict. "It gives us an opportunity to teach the public how to behave and not behave when they see burros in the wild. He's also on the smaller end of a standard burro. So he's right at eye-level with young children who come to learn about him."
Both in person and in the book, Jackson emphasizes two important points: Wild burros are integral to Nevada's history. And do not feed or touch them.
After moving away from Las Vegas this year, Sosa contacted Mowat, the operations director for the Southern Nevada Conservancy, about extending Jackson's ambassadorship into book form.
"She said 'hey what if we write a book?' and I said 'yes and we can incorporate all these ideas about Jackson and Red Rock and safety in the canyon,' " Mowat said.
In full-page illustrations, Jackson and his friends follow the Old Spanish Trail and encounter Native American rock art, flowing creeks and rattlesnakes within the canyon. Locals familiar with Red Rock will recognize the red striations in the rock, desert fauna and small critters that Jackson and company discover.
All four featured adventurers were present at Saturday's book signing. Millie begged visitors to throw her ball while Jackson and Carson competed for petting and attention from families. Children who had never met Jackson squealed about how soft his ears are.
Visitors who purchased copies at the visitors center, brought it to Mowat and Sosa for signing. A stamp of Jackson's hoof served as his signature.
The Hokansons had three copies. "Bryce loves books. We can read to him at bedtime a story about a place that he knows and we can support local artists and authors."
Buying the book
"Jackson: The Red Rock Canyon Burro" is available at visitors centers at Red Rock Canyon National Conservation Area and Mount Charleston, as well as online at southernnevadaconservancy.org, for $8.95.
Contact Janna Karel at jkarel@reviewjournal.com. Follow @jannainprogress on Twitter.