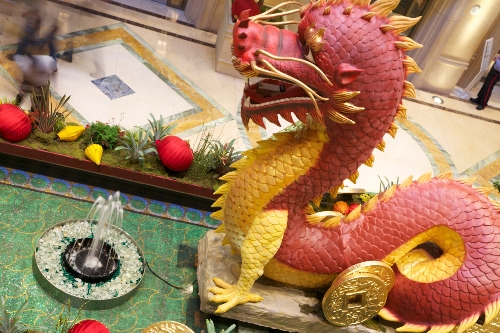 If he can manage to stay mum, President Barack Obama should have a decent year ahead. Natural disasters will take a break, save a few earthquakes. And, real estate could very well bounce back.
At least, that's what the Chinese calendar has to say about 2012. If you haven't heard, Monday marks the beginning of the year of the dragon. The water dragon, to be specific. It rolls around only every 60 years and it's a very big deal.
"The dragon in Chinese culture is signified as very powerful. Very powerful and very strong," says Peter Lung, local feng shui and Chinese zodiac expert at World of Feng Shui. "America will be very strong this year."
That's because the United States is represented by the eagle and the eagle is closely related to the rooster. The rooster and the dragon, as it happens, go way back. The Chinese zodiac regards these two animal symbols as "friends." And, this year, any friend of the dragon is a friend of good fortune.
Those born under the sign of the dragon won't necessarily fare as well. Whenever someone's birth animal mirrors the current year, it means change, change and more change. Depending on the individual dragon, that could be good and it could be bad. One thing it will certainly be, Lung says, is busy.
Unlike astrology, which identifies signs such as Pisces and Leo according to blocks of each month, the Chinese zodiac uses birth years to fill believers with hope or doom. For instance, Obama falls under the ox sign. This year, the ox is advised to keep quiet if he or she wants to avoid conflict.
As for 2012 as a whole, the Chinese calendar analyzes far more than just the year's celebrated animal to draw conclusions. The stars, elements and north, east, west and south directions, among other things, all get consideration. Lung calls 2011, the year of the rabbit, a "very bad year." A bevy of natural disasters (Japan's tsunami, New Zealand's earthquake and Mississippi's flood, to name a few) and ongoing conflicts may have surprised most, but Lung says the Chinese calendar called it all.
The elements, he says, crashed with each other last year. Wood crashed with metal, which looked like a knife chopping wood. This foretold many natural disasters. Water crashed with fire, showing a discord in harmony. This meant wars would continue.
But all is well that ends well and 2011 ends tonight. According to Lung, Las Vegas should prepare for a prosperous year.
"This year there is a shortage of fire," he says, referring to the elements. Industries represented by fire include real estate, entertainment and restaurants. "When there's a shortage, people want it more. When you're thirsty, you just want a drink of water."
The way he interprets things, Las Vegas will be one tall glass of water for tourists and locals alike in 2012.
Tina Lee, event coordinator at Las Vegas Chinatown Plaza, likes to think the Chinese community prioritizes the new year celebration over the actual zodiac. Lee plans the plaza's annual Chinese New Year Celebration & Asian Food Festival, which is Jan. 29 this year. She also falls under the goat sign, which means she's "more calm."
Still, she says, "we take (the zodiac) lightly." That doesn't mean Lung's prediction of a fruitful year for restaurants is completely lost on her. "Hopefully, the year of the dragon will bring us good luck."
Ken Wong insists the year of the dragon and the Chinese zodiac in general are taken very seriously within the Chinese community. The director of the Paiza Club at The Venetian and Palazzo says there are a couple of things you can always count on during the year of the dragon. "People will try to have babies and there will be a lot of weddings." Why? "Because it's good luck."
And, anyone denying the Chinese interpretation of the dragon as the ultimate symbol of power, strength and good fortune should know one thing: "Even the empire of China refers to itself as The Dragon."
This explains why Palazzo plans to bring a 128-foot, 8,000-pound, fire-breathing handmade dragon into the Waterfall & Atrium Gardens at 2 p.m. Chinese New Year Day. It's said that good luck will come to those who walk around a dragon three times. They knew if they built it, the people would come.
Wong also expects the waterfall's pond to boast plenty of money the following day because it's also good luck to sacrifice to the dragon what you've been given.
For those who can't make it to Palazzo, World of Feng Shui's Lung recommends hanging a picture of a dragon at home. Whatever you do, he says, don't eat a salad. Instead, eat something heavier and eat a lot of it.
"Your fridge shouldn't be empty and leftovers are very good," he says. "It means abundance for the year."
That about covers it. Oh, and red. Wear lots of red. Why? If you guessed that it will bring good luck, 2012 could be your year.
Contact fashion reporter Xazmin Garza at xgarza@reviewjournal.com or 702-383-0477. Follow her on Twitter at @startswithanx.
YOUR YEAR AHEAD
Peter Lung of the World of Feng Shui offers each animal sign some tips and a glimpse at 2012.
Dragon: Expect a lot of changes. It will be a very busy year.
Snake: Pay attention to your health. Make friends with the rooster.
Horse: It's a winning year, but beware of office politics.
Sheep: It's a year of opportunity. Expect a lot of good news.
Monkey: Beware of legal situations and try to control your temper.
Rooster: Your finances will be very strong. You will have lots of good luck.
Dog: Conflicts with the dragon cause financial problems. There will be many obstacles.
Boar: You will have a lot of luck with relationships. Your obstacles will be removed.
Rat: Your career looks very strong. Pay attention to your health.
Ox: It's a good year if you keep quiet. Beware of arguments.
Tiger: Not a smooth year. You'll be very busy. Make friends with the boar.
Rabbit: It's a good year. Education is strong for you and romance is lucky.