Christ Church celebrates centennial
November 20, 2007 - 10:00 pm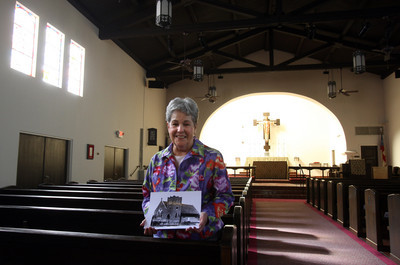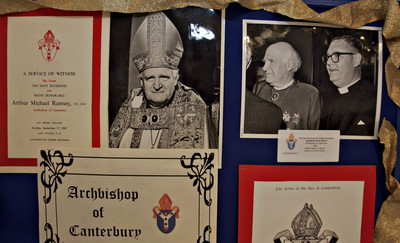 Christ Church, Southern Nevada's landmark Episcopal church, will celebrate its 100th anniversary Sunday.
Or maybe it's Christ Church Episcopal that's celebrating its anniversary. Or, perhaps, the Episcopal Church of Christ the King.
Boy, with 100 years under its belt, you'd think that matter would be cleared up by now.
By any name (more about that later), Christ Church has been a key player in the history of Southern Nevada, counting many local leaders among its members. It has endured such tragedies as a parishioner killing the priest who tried to help him. And it has been at the forefront of controversial issues such as its accepting attitude toward gay people.
Church historian Louise "Rusty" Fortier and her colleagues on the church's History Celebration Committee have unearthed many historical nuggets in preparing for the celebration.
Christ Church wasn't Nevada's first Episcopal church. St. Paul's in Virginia City holds that distinction, Fortier notes. But, when Christ Church was consecrated in 1908 at its original site, at Second Street and Carson Avenue, it did become Las Vegas' first consecrated church building.
Two of the key figures in the church's founding — and, for that matter, the founding of Las Vegas — were Charles P. and Delphine Squires. C.P. Squires, known as "Pop," was publisher of the Las Vegas Age. Mrs. Squires was known as "Mom."
In 1903, the Squires, along with Chris N. Brown, a distant relative of Mom's and a business partner of Pop's, began petitioning the Episcopal bishop of Utah — who then had oversight over Nevada — to establish a mission church in Las Vegas, Fortier says.
It wasn't an easy sell. The city had about 300 residents at the time, Fortier says, "and they weren't all Episcopalians."
The efforts continued for three years, ending only when the bishop died.
The trio would have better luck with the bishop's successor. While returning to Utah from Los Angeles, Bishop Franklin Spalding's train stopped in Las Vegas and, Fortier says, was met by a significant chunk of the city's populace. After a meeting at a local schoolhouse, Spalding promised to send a priest to Las Vegas.
Six months later, on Oct. 6, 1907, the Rev. Harry Gray arrived in Las Vegas. The first service took place the next day at the schoolhouse on Fifth Street. Church leaders immediately were chosen, and the congregation's women soon were planning a Christmas bazaar to raise money for a new church.
Until that new church could be built, the congregation met wherever it could: in people's homes, the schoolhouse, the Elks lodge and the opera house at First and Fremont streets, Fortier says. In 1908, the congregation's new church building, at Second and Carson streets, was consecrated.
Remaining in the forefront of the church's history during its early years were Mom and Pop Squires, who brought to the effort a combination of determination, can-do spirit and, even, a bit of quirkiness.
Fortier notes that Bishop Thomas Jenkins, who served from 1928 to 1941, had an agreement with unmarried priests who came to work in Nevada that they would remain single for five years in order to concentrate on their ministerial duties. But when one vicar who came here subsequently did marry, Fortier says, "Bishop Jenkins, said: 'You've broken your promise. You have to leave.'
"Well, Mom got so upset that, end of the story, she went down the street to the Methodist church," Fortier says — the Methodist church had been built in 1912 — there to, apparently, underscore her displeasure with a pointed sulk.
Mom weighed in on the church's name as well. According to Fortier, when Pop Squires and the church's leadership sat down in 1947 to legally finalize its name, they decided on The Episcopal Church of Christ the King.
"Pop Squires signed and everything else," Fortier says, but "Mrs. Squires just about had a conniption fit. She came storming back to church and said, 'It's Christ Church. You've got to call it Christ Church.'
"Well, they all loved her so much they said, 'OK, we'll call it Christ Church.' But, to this day, in all my records, I cannot find the true name of this church. It's either Christ the King, which I think it truly is, or Christ Church."
By 1947, the church's membership had grown enough — and Christ Church had become financially self-supporting enough — to be named a parish. In 1962, the growing congregation consecrated its current church on Maryland Parkway, building on land donated by Mrs. Jessie Hunt. There, the Spanish mission-styled edifice has been home to decades of memories.
Richard Bryan, former Nevada governor and U.S. senator, was baptized at Christ Church and served as an altar boy there from age 7 to 13. Once, during a service, the priest gave the young acolyte matches to light an altar candle. Problem was, Bryan couldn't help thinking of his mother's admonitions to never play with matches.
"So, I'm conflicted," Bryan recalls with a laugh.
Luckily, he continues, "my mother looked at the priest, and I somehow got the message that it would be OK. But I remember it like it was yesterday."
Christ Church has hosted its share of high-profile worshippers over the years. Bryan recalls that, from the outset, "many early business leaders were members of the church."
Clara Bow, the silent movies' "It Girl," was a member, as was her husband, cowboy movie star and former Nevada Lt. Gov. Rex Bell. So were Nevada Gov. Vail Pittman and actress Betty Grable and her husband, band leader Harry James.
Archbishop of Canterbury Arthur Michael Ramsey dropped by in 1967 and preached from the church's pulpit while participating in an ecumenical gathering at the convention center.
An odd and tragic event occurred in 1955, when a member of the parish killed one of its priests.
The Rev. T. Malcolm Jones, who became Christ Church's rector in 1952, had been counseling a man named Ray Smith. Jones, his wife, Smith and two other people went to Sill's Drive-In, at Fifth Street and Charleston Boulevard. And, as Jones got out of the car to get coffee for a drunken Smith, "the guy pulls out a gun and shoots him dead, right there at Sill's," Fortier says.
Nobody knows exactly why, she adds, although it could well be that Smith "got tired of hearing how good he could be if he stopped drinking, and that kind of stuff."
Smith was sent to the state asylum in Sparks, but became so violent there that he was sent to prison. There, Fortier says, Smith "died before ever being declared sane enough to stand trial."
Christ Church has been the setting for dramas both public and private over the past century. Betty-Jeanne Cousins, a longtime parishioner and member of the church's History Celebration Committee, remembers the time Christ Church was picketed in 2003 for the Episcopal Church's accepting stance on gay people.
"I had to take the children to the church school with the pickets there in front of the door of the church," she says. "I'm taking the 4-, 5- and 6-year-olds through, saying, 'When we come around there's going to be some people, but we're just going to pretend they're not there.' And they were just as good as can be."
Cousins also recalls that the church hosted a preschool program for HIV-positive children in the early '90s, even though some parishioners weren't comfortable with it.
But, Cousins says, "I feel the people of the Episcopal Church in general are in the forefront of those that are outcasts in our society."
And, as the church's second century begins, JoAnn Roberts Armstead, a parishioner for seven years, says that's not likely to change.
Christ Church is "welcoming enough to have a diverse presence, and that's what I like," she says.
For many outsiders, Christ Church has become known for something other than its works or its theology: the annual fall Lobster Fair which, Fortier says, was suggested more than 35 years ago by a parishioner who saw a similar fundraiser back East.
Nonetheless, Fortier says, "we got the idea for lobsters in the desert, and we've been doing it ever since."
Contact reporter John Przybys at jprzybys @reviewjournal.com or (702) 383-0280.
DAY OF CELEBRATION Christ Church, 2000 S. Maryland Parkway, will celebrate its 100th anniversary Sunday, beginning with morning prayer at 8. At 10 a.m., Mass will be celebrated by former Nevada Bishop and now-Presiding Episcopal Church Bishop Katharine Jefferts Schori, using the same 1892 Book of Common Prayer that Christ Church's founders used. Public baptism will follow immediately after the Mass. At noon, a reception will take place in the courtyard and parish hall. Also scheduled to participate in the celebration is the Rev. Dan Edwards, bishop-elect of the Diocese of Nevada. For further details, call 735-7655.