Christmas light hanging services bring convenience, beauty and safety
December 3, 2015 - 11:09 pm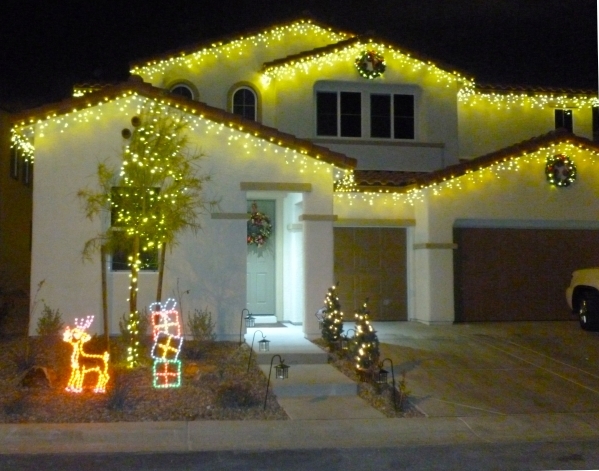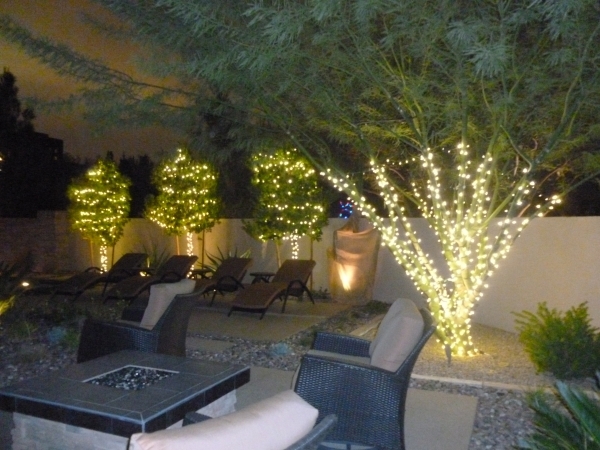 In any given year, consumers will spend more than $6 billion on holiday light decorations, according to the National Retail Federation. It's a welcomed boost for retailers who often see nearly 20 percent of overall annual sales coming from holiday season spending.
Contractors and lights
Each holiday season, Henderson-based Courtney Landscape and Pools adds holiday light hanging service to its business offerings. Customers usually start planning in August, and calls keep coming in all the way up to mid-December, said Sabrina Merten, a lighting designer for Courtney Lights.
Merten said the company does about 100 installations a year, from beginner packages starting at $699 on up to custom homes topping $2,000. The company will handle installations for events, homeowner associations and other situations, but its niche is primarily single-family homes.
Courtney is a perfect fit for the light-hanging business because throughout most of the year it functions as a pool builder and landscape design and maintenance contractor. A licensed contractor carries worker's compensation insurance and hazard insurance in case an employee gets hurt on the job.
"You really should make sure it's not just some guy you're hiring and that it's an actual company that has employees to install the lights," Merten added. "Workman's comp is a big thing."
Joshua Trees, managing partner for We Hang Christmas Lights, looks for entities like Courtney when expanding his company. Trees' business has affiliate locations in 40 U.S. and three Canadian cities. Affiliates with We Hang Christmas Lights gain access to the company's name and brand and its estimating software and training. Trees said contractors with a slow winter season are a perfect fit for the business because they already have necessary equipment, staff and insurances in place.
"This makes for the prefect add-on for them. They just shift the crews over to doing this over the holidays," he said. "Las Vegas is a huge market for us. I'd say it's in the top 15 nationally."
What's offered, pricing
Both Merten and Trees say their companies provide all the necessary lights for an installation. In rare exceptions, they will install other people's lights, but they prefer to work with their own equipment.
"It gets a little bit tricky. We check all the lights before we go out to make sure they work, and sometimes others have lights and they may not work right. … Plus, we warranty them. If anything goes wrong while they are installed, we go out and fix it … usually within 24 hours," Merten added.
Both Trees and Merten's teams use commercial-grade LED lights, which save on energy costs and can stand up to weather better.
"They tend to have a much lower failure rate," Trees said.
Courtney's introductory package starts at $699, which covers the lights, installation and removal for the season, regardless of time of use. Whether the display is up well before Thanksgiving or the week before Christmas, consumers don't see extra charges, Merten said.
Trees said most introductory packages start in the $600 range and go up from there. Introductory packages typically cover the home's rooflines and bushes and trees in the front yard.
Extras such as inflatable scenes and figurines also are becoming popular and are often added for between $75 and $100, Trees said. Merten's team also sees plenty of holiday wreath requests as well.
"We go out and meet with the customers and can get a pretty good idea of what they want. I follow up with a quote and photos of past jobs to give them an idea of how it will look," Merten said.
Trends, training
Trees installs and sets a digital timer for his light installations. It's convenient and easy for both the installer and homeowner. "These are really all-inclusive packages. The customer doesn't have to do anything," he said.
Improvements in white LED lights and other LED colors through the years are causing an explosion in LED light use overall. But both Trees and Merten also say classic-looking C7 or C9 bulb lights — also now available in LED — are still popular for outdoor decorations. Icicle lights running across rooflines are still a top request too.
Trees' company provides annual training sessions for its affiliate owners. He runs through mock estimations, full installations and designs.
"It's important to keep balance in mind when you're designing the project," he added.
The light hanging pro also spends considerable time talking about the importance of understanding the loads a home's power outlets can handle.
Most modern residential circuits are either 15 or 20 amps, which are able to handle between 1,800 and 2,400 watts before a circuit breaker is tripped. To find out how many amps outlets have in an area of your home, check your home's circuit breaker box. Most will have numbers on each circuit breaker switch that will indicate its amp rating.
A general rule of thumb is no more than three strings of lights per outlet and extension cord, and installers should be aware of the overall load for their light display.
Safety
Safety is another driver for holiday light hanging services, Trees added. Too often, people may not have the right-sized ladders or are not comfortable walking on tile roofs, if that's required.
The Consumer Product Safety Commission estimates more than 13,000 annual emergency room visits related to holiday-related injuries such as falls from ladders while stringing Christmas lights and lacerations from broken ornaments, among other injuries.
Judy Comoletti, division manager of public education for the National Fire Protection Association, said whether you are hiring a professional to hang lights or doing it yourself, keep the following tips in mind:
* Do not use nails to hang lights. If a nail penetrates a wire, it could be a fire hazard. Today, there are many different plastic clips available to accommodate a variety of different application situations.
* Make sure lights being used have been independently tested for safety by a third-party lab. Also, read the box to see how many strings can be connected together to avoid overloading the circuit.
* Understand if a string of lights is for indoor or outdoor use. The information can be found on the box. The same for extension cords; often indoor extension cords are used outdoors, she added, which is a fire hazard.
* Though many companies use timers for light displays, Comoletti still advises homeowners to make a habit of turning off the lights when they leave the house.