City native Lydia Garrett seeks to restructure NLV's image
February 28, 2016 - 9:28 pm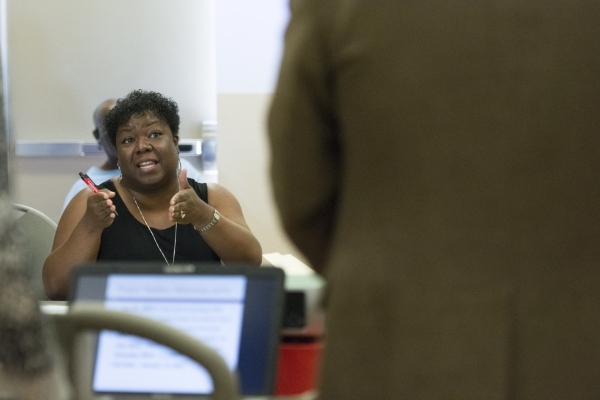 Seven years ago, North Las Vegas resident Lydia Garrett took it upon herself to stand up to some of the atrocities of North Town, the idiomatic nickname given to the city for its negative connotations.
The North Las Vegas native said she saw the city being swallowed by drugs, gangs and violence. Refusing to wait for the police to act on the daily crimes, while home values kept plummeting, she started the North Valley Leadership Team, a residential group that pushes forward community efforts.
Since partnering with the local police department, the group has helped to reduce crime by almost 40 percent, according to Garrett, while acting as a watchdog for the community.
In her many years of community activism, Garrett has made it her specialty to not only voice concerns but also to get big names involved in her battles.
"Back then, city officials didn't take us seriously," she said. "They thought we were crazy. Now, when we talk, they listen."
Can you tell me about the North Valley Leadership Team and its origins?
Back in 2006, my husband was complaining about how come the city doesn't come and clean the alley, or keep up with the sidewalks and flush the fire hydrants? We decided to contact our city official, William Robinson. Eventually, we started a group with the help of (former city officials) Sheila Thompson and Kathi Thomas-Gibson, and we started leading and expressing concerns about what was happening in our community. They helped us by inviting the police department to hear about what was going on in our area, but it was hard at first. There was no trust between the residents and the police department.
We created the North Valley Leadership Team so that we could voice our concerns.
What types of trust issues did residents have with the police department?
It was very difficult in the beginning because residents were angry that they were being pulled over by the police who were (suspicious of) people being in a gang. They pulled over cars that had four people in them, even if they were just family members. Also, when the police officers would arrive in a neighborhood, they didn't speak — they wouldn't even say a simple hello — and when residents would call the police department, they would never come. We had to build a relationship with the police department. Eventually, things got better when police officers started giving us their personal cellphone numbers.
What were the main concerns that residents had about the neighborhood?
It was the crime element. There were just a lot of drugs and drive-by shootings. Police used to refer to our neighborhood as "40 Block" because gang members would finish drinking their 40-ounce beers and smash them on the ground. There were so many murders happening back then. A stray bullet killed local Rev. (I. W.) Wilson, and people were constantly breaking into houses and stealing cars.
What area does the nonprofit target?
It is bounded in the east by Martin Luther King Boulevard and Comstock Drive; in the south by Lake Mead Boulevard; in the west by Simmons Street; and in the north by Cheyenne Avenue. We're comprised of seven neighborhoods, which are Highland Village, College Heights, Cambridge Heights, Aspen Hills, Windsor Park, Victory I and Victory II. We represent roughly 1,100 rooftops.
What are the group's goals?
To beautify the neighborhood; increase homeownership and property values; reduce the crime rate; improve access to jobs; encourage resident in-fill; promote commercial development; increase neighborhood pride; promote neighborhood and community activities; and create safe community spaces and parks.
Since starting the North Valley Leadership Team, what effect have you seen the group have on the city?
Our biggest triumph has been the demolishing of the Buena Vista Springs Apartment Complex in 2013. The police used to call it "heroin alley." The owner wasn't screening people, and convicted felons and drug dealers were moving in. He didn't even live in the community, and he hadn't passed a physical inspection in years. The apartment complex had mold, asbestos, and the sewer was backed up. It was horrible.
In 2008, we were able to get the director of the U.S. Department of Housing and Urban Development to come down and pull out a Section 8 rental voucher, which forced the owner to bankruptcy.
The city was able to buy the property with Neighborhood Stabilization Program money, and they had it demolished.
The reputation of the area between Martin Luther King Boulevard and Carey Avenue used to be known as the most dangerous corner in the U.S. That's no longer the case since crime is down by 38 percent. Property value has also tripled. It's a nice place to live in again; you don't hear gunshots anymore, and you can actually sit in your front yard and not worry about drug dealers or drug addicts.
We also held a ceremony a few years ago and renamed the community to North Valley. We wanted people to know that we were taking back our neighborhood, and we received a grant to paint addresses on curbs for about 800 homes. We heard from the police and fire department that it was hard to see the numbers on the houses, so sometimes they would take longer to find people.
What is going to happen to the area the apartment complex was in?
The city applied for the Choice Neighborhoods Planning grant and was chosen, along with seven other cities, to get the first portion of the grant, which is $485,000.
It was suggested to us to become a nonprofit, then the city could donate the land to the nonprofit, and the residents would decide what would be built there in the future.
Right now, we have a plan for redevelopment and have found private investors interested in developing the area.
Under the Choice Neighborhoods Grant Request for Qualifications, the city is currently looking for a developer by mid-March, but they are giving preference to Rose Gardens.
In the meantime, we're still working on bringing in new development, jobs and services to the community.
What are some of the problems that the North Valley Leadership Team has been focusing on this year?
Our main project that we're focusing on right now is to open up a credit union in the city. We're in the process of gathering surveys. We need 385, and so far, we have 250.
We're really pushing this because we did some research and found that businesses in the area can't hire or expand because they don't have access to credit, and in turn, they can't compete with Walmart and the bigger stores, even though they've been in the community for a long time. I've seen a lot of small businesses struggle or go out of business.
What other efforts is the North Valley Leadership Team pushing this year?
We're doing another neighborhood cleanup, a meet-and-greet with community leaders in May and a job fair for our kids in the community.
As a community activist, how would you assess the city's redevelopment efforts?
I like what I'm seeing, but a lot of it is happening outside of the community, I think. We're one of the oldest communities. Our residents have been paying taxes longer. City officials need to pay attention to older parts of the city, as well. The last 10 years of development have gone outside of the inner city area.
What type of community amenities is the city lacking?
We would like to see more parks and open spaces, like community gardens; we would like to see more shops in the community. For example, we found in research a lot of people in community have dogs, but there are no veterinarians or places to go buy dog food. A lot of people in the community have computers, but there are no places to buy paper or ink. We also lack access to specialized doctors in North Las Vegas, for those who have high blood pressure, diabetes and heart disease.
I think a lot of residents just want more shopping centers and restaurants in the city. We have 141 churches in the community, but after church, people get hungry and want to eat at a nearby restaurant.
Do you think that North Las Vegas has completely shed its image of North Town?
I think our nonprofit has helped a lot. You can tell by the people who are moving here now and saying that this is a nice area. It wasn't that way before the apartment complex got torn down.
How would you describe North Las Vegas now?
The city of North Las Vegas is home to many working families and long-term residents. Right now, the city is in a transition period, and it's at the tipping point of seeing the new future for the next generation.
— To reach North View reporter Sandy Lopez, email slopez@viewnews.com or call 702-383-4686. Find her on Twitter: @JournalismSandy.
Lydia Garrett
Age: 44
Position: President and founder of the North Valley Leadership Team and of the North Valley Community Development Corp.
Occupation: Real estate agent
Education: Received her bachelor's degree in criminal justice from UNLV
Hometown: Born and raised in North Las Vegas
The North Valley Leadership Team meets at 10 a.m. the second Saturday of each month at the Pearson Community Center, 1625 W. Carey Ave.
To reach Lydia Garrett, call 702-413-3034 or email lydiagarr2006@yahoo.com.
Getting to know community leaders
North View reporter Sandy Lopez plans to chat with Larry Schultz, Ward 6 Parks and Recreation Commissioner, for an April 7 Getting to Know Your Community Leaders question-and-answer profile.