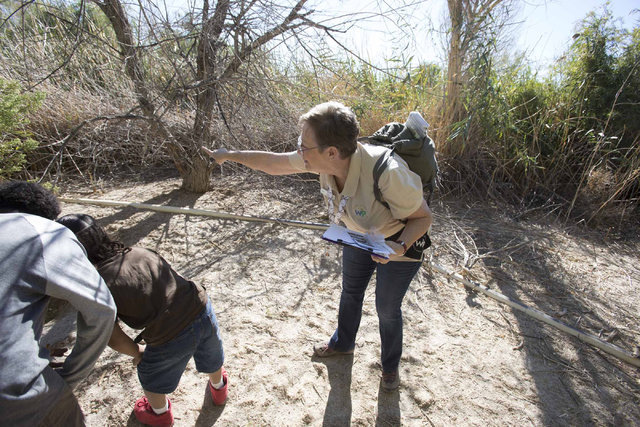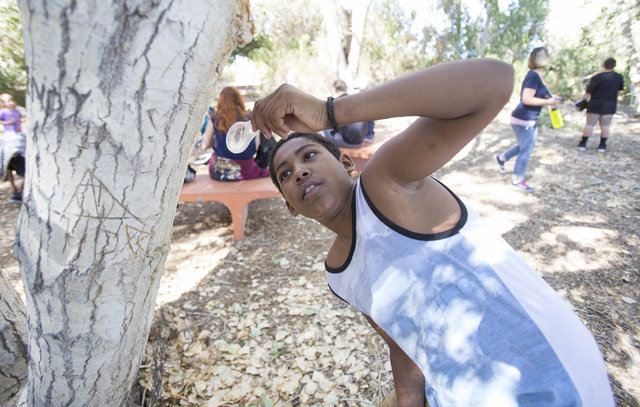 Clark County Wetlands Park in the southeast valley may not look or feel like a school, but a handful of teachers discovered Saturday that Southern Nevada has plenty of places for students to engage with the sciences.
"If we just look at the Wetlands Park, we have what really is kind of an outdoor classroom," said Wetlands Park's program supervisor, Ben Jurand. Participating in events with the Southern Nevada Science Teachers Association, the host of Saturday's event, helps informal and formal education coexist in local schools.
"This place in particular is a special place because it is still a part of the city — it's a way that people can connect with nature without having to go too far away," he said.
About 20 local educators stepped away from their lesson planning and ungraded homework Saturday morning to take nature walks and network with other teachers who are still adapting to the Next Generation Science Standards adopted in Nevada in 2014.
The new standards lessen the amount of material students need to learn and place emphasis on a deeper understanding of the topics they do cover, said Stacy Cohen, president of the science teachers association. The standards, which replace those put into effect in 1996, allow for more exploration and experimentation, and are based on long-term research about how students learn.
Educators at the association's fall kick-off event learned about the wetlands' wildlife from the park's recreational cultural specialist, Crystalaura Jackson.
Jackson led a group of about four teachers and eight children along the park's winding paths, pointing out coyote scat and beaver-chewed trees, and describing the water treatment process that led to the creation of the park.
"We know that kids don't just learn in the classroom," said organization member Lorettea Asay, a teacher for about 22 years and the Clark County School District's secondary science coordinator. "The kids want to be involved."
"Some of them are asking what colors attract birds," Asay said, gesturing toward the table where four children about 5 to 8 years old built and painted wooden birdhouses, their brows furrowed in concentration.
The children were similarly engaged on the nature walk, listening intently as Jackson talked about coyote waste and how you can recognize coyote waste by the fur and bones or screwbeans from the screwbean mesquite trees, depending on the season.
The kids, parents and teachers in the group oohed and aahed as they noticed an osprey perched over the wash, walked beneath an empty hummingbird nest and discovered a fallen tree gnawed nearly in half by beavers.
Anna Radef, a seventh grade science teacher at Cashman Middle School, said the wealth of information at the park supports the spiral learning prescribed in the new teaching standards. Students will learn a little bit about every science each year, adding layers of information as they move up each grade.
"It really fits into everything we do," Radef said of the park. "Seventh grade really focuses on energy — energy in the environment, energy in chemistry, energy in earth systems."
She said the park might be even better-suited for her school's sixth graders, who are learning about the water cycle.
Heather Witt, the science teacher association's president elect for next year, stood near a table of craft materials at the end of the walk and helped young children build birdhouses, cardboard binoculars and pine cone bird feeders.
"We're also here to be part of the community," Witt said, watching one boy in a Boy Scouts shirt glob red paint onto the roof of his birdhouse. "It makes science so much more meaningful."
Contact Kimber Laux at klaux@reviewjournal.com or 702-383-0283. Follow @lauxkimber on Twitter.
RELATED
Wetlands Park crackdown decreases crime
Fire burns bridge, 5 acres at Clark County Wetlands Park