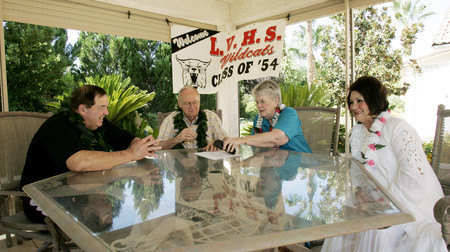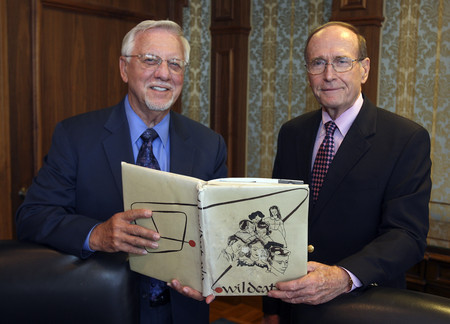 They're older, the hair is grayer and, as a fellow alumnus put it, there are more yesterdays than tomorrows for Las Vegas High School's class of 1954.
But that hasn't curbed the enthusiasm for their upcoming 55th reunion. It has lent a touch of poignancy to the gathering, but the alumni, in their mid-70s, are approaching it with healthy doses of good humor and anticipation.
"We're getting a lot older but we've got some pretty sharp dudes," jokes Rollie Gibbs, the reunion's host and chairman of the Las Vegas High School Alumni Association board.
The class of '54 committee has planned a luau at Gibbs' home. A few dozen of the 198 surviving class members are expected to attend. They will eat Polynesian food and enjoy Polynesian entertainment while catching up with friends they haven't seen in years. A lot of the reminiscing probably will center on their senior year at high school.
"Our senior year was really special," remembers Sharon Rather, 74. "It's nice to get together and reminisce about how we used to cruise Fremont (Street). We lived in a wonderful, wonderful age. We were innocent, not perfect, but it was nothing like today. We were like a family."
The class of '54 gets together every five years, while a Las Vegas Wildcat Alumni reunion takes place annually for all graduates of the school. It is scheduled for Sept. 12 at Sam's Town. About 300 people are expected to attend.
The high school was the valley's only one until 1954, when Bishop Gorman and Rancho opened campuses. The Las Vegas Wildcats were a unifying force in Las Vegas, bringing residents together to watch football and basketball games. Classes were even recessed so the student body could assemble on the football field to watch atomic bomb detonations, remembers class of '54 alumnus Bob Faiss, 74.
There was a tremendous sense of civic pride among students and nonstudents alike, he says.
Some notable valley residents graduated from Las Vegas High School in the mid-1950s, people such as former U.S. Sen. Richard Bryan; Faiss, a prominent gaming attorney; former Lt. Gov. Lorraine Hunt; and Brian Cram, former Clark County School District superintendent, among others.
"Going to Las Vegas High School was a right of passage," says Bryan, 72. He's a member of the class of '55. "There were no middle schools or junior high schools, so you made that quantum leap from grade school to high school. In effect, Las Vegas High School was the center of our universe. As it was for the rest of the community."
Contact reporter Sonya Padgett at spadgett@reviewjournal.com or 702-380-4564.
Preview
What: Las Vegas High School annual All-Classes Wildcat Reunion Party
When: 5 p.m. Sept. 12
Where: Sam's Town, 5111 Boulder Highway
Cost: $40 (For ticket information, contact Patty Haack at 876-6660 or LVOwl@aol.com)