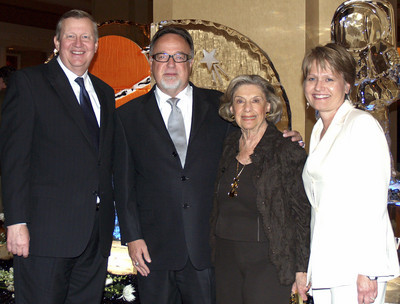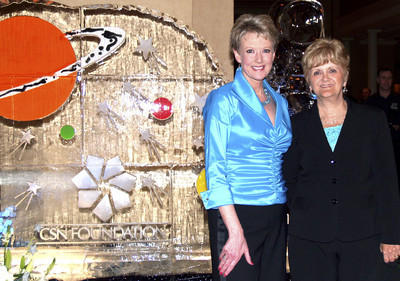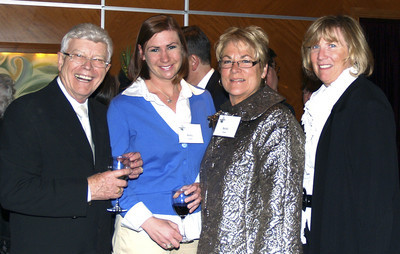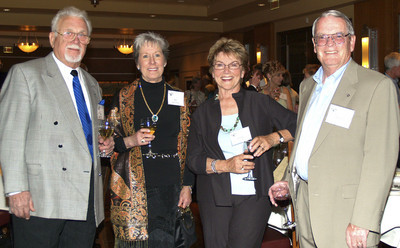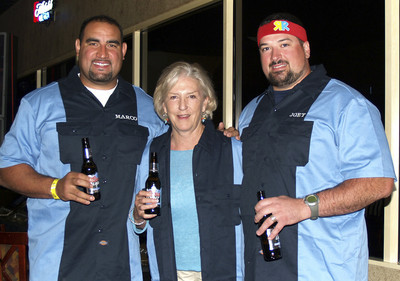 College of Southern Nevada had a reception, silent auction and dinner Saturday at the Palace Ballroom in Caesars Palace to raise scholarship funds for the College of Southern Nevada. The college and the event's main sponsor Nevada Power Co. also presented the 2008 Legacy of Achievement Awards.
Among the 620 guests seen enjoying the hosted reception by DeLuca Liquor & Wine and participating in the silent auction sponsored by the Las Vegas Hospitality Association were Libby and David Sims, Diana and Roger Wilson, Domingo Cambeiro, Kelly and Marv Rubin, Marilyn Gillespie, Sam Lieberman, May Mushkin, Barry Thigpen, Charlotte Hill, Lou and Fred Schwager, Edgar Peitino, Kathy and Mike Shalmy, Kathy England, Mary Lou Foley, U.S. Rep. Shelley Berkley, D-Nevada, Nevada Attorney General Catherine Cortez Masto, and university Regents Steve Sisolak, Jack Lund Schofield, Mark Alden, Thalia Dondero, Cedric Crear and Stavros Anthony. Robbie Graham, president of Nevada Title, was mistress of ceremonies.
College of Southern Nevada Interim President Michael Richards was joined by Jack Leone of Nevada Power in awarding the 2008 Legacy recipients: Paula Francis, KLAS-TV, Channel 8 anchor; Marie McMillan, holder of 656 aviation awards and her late husband, James McMillan, a dentist and civil rights leader; Nevada Cancer Institute, represented by Chief Executive Officer Dr. Sandy Murdock; Julie Murray, chief executive officer of Three Square and co-founder of the "I Have a Dream" Foundation; Donald "Pat" Shalmy, honored for his work as Clark County manager, president of Las Vegas Chamber of Commerce and president of Nevada Power (he was out of town and was represented by his son, Mike); and Larry Tomlinson, longtime College of Southern Nevada political science professor who was honored posthumously (he was represented by his wife, Joyce).
The CSN Foundation and Nevada Power endowed six $10,000 scholarships to recognize the honorees' contributions to our community. Auctioneer Eric Nelson conducted a live auction for items such as a 12-day solar eclipse cruise and a round trip to Orlando, Fla., to visit Disney World, play golf and view a shuttle launch. Terry Mayfield presented the CSN Foundation with a $50,000 check from Nevada Franchised Auto Dealers Association.
A TOAST TO SHAKESPEARE: In honor of The Bard's 444th birthday, principles and cast members of the Utah Shakespearean Festival traveled to Las Vegas and had a reception and dinner at Lawry's The Prime Rib on April 23 for Las Vegas supporters.
The actors visit Las Vegas once a year to perform for 150,000 children. Fred C. Adams, who founded the festival in 1961, greeted guests, including Tom Thomas, Nancy Slitz, Brock Fraser, Brad Ballard, Cheryl and Albert Purdue, Mercedes and Ty Hilbrecht, Betty and Ken Miller, Edythe Katz Yarchever, Ed LePere, Linda and Jesse Paulk, Mike and Mary Ellen Phillips, Linda and Steve Casey, Becky Casey, Wendy Bell, Beila and Art Kunis, Bruce LaFollet, and Mary Laub and daughter, Mary Agnes Doni.
All socialized over wine and canapes before sitting down for a prime rib dinner with Yorkshire pudding and wines donated by Southern Wine & Spirits of Nevada.
R. Scott Phillips, festival executive director, spoke about the festival receiving America's Outstanding Regional Theatre Tony Award in 2000 and the National Governors Association Award for Distinguished Service in the Art for Artistic Production in 2001. During dinner, entertainment was provided by festival actors. The festival runs from June 19 to Oct. 25.
RUEGY'S READERS: National Football League New York Giants' offensive lineman Grey Ruegamer returned to Las Vegas Saturday to host a benefit for his foundation, Ruegy's Readers, Inc. The Bishop Gorman High School grad wanted to make a difference in the education of young people. In 2003, he founded Ruegy's Readers on the East Coast. Last year, he partnered with Clark County Reads for his first Bowling for Books benefit. Clark County Reads is a literacy initiative of The Public Education Foundation that provides additional support to public and private elementary school libraries. This year's event was a success, with 340 supporters joining invited former and current NFL players at the Suncoast and taking more than 32 lanes for an afternoon of competitive fun. A silent auction included such items as an Eli Manning signed jersey, football tickets, jewelry and Super Bowl XLII autographed footballs.