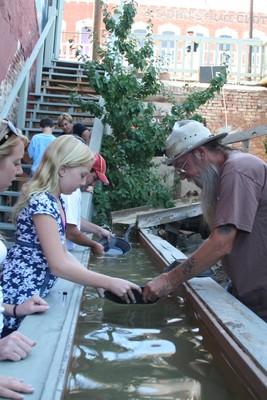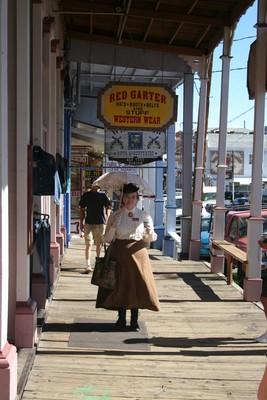 While no one alive knows first-hand what Virginia City was like in its heyday, a one-day visit can give you a good sense of it. The city's boom in the mid-19th century jump-started Nevada on its way to statehood and established Nevada's image as a land where ordinary men could become millionaires. Now Virginia City is the central treasure being preserved in one of the largest historic districts in the United States.
Since so much of our state's past rooted here, my three daughters and I recently made it a point to visit Virginia City, and found it an entertaining and painless way to learn a lot of history.
Virginia City got off to a fast and furious start in 1859 after rich deposits of silver and gold were discovered. It wasn't long before word spread and people came to seek their fortunes. By the mid-1870s the mining district's population, which included nearby Gold Hill, reached more than 22,000 people. Supporting businesses quickly shot up and the district boasted theaters, saloons, hotels, newspapers, a couple of opium dens and a prospering red light district.
The Comstock Lode, as the precious metal deposit beneath Virginia City came to be called, was the richest silver strike ever made in the United States. During the course of about 20 years the Comstock yielded more than $400 million in gold and silver. At 19th-century prices, that amount was so much it diluted the value of all silver, which is one of the reasons in 1873, the United States temporarily abandoned silver as one of the two metals backing its currency, relying on gold for the next five years. The "Crime of '73," as Nevadans called the decision, drove down the price of silver even more, and contributed to the decline of many Nevada boom towns.
After mining played out, most people moved on to greener pastures, and the population dwindled. Things started to perk up in the 1960s though, due to the popular television series "Bonanza." In the show, the Cartwright family was often depicted leaving their home, the fictional Ponderosa Ranch, and heading to Virginia City for supplies. Even though the town wasn't used as the filming location, curious travelers still wanted to visit. Today it is a thriving tourist town.
The district includes close to 400 buildings on more than 14,750 acres. Our plan was to see all of Virginia City and Gold Hill, but we soon realized that the one day we had allowed ourselves would only enable us to scrape the surface.
Although still a small town of less than 800 residents, Virginia City's wooden sidewalks are filled with pedestrians. Besides visitors, on any given day you will see some of the more than 50 volunteers, organized by the Virginia City Convention and Tourism Authority, moseying around the town in authentic period clothing. All are well versed in the town's history, many choosing to portray a specific person who actually lived there during the Comstock boom, while others simply dress in the typical style of the era. All are eager to talk to visitors.
We met Becky J. Orr strolling up main street in sausage curls, fingerless lace gloves and calf-high boots, carrying a lace parasol. Orr dresses as Eilley Orrum, the Comstock boarding-house landlady who accepted a mining claim in lieu of rent, and later married a tenant, Sandy Bowers, who owned the adjacent claim. Their joint claims made them rich; Eilley built a mansion and sought the company of European royalty, while Sandy could hardly be pried from his original mine shack. The odd couple's legend has survived them by more than a century.
"I love history and sharing it, and the whole world visits us here," said Orr.
We passed by other residents who appeared to be outlaws, plenty of cowboys and one woman dressed in a shiny red dress with a black fringe hem, cut high on one leg. She looked like she just stepped out of a Victorian bordello. Her companion sported a full beard that rested on his striped vest as he stopped to talk with local fixture, Sweetwater John.
Sweetwater John has been a draw to tourists for more than a decade. He was dressed like the quintessential prospector of yore in red shirt, denim overalls and a long gray beard. Leading his donkey around town, he looks like he just stumbled out of the hills after a long stretch searching for the legendary Lost Breyfogle mine. But he's really in town regularly, posing for photographs and accepting donations for the area's Donkey Rescue charity.
One of the first things we did was hop aboard the local open-air trolley. As we had visited the town before, this would help us refresh our memory about the highlights of Virginia City. Our 20-minute tour took us past some of the most historic buildings. Among the highlights was the Mackay Mansion, now named for and associated with Comstock mine owner John Mackay. However, the three-story Victorian home was originally built in 1859 by George Randolph Hearst, a young mining engineer who would himself become a legend as founder of the Hearst family fortunes. We also rode by the Storey County Courthouse, the oldest continuously operating courthouse in Nevada, Piper's Opera House and the Fourth Ward School and Museum.
The historic Fourth Ward School, built in the Second Empire architectural style, impressed us most. Built in 1876 for the expanding population of children, the four-story building could accommodate more than 1,000 students. It was used until 1936, then went unused for 50 years and fell into disrepair. Through the efforts of the town and various preservation groups it was renovated back to its original splendor. A classroom we visited contained a pot-bellied stove and about 50 wrought-iron desk with wooden tops, complete with inkwells, dents and stains. The floor was visibly worn between rows of desks; maps hung on the wall. There was even a dunce cap in one corner.
After the trolley we headed down to the Virginia & Truckee Railroad, one of the most famous of all American short lines. During the Big Bonanza times between 1873 and 1881, close to 50 trains arrived at and departed daily from Virginia City, hauling millions in gold and silver from the mines, some of it destined for the U.S. Mint that once stood in nearby Carson City. Today it carries a lighter load — just passengers.
We settled into the bench seats in a wooden caboose that was more than 80 years old. The ride was fun and at only 35 minutes round-trip, we didn't have a long time commitment. We passed by many of the famous Comstock mines, through a tunnel and then to the historic town of Gold Hill.
Unlike many other short lines operating today, the V&T encourages its passengers to step down at mid-journey stops, look around and catch a later train back. There are seven daily trips to Gold Hill through the end of October. A main attraction of the Comstock's "other town" is the Gold Hill Hotel, said to be the oldest operating in Nevada. It still offers lodging, gourmet food, and an extremely popular saloon.
After returning to Virginia City we visited St. Mary's in the Mountains, Nevada's oldest Catholic church. Originally built in 1868, the impressive building was severely damaged in the Great Fire of 1875, which destroyed 2,000 of the town's 3,000 buildings over a 30-block area. Because the future looked rosy, folks rebuilt the town quickly, most of it within a year.
In the 1950s, the church invited a group of Cistercian monks from Wisconsin to come and help with some renovations. Working without constant supervision, the monks had a different vision from the locals about how things should be updated. Deciding the church was too ornate for serious worship, they removed old Belgian stained glass windows, hand-carved wood alter balconies, staircases and panels of the choir loft. When the town's people caught wind of the demolition they were horrified, and the monks were sent packing. Some items were rescued, but not all, including the beloved choir loft that the church has never been able to replace.
The church is one of the most-visited places in Virginia City and people have come there from more than 55 countries. It now has more tourists than worshippers. When the city was bustling, there were more than 3,000 parishioners, but now only about 55 families attend services.
After lunch we took a self-guided walking tour of many more historic buildings and houses. Some worth visiting include the Territorial Enterprise Building that once housed the first newspaper in Nevada Territory; here Samuel L. Clemens, who came to Virginia City in 1861, wrote for two years. It was here that he first used the pen name Mark Twain. He detailed his adventures as a Nevada prospector and newsman and the town's adventures in its formative years in his humorous book "Roughing it."
There are close to a dozen museums in town, including the Nevada State Fire Museum and Comstock Fireman's Museum, The Way it Was Museum and one dedicated to the town's most famous prostitute, the Julia C. Bulette Red Light Museum.
Virginia City has a variety of unique annual events such as the World Championship Outhouse Races and the 1864 Governors Ball, but the International Camel Races take the proverbial cake. Now in its 48th year, this event involves riders who are somehow persuaded to mount untrained camels and attempt to race a straight line for a couple of hundred yards on a gravel track. Failures are frequent and often hilarious. This year, the event takes place Sept. 7-9, and competitors come from as far as Australia, vying for the coveted International Camel Cup.
Camels actually played a part in Virginia City's past. They were brought here in the 1860s to haul heavy loads and were thought ideal because of their ability to go long distances without water. Unfortunately, the hundreds of horses and mules already on the Comstock had not been educated about the existence of beasts so strange in appearance and smell, and the equines often stampeded at their approach. In 1875, camels were banned from all public roads. Some of the herd was brought to nearby states but others were simply turned loose to seek their fortunes. Purportedly free-roaming camels were spotted in the surrounding area as late as the 1930s.
Although Virginia City has lately acquired modern and comfortable overnight accommodations, most visitors probably regard it as a daytime destination, booking hotel rooms in Reno or Lake Tahoe. We chose Reno, and spent the evening exploring the trendy Riverwalk District along the Truckee River. Located within walking distance of most major hotels, this area is full of art galleries, theaters, parks, restaurants, lounges and shops. The Truckee itself, formerly famous as the stream into which new divorcees supposedly hurled their wedding rings, now boasts a celebrated whitewater park and the unique opportunity to shoot its rapids, by tube or kayak, in the heart of a city. You can rent either vessel within walking distance of river or hotel.
With one of the West's natural wonders, Lake Tahoe, so close, the next morning we were up early and headed that way. In less than an hour's drive from Reno, we were catching our first glimpses of the lovely alpine lake. We had chosen the scenic route that heads up into the mountains out of Reno and arrives at the lake near Incline Village. From there, we headed south, which skirts the eastern shoreline all the way down to the California border.
We stopped at many of the viewpoints, took a summertime look at Heavenly Ski Resort, and then headed to Round Hill Pines Beach. The beach was more crowded than we liked, but we had our sights set on the water. We decided to see the lake by kayak, a peaceful alternative to the tour boats and personal watercraft.
We returned home well satisfied with a three-course experience, fitting Nevada history, hip urbanity and natural alpine beauty into one long weekend in a summer climate cooler than our own.
GETTING THERE
Location: Virginia City, 435 miles from Las Vegas in west central Nevada.
Directions by auto: From Las Vegas, take U.S. 95 north for 382 miles. Turn left onto U.S. 50 west and drive 45 miles. Turn right onto Nevada Route 341 north and follow about 8 miles to Virginia City.
By air: Southwest Airlines and U.S. Airways (www.southwest.com and www.usairways) offer many day and evening flights between Las Vegas and Reno, from $106 round-trip. Major rental car companies are available at the airport. Virginia City is about 20 miles from Reno.
Virginia City Convention and Tourism Authority: 86 S. C St. (800) 718-7587, Web site.
Virginia City accommodations: The Gold Hill Hotel has rooms, suites and cottages from $60 per night on weekdays. (775) 847-0111, Web site. Silverland Express Ramada Inn, 100 North E St., Virginia City, has rooms and suites starting at $130 on weekdays. (775) 847-4484, Web site.
Virginia City restaurants: Café Del Rio, 394 C St. Open Thursdays-Sundays for lunch, dinner, and Sunday brunch; (775) 847-5151. The Palace Restaurant, 25 S. C St., serves breakfast and lunch; (775) 847-4441.
Virginia City Trolley: A 2-mile, 20-minute narrated tour operates 9 a.m.-5 p.m. daily, year-round. Adults $4, children under 12, $1.50. Meets in the parking area next to the Bucket of Blood Saloon, 1 South C St.
Virginia & Truckee Railroad: Operates daily 10:30 a.m.-4 p.m. through Oct. 1, then weekends through Oct. 31. Round-trip is $8 for adults, $4 children (5-12), free under 5. Washington and F Streets. (775) 847-0380.
Fourth Ward School and Museum: 537 S. C St. Exhibits, displays and period classrooms. 10 a.m.- 5 p.m. daily through Oct. 31. (775) 847-0975, www.forthwardschool.org.
St. Mary's in the Mountains: 111 E St. Open daily, but call for hours. (775) 847-9099, Web site.
Reno accommodations: Web site.
RENO ATTRACTIONS
Truckee River Whitewater Park: Located in the downtown area, the park features 11 drop pools over a one-half mile length of river for kayaking maneuvers, canoes, rafts, or inner tubes. Open year-round. (775) 334-2262, City of Reno.
National Auto Museum, The Harrah Collection: Antique, classic and one-of-a-kind automobiles. Special event through Oct. 15 is "Topless Convertibles of the 1950s." 10 S. Lake St., (775) 333-9300, Web site.