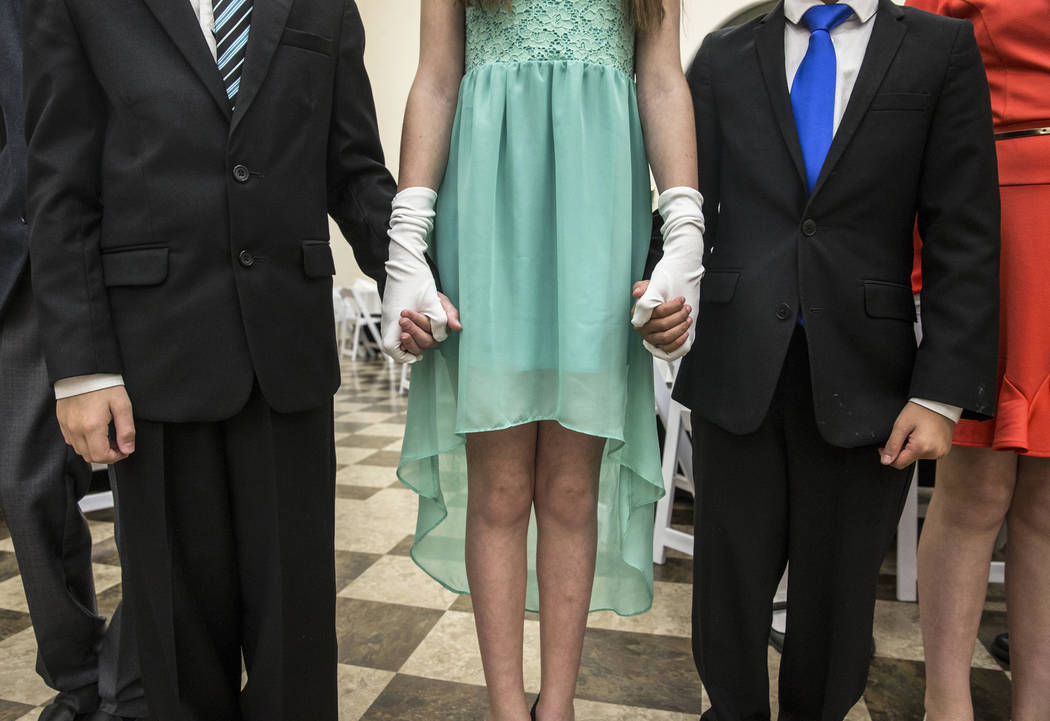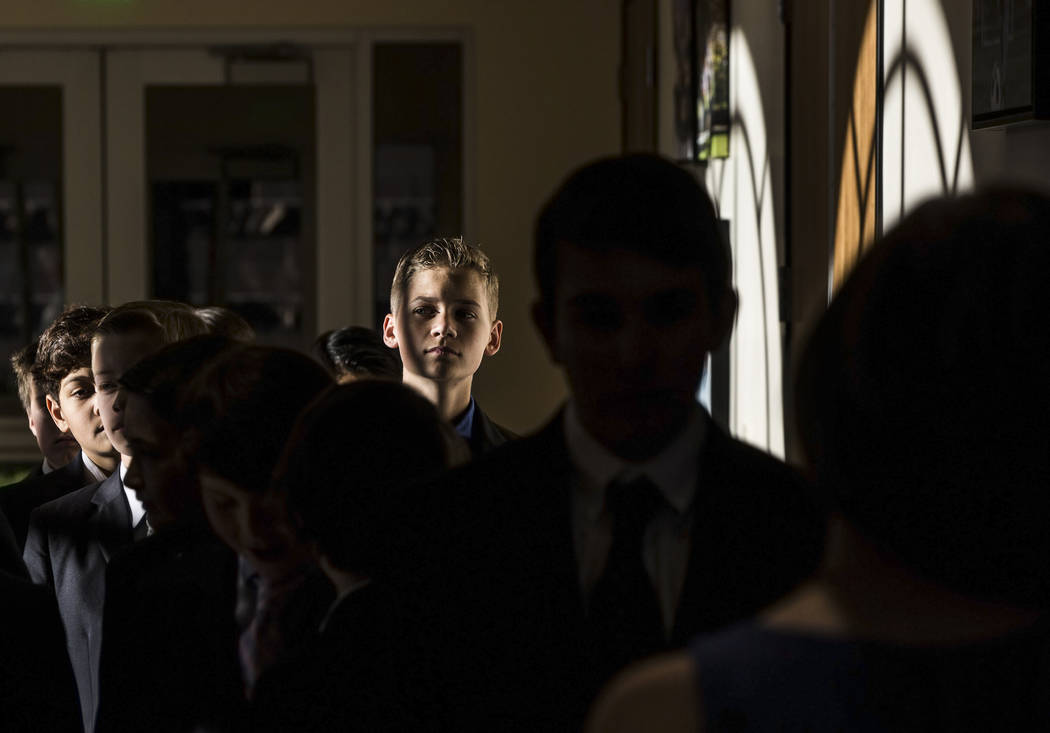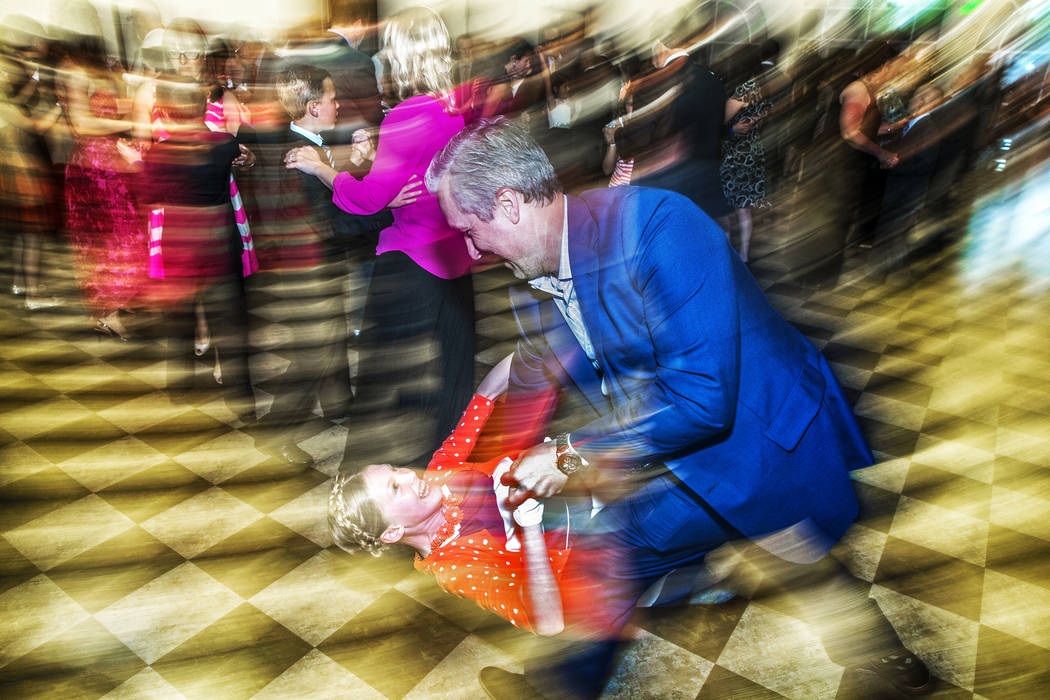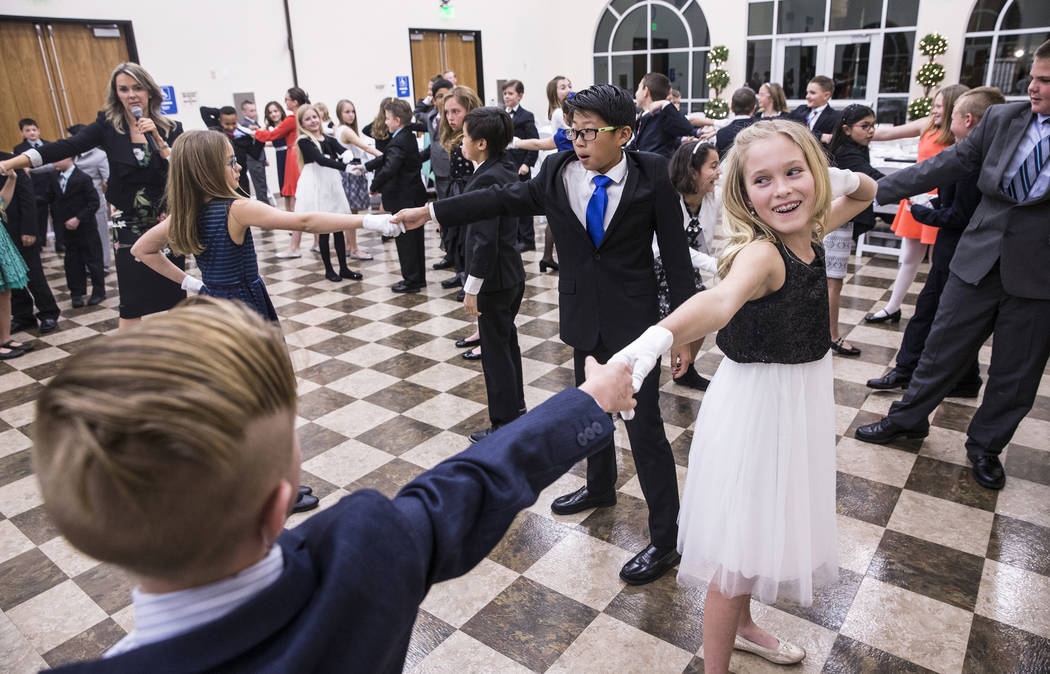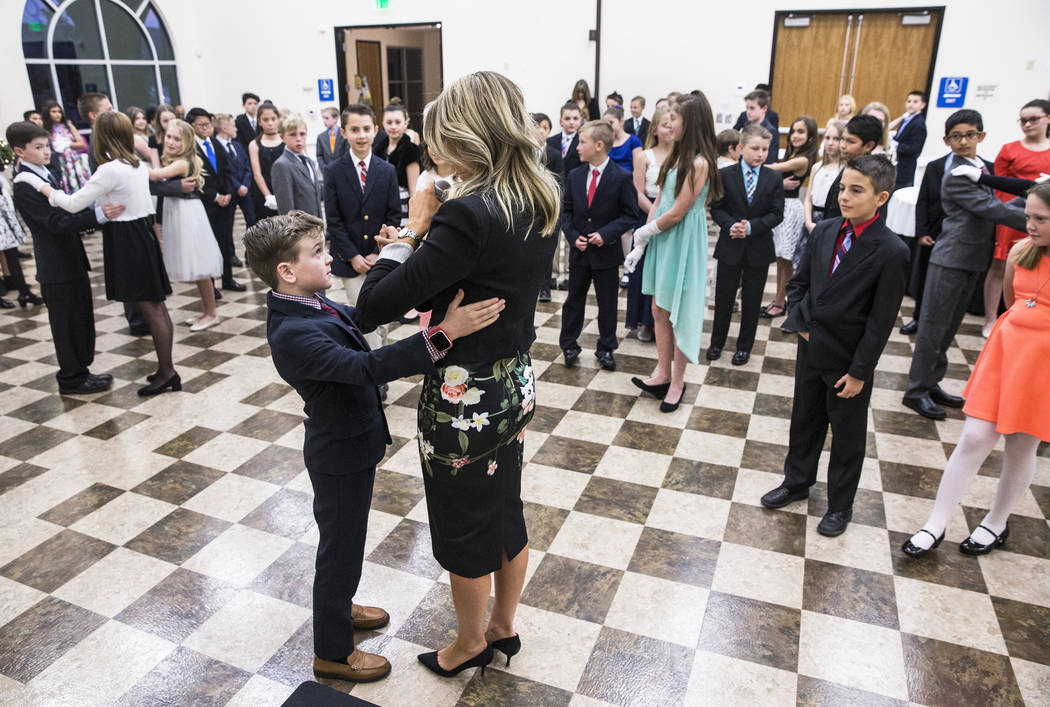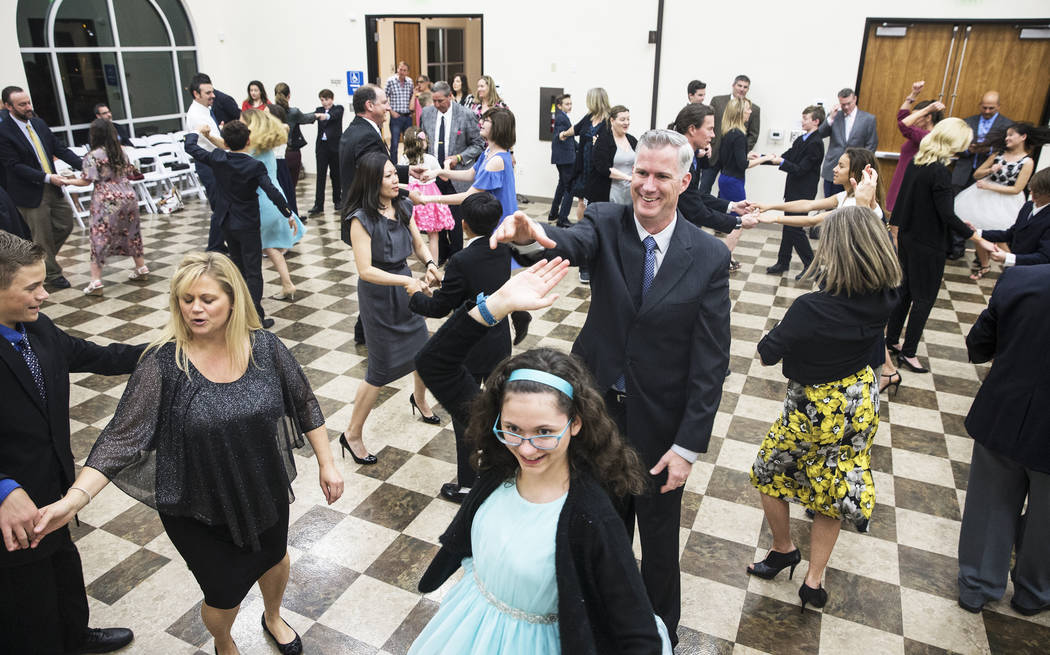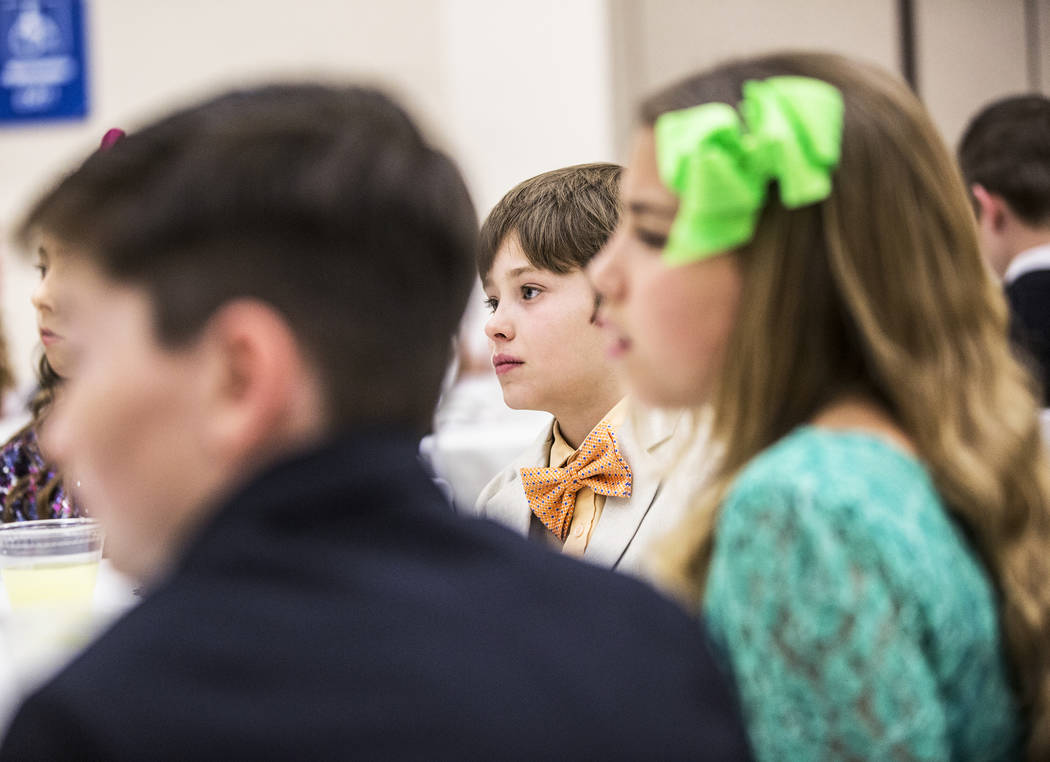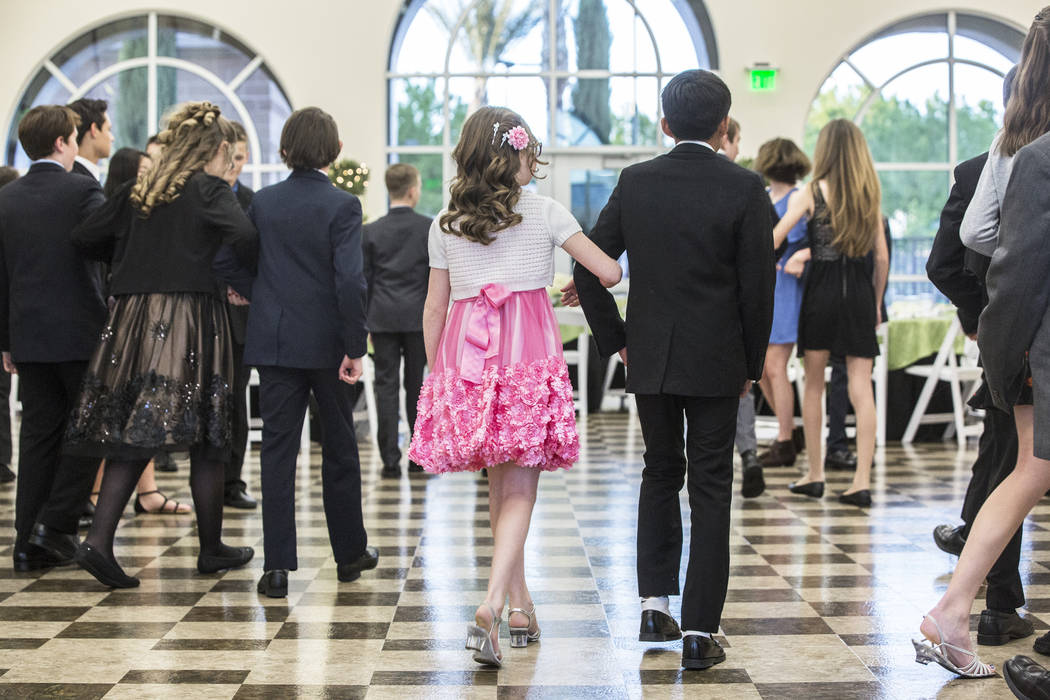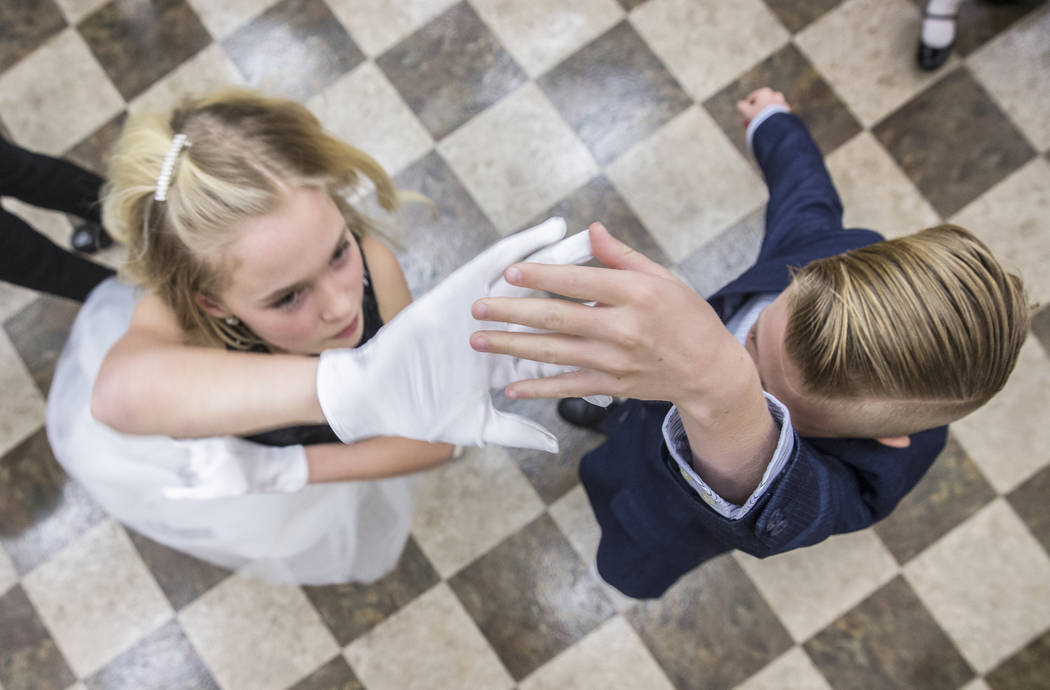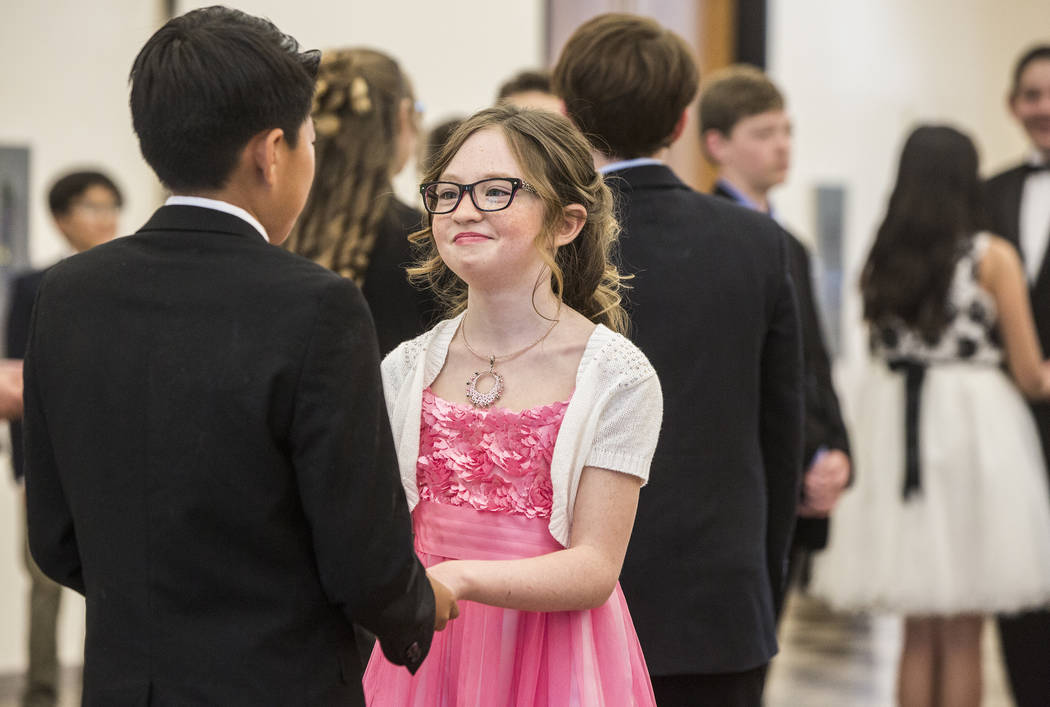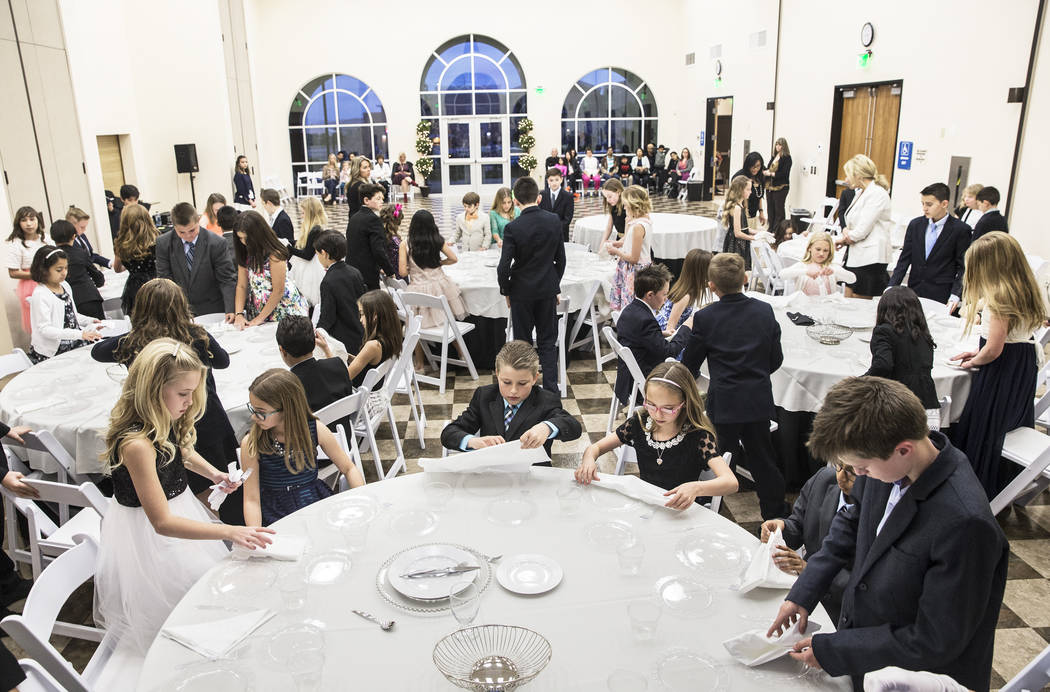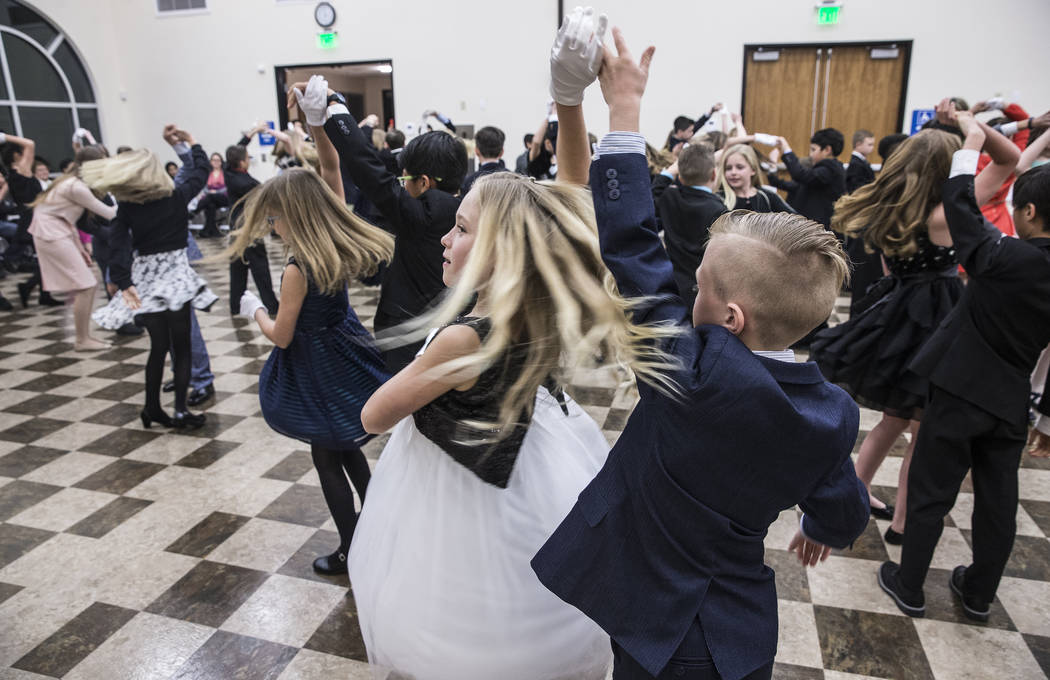 Amid a sea of Land Rovers, Mercedes and BMWs, a preteen boy rolls his eyes while his dad fixes his bow tie. Looking dapper, he opens the door for a young girl dressed in her Sunday best, including white gloves and heels.
The two youngsters enter the reception area at Vistas Community Center in Summerlin, where dozens more eager youths are waiting to meet their partners for an evening of fine dining and dancing.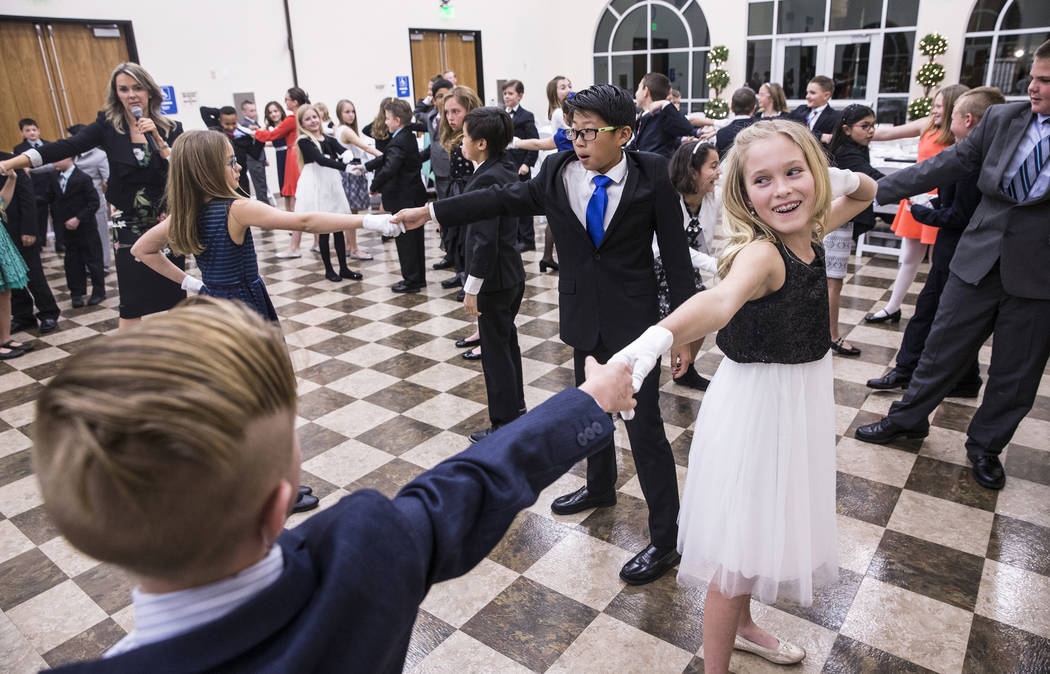 Brynlie Hannig, right, dances with Lennon Wever during Summerlin Cotillion in Las Vegas. Benjamin Hager Las Vegas Review-Journal
"My favorite thing that I've learned would probably be the handshake," fifth-grader Charlie Tharin says. "I think it's good to make a good first impression when you're meeting someone because that's one of the most important parts of getting to know somebody."
This is one of the many lessons imparted during a five-month series of classes called cotillion — based on the venerable Blue Blood tradition of holding grand debutante balls to introduce young women into the high society. The monthly gatherings in Las Vegas are focused mainly on etiquette and dancing, and conclude with a celebratory dance party.
The big night
On a recent April evening, the Vistas Community Center is prepped for the final night of the spring cotillion. Tables are adorned with white tablecloths and napkins; place settings are exact. There's plenty of room for dancing. Music by Frank Sinatra, Michael Bublé and other singers flows out of speakers.
Proud parents hold up cellphones to record their children greeting one another with an introduction, handshake and a few seconds of prolonged eye contact.
Students greet their dates during Summerlin Cotillion. Benjamin Hager Las Vegas Review-Journal
"They taught us that you need to have good posture because people can make a lot of inferences on you," Tharin imparts. "A lot of what people think about you is based on your posture."
Riley Frankwick, left, dances with Charles Tharin during Summerlin Cotillion class in Las Vegas. Benjamin Hager Las Vegas Review-Journal
Many parents said they were unfamiliar with the cotillion classes, or its European origins, before the Summerlin program began in 2013.
"I grew up in Chicago with brothers," Dr. Joseph Adashek says. "I had never heard of anything like this, but having my daughter in cotillion has completely changed her manners. When we go to formal events, I feel comfortable bringing her and people always compliment her manners."
Everything's just so
The cotillion classes are organized by JDW Social Education Programs, which is based in Denver and conducts programs in all 50 states and the District of Columbia. Senior instructor Annabel Day Kyler flies into Las Vegas to teach two separate classes of fourth-fifth and sixth-eighth graders on weekends. The Summerlin session costs $225 per student and is held once a year, with classes beginning each November.
Students in the 4th grade class work on a table setting exercise during Summerlin Cotillion. Benjamin Hager Las Vegas Review-Journal
"Bread plates on the left, drinks on the right and never make a sandwich with your roll," she advises nearly 80 fourth-graders, each carefully applying a pat of butter to bread.
"My role as an instructor is to teach the children social skills," Kyler says. "One of the ways we do that is through social dancing."
While the word "cotillion" itself originates from an 18th century French dance, dancing at Vistas consists mainly of the fox trot, waltz, bachata, swing hustle and folk.
Not everyone is a fan.
"The dancing is really not my favorite part," says fourth-grader Davis Tharin, standing with his brother Charlie before their next cotillion class. "The thing I like is that we get to dress up."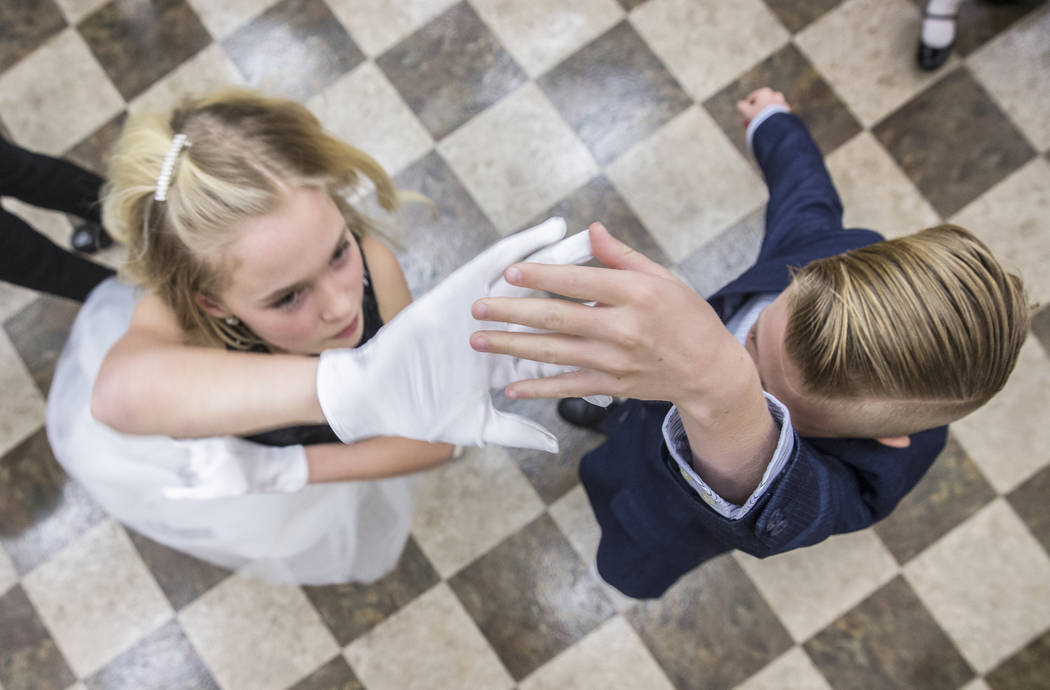 Brynlie Hannig, left, dances with Lennon Wever . Benjamin Hager Las Vegas Review-Journal
Despite any mild objections, Kyler's voice continues to resonate in the ballroom over the sound of music and paired-up 10-year-olds in dresses and suits with ties as she calls out which step comes next, and when to spin and other directives.
"What's the best way to start a conversation?" Kyler asks. "To pay your partner a compliment," the class resoundingly replies.
At this point, the parents have found their way to the dance floor, each beaming with pride, as their son or daughter teaches them the steps in a tradition much older than Facebook or Netflix.
Keanu Stanton, left/middle, dances with her father Chuck Stanton. Benjamin Hager Las Vegas Review-Journal
"It's kind of fun to watch them out there having to mingle with people," says Dr. Michael Hanson, whose son and daughter Tyler, 13, and Madison, 11, both participate in cotillion. "I've never been to a wedding where you actually do the jitterbug, but this is more of a confidence thing."
Despite the giggles and blushing faces, the memories made at cotillion will not be easily forgotten.
"It's definitely not what I would have expected," says Sydney Adashek, an eighth-grader. "It's way more energetic and fun, and you learn stuff that you can actually use."
Instructors' history
JDW Social Education Programs, one of the largest cotillion organizations in the country, is based in Denver and sends instructors to various communities across the country to educate children on social graces and dancing. Jon Williams Sr. founded the company in 1949 with his wife Vivian, after the couple transitioned from dancing with Fred Astaire in New York.
The company hosts cotillion classes in more than 60 cities nationwide and classes are still held at its original location — the Broadmoor Hotel in Colorado Springs.