Cottonwood, Marble canyons challenge best backroaders
November 30, 2008 - 10:00 pm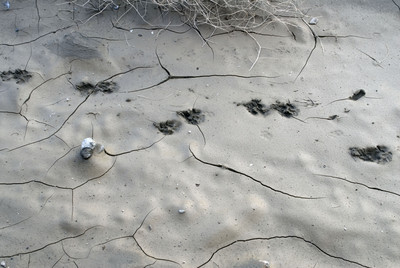 Cottonwood Canyon and Marble Canyon, both in Death Valley National Park, are side-by-side but as different as a cottonwood tree is from marble canyon wall. The one thing they do have in common is a rough road to get there.
My husband, Richard, and I spent the night in Stovepipe Wells to get an early start. This is an all-day trip and, while winter is the best time to explore Death Valley, it also means that nightfall comes early. Cottonwood Canyon Road starts right in Stovepipe Wells. Turn right (north) at the entrance to the Stovepipe Wells Campground and keep to the left, following the sign to Airstrip Road. This road is paved, but don't get your hopes up, for there is rough road ahead. At the north end of the airstrip, the road forks. Turn right at the Cottonwood Canyon sign.
The road is dirt, varying from sand to tooth-rattling washboards, and the only things green are creosote bushes. Sand accumulated around the bottom of each creosote makes it appear as if perched on a pedestal.
But maybe the lowly creosote should be on a pedestal. The oldest living things in the world are now thought to be certain creosotes. As the plant matures, it sends out new shoots from the same root. Eventually, the mature plant dies and the "clone" plants continue to grow. Sometimes you can see the circular ring of "clones" with the dead plant in the middle. Some creosote colonies may be 11,000 years old.
Straight ahead are the snow-topped Cottonwood Mountains, forming the western edge of the park. Despite its name, Death Valley isn't a true valley because it wasn't formed by a river. It's a "graben." The simplest explanation of how Death Valley formed is that the mountains on the east and west rose and the land between them dropped down.
Death Valley is famous for mild winter temperatures, but snow often covers the higher mountains, making for spectacular scenery. It has even snowed down in Death Valley, but only rarely.
Have you noticed the large fan-shaped deposits of sand and gravel at the bottom of the mountains? These are alluvial fans formed from debris washed down mountain arroyos during the infrequent rainstorms. Death Valley has some of the best examples of alluvial fans, and geologists come here from around the world to study them.
Speaking of debris being washed down arroyos, remember it is called Cottonwood Canyon. Don't be in any canyon when a flash flood roars through. Do not attempt this route in rainy weather, or you might end up as debris on one of those famous alluvial fans.
After 8.5 miles, we came to the entrance to Cottonwood Canyon itself. The park service map says the road is four-wheel-drive from here on. If you can find some tire tracks to follow, consider yourself lucky, since the road is a "pick your way around the rocks" sort of thing. Most of the time, a "road" is clearly visible, but if you visit after a good rock-moving flood, you might want to put the wear and tear on your feet instead of your vehicle. Photographer Bernadette Heath chose hiking over shaking the fillings out of her back teeth.
Cottonwood Canyon quickly narrows, and while most of the walls are black with streaks of white quartz, we still spotted reddish-orange formations next to cream-colored rock making for a startling contrast. At 9.5 miles, the road goes through the "lower narrows," then suddenly opens up again at the fork of two canyons.
We ignored some dead-end turn-offs to the right and followed directions to a rusted road sign at 10.7 miles. The original lettering is unreadable, but some kind soul has written "Marble Canyon," and we took the right hand fork. (You will be returning here to continue up Cottonwood Canyon, so mileage for the Marble Canyon side trip is given separately.)
Marble Canyon is stark, its walls quickly narrowing. The road is rough, and we bumped along until a park service sign blocked the road and we started walking. The walls are vertical, dark and by 2.6 miles from the Cottonwood Canyon turnoff, the canyon is only seven feet wide. We took turns posing for pictures with arms spread wide, trying to touch both walls.
Despite the solid rock appearance of the walls, bushes and small cotton-top barrel cactus manage to grow out of tiny cracks. There wasn't any wind outside the canyon, but a cool breeze blew on our backs. At 11 a.m., the sunlight warmed one side of the canyon with a soft glow, leaving the other side to its gloomy darkness. I started noticing black nodules imbedded in a gray limestone-looking boulder. They shone like obsidian and reminded me of large, black marbles. For the umpeenth time, I wished I'd paid more attention in my college geology class.
At 3.7 miles from the cutoff, our walk up Marble Canyon ended. An enormous brown rock had rolled down, wedging itself into the narrows and stopping our forward progress. Walking back down the canyon, we saw the walls from another angle with the sun in a different position, so it seemed like a whole new hike. Although Marble Canyon is officially named for the marble walls of the canyon, I'll remember Marble Canyon for those black marbles making polka-dot rocks.
We backtracked to the rusty sign and turned right heading up Cottonwood Canyon. The ambiance here is different. Although the road is still very rough, the canyon is not as forbidding. The walls, at first made up of small stones and dirt, become metamorphosed limestone and more varieties of vegetation such as brittle bush and desert fir appear. Orange dodder, a parasite like mistletoe, drapes its tangled stems on some of the brush. I spotted a mesquite, the first real tree I'd seen since Stovepipe Wells. At 14.5 miles (remember this mileage is from Stovepipe Wells), we came on a large cave eroded by flood waters. A fire ring and sitting log mark this as a favorite campground.
When the canyon walls closed in through the upper narrows, I got a close look right out my window at the gray and jagged rock. At 17 miles, the road continues to get even rougher. There must have been a road-rearranging water flow through here, because at times, I walked ahead guiding Richard and the SUV around rocks and through small gullies trying not to scrape off the vehicle's skid plate. There was plenty of brush and vegetation, a sign that water is close to the surface.
Finally, we spotted a large group of cottonwood trees about a quarter-mile ahead. With the end in sight, we abandoned our poor vehicle and walked. (We probably should have started walking earlier.) The damp earth held a variety of animal tracks — coyote, rabbit, and what might have been a fox. I'd hoped to see the wild horses and bighorn sheep that inhabit the area, but all I found were tracks. Birds are drawn to the trees, dense willows and year-around water, but it was cool enough that they were hunkered down.
At 2,890 feet elevation and 19 miles from Stovepipe Wells, the tiny stream is ephemeral, popping up to run several yards before diving back underground. Although it is only a few inches deep and I could easily jump across, this water creates a welcome oasis. Runoff from mountain snow sometimes makes the river flow above ground for several miles. I sniffed the air, enjoying the best of all desert smells: fresh water. Hidden among the thick willows are large granite boulders, brought down from the high mountains by gushing floods.
We could have spent more time here, searching for animal tracks and exploring the area, but the winter day was short and we needed to be back on a good road before dark. We jolted back past the turnoff to Marble Canyon, the dark twin of the soft green Cottonwood Canyon, and pulled into Stovepipe Wells with headlights on and hungry for dinner.