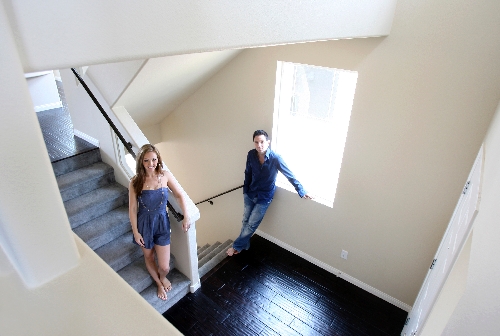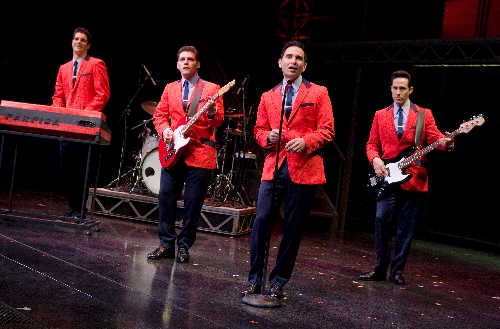 Landing the role of Frankie Valli in "Jersey Boys" at the Palazzo was a major boost to Travis Cloer's career.
Unfortunately, it meant another move, this time from New York to Las Vegas. It meant leaving the place where theater actors like him fight to get. It meant uprooting his new wife, Jennifer, from her dance career when she was just getting a feel for things in the world's biggest theater town. A Canadian citizen, she would come to Las Vegas with a new green card and no job, a scary prospect for a dancer who had been working professionally since the age of 18.
"I wasn't afraid of ruining my career," says Jennifer, 28. "It was starting from scratch again. I just didn't know how to start again."
Turns out, their fears were unfounded.
Only a few months after their September 2008 arrival, Broadway theater suffered a massive blow when the economy forced the closure of more than a dozen shows. Jennifer started landing modeling and dancing gigs. In hindsight, it looked like the Cloers left in the nick of time.
"It ended up being a blessing in disguise," says Jennifer, who recently landed the role of Spider in Planet Hollywood's "Peepshow." "In New York, we had a really nice brownstone, things were finally starting to make sense. I was figuring out the subway system and learning my way around auditions, and then the ball dropped."
It was a tough move, says Travis, 37, because their lives had been so chaotic before getting married and settling in New York in January 2008. They had tried the long-distance relationship for a while, her on a cruise ship and in Canada, him performing in Nashville and New York.
Jennifer had been off the cruise ship for only two months when she moved from Canada to New York. Marriage and work made things seem permanent. Travis had landed a role in the Broadway version of "Jersey Boys" while Jennifer performed in "Broadway Bares."
"But it turned out to be the best move for us. We're both working, making a living doing what we love during a tough time," Travis says. "There are lots of people who would love to be in our shoes."
The couple have done a lot in the six years they've been together, even traveled the world performing on cruise ships together. The one thing they haven't done? Stayed in one place long term. In the 22 months they've lived in Las Vegas, the couple has moved four times. That will change now that they've bought a house in Las Vegas.
"We've been in transit ever since we've been married," Travis says. "We wanted to try different places."
And, as performers, they always went to where they found work.
After a lifetime of dance lessons and then becoming a certified dance instructor herself, Jennifer started working as a professional dancer when she was 18. She was on the dance team for the Toronto Raptors before leaving to perform on Celebrity Cruise lines in 2001. That's where she and Travis met.
At first, Jennifer wasn't impressed with him, Travis says, but he kept working it.
"She had the flu so I just played the nice guy, offered to get her something from the drugstore, checking in on her," he says.
They had a lot in common and also seemed to balance each other, he says. For instance, both get angry at different times, which allows them to talk each other down.
Travis graduated from Kansas State University with a degree in music theater. He moved to New York and then Nashville for work in between cruise gigs. His stage credits include "West Side Story," "Damn Yankees" and "Starlight Express." He was supposed to be in the Las Vegas production of "Starlight Express," but it closed before that happened, Travis says. He also has a jazz CD, "Setting the Standard."
Despite their performance schedules, the couple spend a lot of time together. They like finding new restaurants, hanging out with their dogs and now, decorating their house. Neither would trade the life they have.
"Sometimes, it's been tough," Travis says. "It's had its ups and downs. The entertainment business can sometimes be brutal. It's nice to have someone who understands the nature of the business that you can talk to."
Says Jennifer: "It's nice to have a husband in the same career who knows where you're coming from. People always say, 'You're so lucky that you both are living the dream.' "
Contact reporter Sonya Padgett at spadgett@reviewjournal.com or 702-380-4564.