Couples flock to Las Vegas to tie the knot on Valentine's Day — VIDEO
February 14, 2016 - 9:23 pm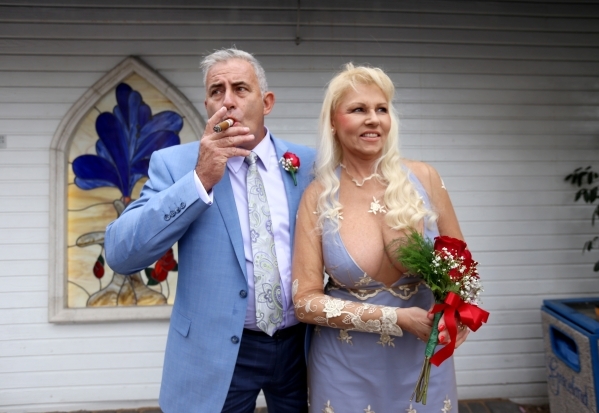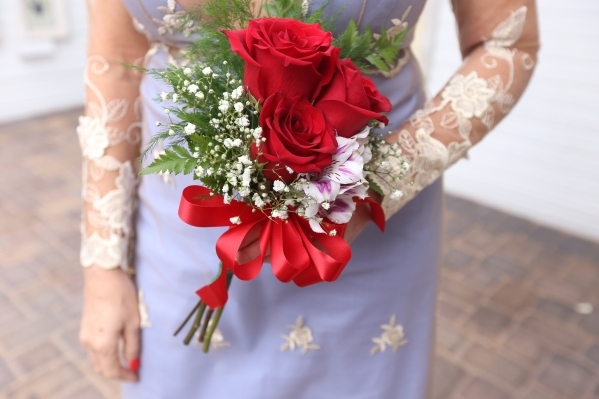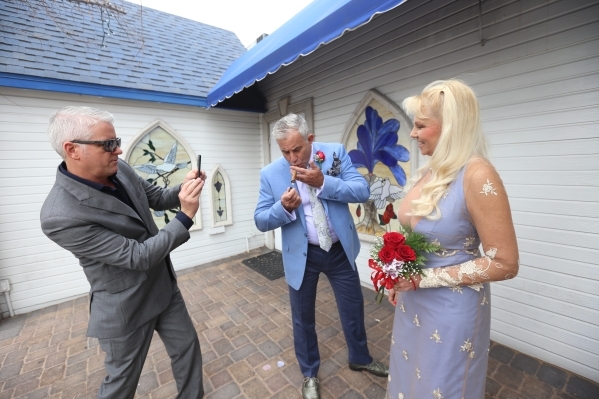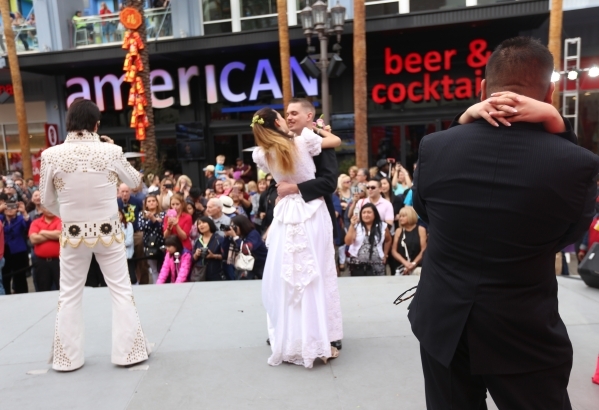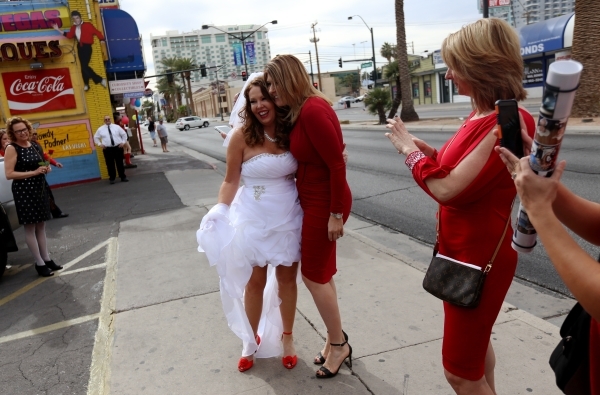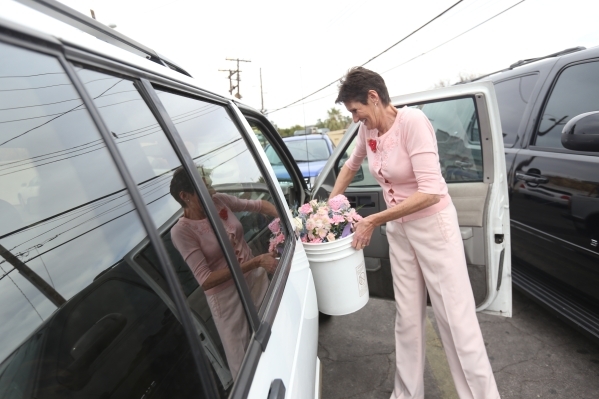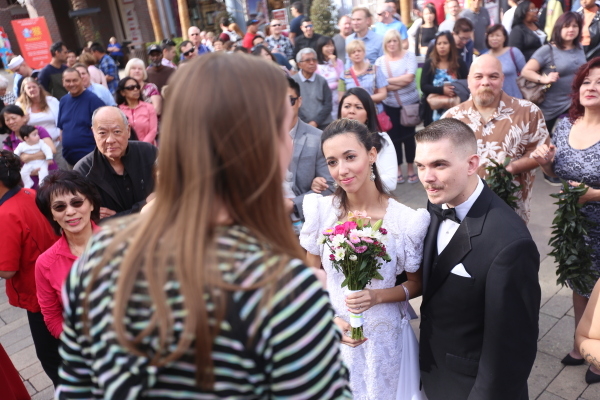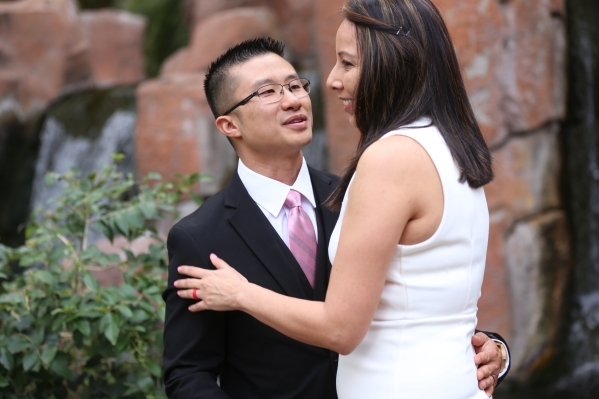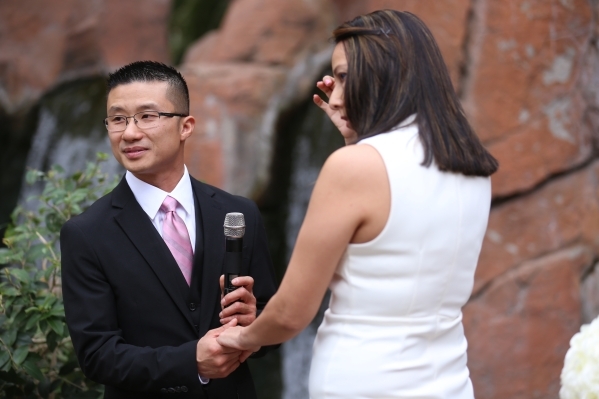 Standing on the Strip in something blue, Andrew Cambridge lights a cigar with a flaming poker chip.
Smoke funnels from his mouth as he leans toward his wife of 30 years, and they share a giggle.
"We came all the way here not to be disappointed by an overly white, overly tanned Elvis," he proclaimed Sunday.
Moments earlier, Andrew Cambridge and his bride for the second time, Cheryl Cambridge, stood at the altar inside Graceland Wedding Chapel to reaffirm their love for one another by saying "I do" at the request of a white-jumpsuited "King of Rock and Roll" impersonator.
Black and white stretch limos shuttled north and south on Las Vegas Boulevard, as the Australian couple stopped in front of the chapel to pose for photographs.
Out pops a man in a black tuxedo from the window of a passing car. "Congratulations," he shouts, prompting cheers from people on the sidewalk-turned-wedding-party venue.
Canadians Anna Dubova and Denis Emelyanov exit the chapel over a brick bridge and are greeted by strangers and fellow newlyweds, Andrew and Cheryl Cambridge.
They, too, have traveled internationally to be married by "the King."
"Our friends and family don't know," they said. "We're going to post on Facebook, actually." The two couples conversed briefly before engaging in a post-nuptial photo shoot.
It's a scene from any day in downtown Las Vegas, but it's not just any day. It's Valentine's Day.
And the foreign couples, along with hundreds of others, have come to the heart of the city to pour their hearts out.
Four men disguised by aviator glasses attached to faux mutton chops walk down Las Vegas Boulevard to the entrance of the popular chapel at 619 Las Vegas Boulevard South. They're there for a traditional Las Vegas wedding, where nothing is traditional.
"His whole life, he had to be married by Elvis, on his birthday, on Valentine's Day, so he'd only have to remember one date," a groomsman said of his buddy soon to be hitched at an everything-Elvis wedding.
The bride-to-be, Alanna Ramsey, struts down the boulevard, and with a shimmy and the flash of her smile, she grabs the attention of her future husband, Dan Norris.
"I met her at yoga. She had me at downward dog," Norris said. He matches Ramsey's facial expression.
The path to marriage at the chapel bustled with the couple's tens of chatting guests, when suddenly one groomsman drew all attention to himself.
"Here's a story: They forgot to get their wedding license," he said.
Ramsey and Norris would have to travel the several blocks to the marriage license bureau and apply for a license in the few and passing minutes before their scheduled ceremony.
On what could be the busiest day of the year for the main Clark County marriage license bureau, 201 E. Clark Ave., it was possible that they would not become husband and wife. All's well that ends well, a chapel wedding consultant confirmed.
Hours before, the bureau's line of betrothed pairs snaked through black ropes from one end of the room to the other.
"It'll be 77 dollars," an employee said through her speaker. "You're all set, and congratulations, guys."
Red and pink paper hearts strung across the windows hung like mistletoe, demanding a kiss from the anxious couples beneath.
A man and a woman, both 84 and from Sun City, Ariz., obtained their license about 11:30 a.m., with plans to marry that day. The pair did not wish to be identified, but said they came to Las Vegas for a downtown chapel wedding, because "it's quick and easy."
The Clark County Clerk's Office hopes to make their part in the process quick and easy, too.
Getting over a thousand couples hitched without a hitch takes preparation, Clark County Clerk Lynn Goya said Friday. Bringing on extra staff, maintaining printers and supplying roses for every hundredth couple are just some of the details that are not overlooked on such an "especially busy" weekend.
Open daily from 8 a.m. to midnight, the bureau will see about 1,700 couples in the days surrounding Valentine's Day, Goya predicted. Between Tuesday and Saturday, 1,199 marriage licenses were issued, Stephanie Joseph, an employee with the bureau said Sunday morning.
Not everyone traveling to Las Vegas to wed does so in such close proximity to the bureau.
At the Garden Chapel at the Flamingo hotel-casino, classic wedding ceremony music plays as Jessica Wong walks to meet her future husband and the Rev. Maria Romano.
"I want you to go back to the day you met each other," Romano starts.
Tears stream from Wong's eyes, like the waterfall behind her. Her fingers tangle with her groom's, like the tree branches that frame the waterfall and their picturesque ceremony.
"Don't just live your life as a couple, love your life as a couple," Romano says, concluding the brief and sparsely attended wedding.
On the other side of the Flamingo, a heavily attended wedding is about to start. A crowd starts to gather for a 12-couple wedding that will take place on the Linq Promenade stage.
The Elvis from "Legends In Concert," Chad Collins, stands in the middle of the stage, and it's showtime.
"Ladies and gentleman, if you're all here today, on this stage, before myself and all these witnesses, we're all assuming you've all arrived at a very special place in your relationship. A place to where your love should now be stronger than yesterday …"
"Don't do it," a heckler shouts from the back of the hundreds of onlookers.
But, no one was left at the Heartbreak Hotel, and each of the 12 couples said, "I do" beneath the largest ring in Sin City, the High Roller observation wheel.
"Can't Help Falling In Love" blares from speakers as the husbands and wives embrace and take their first dance.
It's the first year such an event has taken place at the promenade, but Caesars Entertainment Vice President of International Marketing Bruce Bommarito said it won't be the last.
One in every 25 marriages in America takes place in Clark County, about 80,000 a year, making the license bureau one of the busiest in the nation. The county estimates those tens of thousands of flocking love birds bring $2 billion to the local economy in lodging, entertainment and dining.
The busiest day on record was July 7, 2007, Goya said, when 4,333 marriage licenses were issued to coincide with the numerically significant date. Those dates, like Oct. 10, 2010 and Dec. 13, 2014, bring about twice as many couples to the bureau as the Valentine's Day holiday.
— Contact Kimberly De La Cruz at kdelacruz@reviewjournal.com or 702-383-0381. Find her on Twitter: @KimberlyinLV